Q&A with: Green Launching Pad's 'Venky' Venkatachalam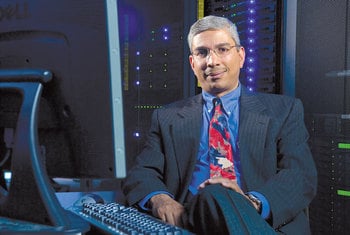 There is no doubt that the Green Launching Pad has taken off. But with five early-stage companies chosen to receive intense assistance, the question is how successful will the innovative program be in helping small alternative energy companies make it in the marketplace?
The two-year pilot between the state of New Hampshire and the University of New Hampshire was unveiled earlier this year to much fanfare, bolstered by $750,000 in federal stimulus funding.
A.R. "Venky" Venkatachalam, chair of the Department of Decision Sciences and professor of information systems at UNH, is one of the Green Launching Pad's co-principals.
He explained that the goals of the initiative are simple and ambitious – help innovative clean energy companies succeed in the marketplace and jump-start creation of green economy jobs while putting the state in position to reach its Climate Action Plan goals to lessen fossil fuel dependence.
The five companies chosen (out of 71 that applied) by a special advisory panel – Green Clean Heat LLC of Newton Junction, EnerTrac Inc. of Hudson, Compressor Energy Solutions Inc. of Bedford, Innovacene of Durham, and Revolution Energy of Dover – received up to $90,000 in grant funding, academic support, student intern assistance, mentoring from industry experts and greater access to venture capitalists. They also took part in intensive business development seminars at UNH during the summer that covered all aspects of taking a business to the next level.
Q. What is the advantage of the Green Launching Pad approach?
A. There are well-established findings that early-stage financing for businesses like these is crucial. One of the major challenges that startups and researchers face is getting the funding for the seed-stage level to take their ideas and technology to the next level.
But to have a better opportunity for success, there is also a critical need for early-stage mentoring in business planning and development, market research and branding and getting the word out. They are getting extensive financial, operational, technical, and managerial support to launch. The depth and breadth of what these businesses have received and are already utilizing has been impressive.
Q. What has surprised you the most so far?
A. There is a lot of entrepreneurial energy in the state. We are seeing it in startups and in early-stage developed companies. What we see through the Green Launching Pad is a release of entrepreneurial talent, an academic focus and the development of a community focused on green energy – renewable energy and energy efficiency. The business development seminar series has drawn large numbers and not only from the five (GLP companies) but from among the 71 companies that weren't chosen. It's been amazing.
Q. Where did the Green Launching Pad get its template from?
A. There are other programs out there, but not at this level of detail. We borrowed from similar efforts in Colorado, the University of California San Diego and MIT. We took the best from each and customized it for what we need here.
Q. What are the long-term lessons we could see from the Green Launching Pad?
A. We are developing a larger community that is collectively working together and providing value. You read about this when you have academia and industry working well together and this has been a huge positive experience that could be a powerful force for economic development in the state.
Q. When will you name your next cohort of companies?
A. Much earlier than we did with the first group. We worked at an incredibly fast pace from February, when we were established, to get the word out in May. We will have the next group in place early next year.
You can find out more about the Green Launching Pad atgreenlaunchingpad.org.