Q&A with: Gordon Humphrey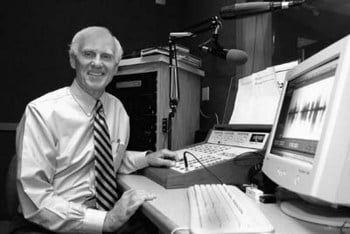 When people of the Granite State hear the name "Humphrey" thoughts usually turn to politics. A Republican known for his conservative views, Gordon Humphrey served as a U.S. senator from New Hampshire for two terms.
After failed gubernatorial bids in 2000 and 2002, Humphrey left the political scene to enjoy some private time. This year, however, has marked a return to community service, but in a very different venue. In February, Humphrey, owner of NH Family Radio, purchased WKXL 1450 AM in Concord, transforming the radio station into a community outlet dedicated to, in his words, "serving the community the way it deserves to be served."
---

Q. How and why did you become involved in radio?
A. It's an opportunity to serve the community the way it deserves to be served. If I was in this to make a buck we'd be playing rock and country and western — that's not what we're here for. I love it here and there is so much going on and so much to promote – that's what we're trying to do.
Q. What's WKXL's format?
A. Our format is really community radio. We're news, sports and community conversation. We broadcast seven hours of news each day, much of it local. We're very heavy on local sports, especially the area schools. And we call it "community conversation" because the discussion is civil, courteous and intellectual. Also, we play classical music from 7 p.m. until 5:30 a.m. and broadcast religious services with an 8:30 Catholic mass and a 10:45 Protestant mass on Sunday mornings. We would love to offer a Jewish service too, but haven't found one yet. It's really incredible.
Q. A career as a pilot, 11 years as a U.S. Senator and a gubernatorial run. Why the transition to radio?
A. In a lot of ways this is an extension of what I've been doing, but now I'm invisible. I cheer on my team. This is not about Gordon Humphrey — I've got a dozen very dedicated, talented people with me. What we're doing really matters, but our success is because of them, and I am really enjoying the time behind the scene.
Q. During your years in the Senate you referred to yourself as the "toughest skinflint in America." Have you carried that persona with you to WKXL?
A. I adopted that slogan back then when I was known as a fiscal conservative. The station is different. When I bought it, it was a basket case. There was very little in the way of modernization so I'm afraid I've been spending in a way that is very different from my previous image as a skinflint.
But it's well worth it and I regard it as a good investment.
Q. People have so many choices with radio listening today. In addition to the other AM stations you're competing with FM, satellite and now low-power FM. Where does WKXL fit in?
A. We're local with class. We're thoughtful community radio. There is nothing rude, crude or offensive. We're trying to leave people uplifted and encouraged. You can feel safe listening to us with your grandmother or child in the car.
Q. Understanding that serving the community remains near to your heart, this station is still a business. Who do you view as your direct competitors for listenership and the advertising dollar?
A. Our chief competitor is WEVO, or public radio. We're trying to be equal or better. I think we are already better in covering local happenings in that we don't have to cover the whole state as they do.
As far as competition for the advertising dollar, there is no one station that we see as a principal competitor. It's really all the ones that cover the same region we do.
Q. Speaking of which, how far does WKXL reach?
A. If you draw a radius from Concord to Manchester and then draw a circle that is really our broadcast range. We also have a great Web site, WKXL1450.com, where we stream worldwide. People in Beijing can listen to a Bow High School basketball game. Our signal is truly global in scope, not many stations can say that.
Q. The entire radio dial in New Hampshire and across the U.S. is dominated by stations owned by media giants like Clear Channel, and many mid-sized ones as well. What's your view on so many different radio stations being in the hands of a few owners?
A. I think it has worked to the detriment of the national well-being. There is so little local content there. They're no longer what they're supposed to be, which is a radio version of the local paper.
Q. How is WKXL, with its strong community focus, being received so far?
A. This is all anecdotal of course, but what we're hearing is very positive. People are saying, "It's so great to have our community radio back again." I don't know what our ratings are, and frankly I don't give a damn. I want to provide good programming. If that means we only reach 10 percent of the listeners then that's OK.
Q. What do you think radio will look like in 10 years?
A. The big guys will be really hurt by satellite radio. That's growing by leaps and bounds. They've long since given up local radio, and they're all playing the same stuff. What will keep us healthy is our local content. Little stations like us will remain because knowing what's going on around them is important to people. We're just one little candle in the darkness – one light other stations can follow.
Q. Before you bought WKXL, what radio stations did you listen to?
A. I listened to WEVO until they pulled classical music about five years ago. Here's this big powerful station with not a single note of classical music. I just can't believe it.
Q. Do you miss politics?
A. No. That's not to say I don't regret my failed attempts to become governor, but what we're doing here is so important. We're just a little AM station, but we're out to be the best in the country.