Q&A with: Gary Lindner, DMD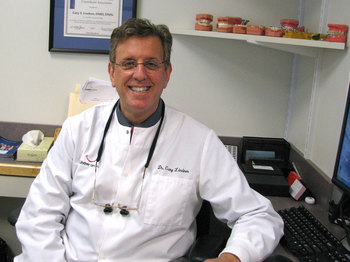 So a geneticist walks into the patient's room…and leaves a dentist.Less a humorous story than it is a heartwarming one, it is also a true one for Gary Lindner, dentist and founder of Lindner Dental Associates of Bedford.
His initial interests took him into studying genetic deformities of the face and mouth, particularly those in children, until the Harvard graduate came to a cross-road in his career.
Luckily for thousands of children over the nearly 30 years he's been a clinician – 25 of those years at his Bedford practice – he chose to focus on pediatric dentistry and orthodontics.
A native of New York City, Lindner is the son of shopkeepers on Manhattan's Lower East Side. When he was a boy, he saw a man steal a loaf of bread from his father's grocery store when his father waved the incident off.
"My dad said, 'Only hungry people steal a loaf of bread.' That had an impact on me," said Lindner.
And indeed it has.
Long invested in the New Hampshire community, his home since 1986, Lindner has been involved in many charitable efforts including Child Health Services of Manchester, to which he was recently named a board member.
He has also been honored by his peers in New Hampshire Magazine's "Top Dentists" poll as one of the best pediatric dentists in the state for many years.
His practice goes beyond compassionate care to encompass something he calls its "charitable mission," helping those in all walks of life, at all ages, achieve better dental health no matter what the circumstances.
Q. What made you choose the kind of practice you're in?
A. I grew up in New York City where I went to college. Then I moved to Philadelphia to attend dental school at the University of Pennsylvania, and then to Boston to train in Pediatric Dentistry and Orthodontics. I received my DMSc at Harvard and the Boston Children's Hospital. Early on in my career when I was in genetics – the "DMSc" is in genetics – I was involved in looking at chromosome analysis for patients with facial deformities.
I came to a crossroad in my career when I had to make a choice of whether to pursue biomedical research or clinical practice. I was very torn and I didn't have an easy time making a decision; I loved the research environment.
Ultimately, after a lot of soul-searching, I had to ask the question, "What's fun for you?"
What's fun for me is looking after children and families, following them long-term and having that relationship with them.
I'm still enlivened by kids who are unfailingly honest in their criticism and in the challenge of trying to be helpful to their parents in a little part of their rearing and raising with respect to their health.
We see them over a very long period of time. When they finish being pediatric patients, some choose to see us as adults; we see multiple generations of kids.
I made a great decision; I would never look back. I've enjoyed it tremendously. I don't have any plans to do anything different. We always evolve, but I still feel what gets me up in the morning and what keeps me interested and what keeps it exciting are the people we care for and the opportunity they've given us to care for them.
I've loved having younger colleagues who have come into the practice who have shared our vision, who have participated as we have in the community, and who have the same notion of caring for the public as we do, including in a charitable way.
You might wonder in a group this size – we have between 50 and 60 doctors and employees – is there a backroom argument about whether we should participate in the care of the indigent or the care of the bottom line?
It's not an argument. It's not how can we do less, it's how can we do more. That's the question we ask. And that's to a person.
Q. How has dental care changed over the past 25 years?
A. It's changed enormously, in general, and it's changed enormously locally as well.
A lot of what has changed is materials, which have improved. We have many fewer silver fillings. We're using white bonded materials, whose stability, longevity, compatibility with the mouth has improved greatly. It's enabled us to do many more things than we could before.
Another change is based on what we now know about mouth chemistry and what various preventatives can do. For example, the city of Manchester, after a long fight, has a water fluoridation program. We know that water fluoridation can reduce dental decay by as much as 70 percent all by itself. So that's an enormous change. There is a great use of protective sealants that are used on permanent molars to protect the grooves. This is not brand new, but the materials and application have greatly improved.
Instead of the typical fluoride treatments of a gel or foam, now we're using "varnishes." It does what a varnish does – it sticks and stays for a longer period of time. There is good research that shows they are more effective than prior materials. Our effectiveness at prevention is really quite advanced.
On the device side, we use lasers now for small surgical procedures on primarily soft tissue, gums. They can provide a comfortable approach to the treatment of certain small periodontal problems that may have required a more challenging surgical procedure in years past.
The use of lasers is still nascent in dentistry, but it's come a long way in the last five years; it's a great aid.
The biggest change in the dental industry is probably the use of dental implants.
We are very involved in this office in the use of implants for tooth replacements. Sometimes teeth have been lost because of decay or gum disease. Some children may have congenitally absent teeth. Then they come to a stage in their life where we can rearrange their existing teeth with braces and then they can get tooth replacements or implants as they mature; the replacements can be beautiful, functional and lasting.
The other thing that has changed, that I'm personally involved in, is in orthodontics with Invisalign (sets of custom, removable, clear retainers that
correct the position of teeth). Invisalign has given the opportunity for a comfortable, smooth, nearly invisible approach to realigning teeth and improving smiles that we lacked for the last 100-and-something years.
The number of patients who are willing as adults to go through an orthodontic program has increased because they find that the process is a lot less challenging than they might have with braces. What they might not be willing to do with braces, they are willing to do with Invisalign, and can carry on with their lives.
Q. Has dental care gotten lost in the national health-care reform conversation?
A. I don't think it got lost in that, early on in the conversation, there was an effort to try and include dental care, particularly for children, in the national health insurance. What did happen was a lot of things got carved out in an effort to reduce the cost.
So I think there were some well-meaning legislators who would have wished dental care could have been included in medical plans or offered as an adjunct that would have been required, but it got carved away during the sausage-making process of creating the legislation.
I would say that we have achieved, in the United States and in New Hampshire as well, a higher percentage of patients who have dental insurance than we had many years ago.
The one thing about dental insurance – and I have a colleague who says this as well – dental insurance isn't. It is a token; it's not coverage.
If you have good health insurance and you need your appendix out, you may see a very small bill if any. But if you need to have several crowns or root canals, you're probably not going to get but a small percentage of that [paid by insurance].
That's the flip side of dental insurance. When dental insurance was first begun in the '60s, they would cover each person for $1,000 in a calendar year. That number, that $1,000, hasn't changed very much, and sometimes it's still $1,000.
However, what it is in many cases, is an enabler. It takes the person from unable to do anything to getting a large portion or maybe all of their preventative care paid for.
Q. Are consumers "getting it" that dental health is an important part of overall health?
A. I would say that most people still view cavities as the number one dental disease. Actually, more people lose teeth as a result of gum disease than they do cavities.
Dental decay is like rust. It's a surface process that's ongoing, that causes erosion. It is present in one area and may be present in another. There are specific bacteria associated with it in certain areas of the mouth, in certain parts.
It's a very specific disease, but it's also the most common disease known to man, so we have a great challenge in preventing it.
On the flip side, our preventative techniques are really advanced, as we said, so we have opportunities to do great things.
I think if they understand that it's a process, they understand more easily that it's more connected [to general health].
Q. What about other clinicians?
A. The American Academy of Pediatrics now has begun to take on oral health as a concept in pediatric care. There's a concern about cardiac disease and many other disease. That has actually helped in removing this division that people see between the mouth and the rest of the body because there really is no division.
We see oral health as part of overall health. Other physicians are beginning to see it the same way, and that collaboration is great.
We've been involved with many state agencies for our entire careers, when the state had a very active Bureau of Special Medical Services.
There were pediatric clinics in neurology and cranial-facial deformities – which is a favorite interest of mine. We were involved with all of these clinics.
Most of the patients were seen through the clinic because they either had very complex needs, so they would end up as a Medicaid patient – state covered – or they were indigent.
That was also a collaboration for us.
We still participate with the cleft lip and palate clinics – I still teach at Boston Children's Hospital. And we collaborate with Dartmouth with these very complicated patients with mouth deformities, facial deformities, or combinations of both. Orthodontics and surgery – that collaboration is key.
We are also working with the GI people to try and identify signs of gastric reflux in children. They bring up acid, which creates an acidic mouth and can create a tremendous amount of dental decay.
There are also some patients that have headaches that can be treated with certain oral devices.
Stress is also related to oral health.
And cancer of the mouth and neck is an important disease [that needs to be screened for]. It's not detected often enough, early enough, and can be deadly.
Q. How has the recession impacted your practice?
A. Gum recession or economic recession (laughs)?
Certainly, dentistry is an elective dollar for many people, so sometimes needed dental care gets delayed, deferred or doesn't happen at all. Their insurance has been impacted, their employment has been impacted, so their discretionary dollar has been impacted as well.
If there's an alternative between repairing this difficult tooth or removing this tooth, the patient may be forced by economic circumstances to make an unfortunate choice and remove something that they might otherwise have repaired.
They tend to do what they can for their children, doing less for themselves. I think that's common, not only in dentistry.
We certainly have people that have difficulty meeting their portion of the bills.
And there's some who simply don't come. They just don't arrive and defer everything because the economic challenge is just too great.
When possible, we try to find lesser alternatives that will satisfy for a period of time until circumstances change. We really try to maximize prevention, that's really the watch word. Sometimes you can successfully put something off if you're doing what you should be doing.
Orthodontics has definitely experienced a greater impact because it's often an elective process and it's costly.
We sometimes have to jockey procedures among family members based on what's most crucial.
Q. You and your practice are very invested in the community. Tell us a little more about the charitable side of Lindner Dental.
A. Everyone who works with us knows that we have a charitable mission as part of what we do, and that includes everyone of the doctors and all the staff.
Sometimes we do work for free. Part of our mission has always been caring for the indigent. That doesn't stop with the patient who's been a patient for a number of years and has run into some difficulty but has some substantial need; we carry a great number of these patients.
I don't think we're different from other practitioners. I don't seek a pat on the back, I'm just being honest.
We also participate to a substantial degree in the state's Medicaid program. Some of our patients came to us as patients under that program. A good number were previously employed, but because their circumstances have changed, they have gone from having private insurance and paying their co-pays to being unable to. They land on Medicaid and we continue to take care of them.
We participate with Child Health Services. We certainly do our best to try and take care of those patients when requested.
We are now participating with a new national program in orthodontics. We receive nothing for the care of these patients, but the patient pays a small amount – $250 or $500, depending on their income – to the program to keep it afloat. They are independently evaluated for their needs and they can get free care.
That's a type of program I think you're going to see more of.
The other thing we do is lean on our colleagues. We collaborate with all other specialties quite often, and we are not shy about calling someone up for some help. And they will.
The reimbursement is very low on these programs. It, quite honestly, doesn't cover the overhead; in fact, it only covers a fraction of the overhead.
From a business standpoint, each time we treat one of these patients, we're impacting our bottom line.
The result – staff have gone without raises for a period time. And the doctors, too, have seen their incomes impacted.
But we are fortunate, too, that we have not had to lay people off or reduce the size of our staff.
We've considered it from time to time. And sometimes the staff have shared little furloughs from time to time to keep people employed.
But we feel, as a business and a community participant, that it's OK. We should be a part of that. At the same time, there is a financial impact to us and our staff.
We can only do it in a limited way. We wouldn't be in business if we didn't earn a profit; we can't run a free clinic, so to speak. But at the same time, I think we can be involved with some of the people who need us most.
Our charitable mission is a balancing act, but one we think is important. It's an essential part of what we do.
Look, I'll be very honest – the most fun I've had in my practice is doing things for free!
We are not just people who are practicing in this community; we actually live here. We care about this place. The community has been very good to us, and the community deserves our loyalty in return.
We really believe we do well by doing good. We believe that.
Q. You've chosen an unusual way to celebrate your practice's 25 years in business with offering a recipe book benefiting Child Health Services of Manchester. Tell us about the project?
A. Because I began this place 25 years ago, I get more credit than I deserve for what this place has achieved. I haven't achieved anything by myself. I'm surrounded by a fantastic group of partner dentists and associate dentists and a wonderful group of employees who are also part of this community, and who share in this charitable mission.
For many years, we've been collecting money and toys, blankets and other needed goods for Child Health Services because that agency, we feel, reflects our mission and commitment to the community.
They are involved in caring for the slice of the child population who are the most needy. They have multiple medical problems, social problems, emotional problems, nutritional problems. They are cared for in a unique environment that gives weight to their ear infection and their tonsillitis and to their asthma, but also to their psychosocial needs. That takes a lot of money, a lot of effort. It's takes the joint efforts of local, state and federal governments, grants, donations, private foundations – all of these people come together to serve the needs of several thousand children. I have been involved with them for the entire time that we've been here.
The staff knows this as well, and they also enjoy their participation in the charitable effort.
As a group, we came up with this notion of a cook book. Many of the staff have contributed some of their own recipes.
We've agreed to suffer the cost of the printing and production. Anybody who wants one can have one for a minimum donation of $5, and the whole donation goes to Child Health Services.
It's been fun, it's been well-received. I think people get a kick out it, and it gave everybody a chance to participate.
Q. You were also recently appointed to the board of Child Health Services.
A. That is correct. They have a very committed board of people, some of whom have great capabilities in financial areas, in legal areas, in fund-raising areas. I think it's a very impressive group of people.
One of my questions when I was deciding to be on the board was "What do you think I can contribute?"
The feeling was that I've participated on the clinical end for a long time, I had some feel for the running of the organization and we do, after all, run an analogous practice.
So they felt that perhaps I could make some contribution, and I will heartily try to do that.
Cindy Kibbe can be reached at ckibbe@nhbr.com.