Q&A with: Endowment for Health's James Squires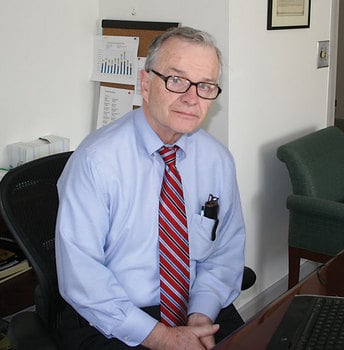 Dr. James Squires, the 73-year-old president of the $79 million Concord-based Endowment for Health, is a former state senator and a general vascular surgeon who once headed the Matthew Thornton Health Plan (which is now part of Anthem Blue Cross Blue Shield in New Hampshire).
Q. What were the origins of Matthew Thornton?
A. Matthew Thornton Health Plan was quite revolutionary. We opened in 1971. It was a prepaid multi-specialty, not-for-profit practice, but it was also an insurance company. Everybody was on a salary. We had a lay board of directors, and at its peak we had 150,000 patients here, in Vermont, Maine and a few in Massachusetts.
With the passage of the HMO act under President Nixon, we were the 67th federally qualified HMO in the country. For me, a nonprofit environment fit my temperament. I liked the salary idea. I wasn't penalized for not doing something and I wasn't rewarded for doing something. This is not in anyway a castigation of those types of practices – it was just what worked for me.
We started with four of us — myself doing surgery, an internist, a family practitioner and a pediatrician. Then we got an obstetrician and we gradually grew. It took 10 years to grow to a free-standing successful medical operation. It transformed the practice of medicine in Nashua. We brought a new standard.
It was a very difficult beginning. We were not received well by the local medical establishment, but the community supported us and some brave incorporators and trustees and directors.
In 1984 a similar organization, Healthsource, was formed, but they were a for-profit. One of the problems with our model was raising capital. For-profit, with stock, that's easier. Anyway, the plan was sold in 1996 to New Hampshire Blue Cross-Blue Shield.
That's how the Healthy New Hampshire foundation came into existence. That foundation paid for the development of CHIP [Children's Health Insurance Program, later Healthy Kids]. Three years later, Blue Cross Blue Shield was bought by Anthem. That's what created this foundation.
Q. How did you get involved with the endowment?
A. I was in the Senate from 1996 to 2000, and then in 2000 I ran for governor. I was trying to change the revenue structure of state which – I don't think it's an exaggeration to say – remains a problem. I have been here ever since. This is the perfect place for me at this point in my life with this background and the way I see things.
Q. How much did the endowment start off with?
A. Eighty-five million dollars. It currently has $79 million. Over the years, we've given out $32 million.
Q. That's a lot of money. Where did it go?
A. We have major areas of interest. One we call barriers to access, like transportation. If you can't get someplace it's kind of difficult. We put a lot of investments in transportation around the state, in the North Country.
Our initial five-year project was oral health. We spent about $6 million or $7 million, and the legacy of that was four free-standing dental clinics that successfully give services in large measure to Medicaid patients. There is one in Claremont, Keene, Laconia and the Seacoast.
Our next big effort, children and family mental health. We've committed but not spent at least $5 million. There is really no system of mental health in New Hampshire.
The biggest single investment that encompasses a lot of these was Manchester sustainable access project. We are trying to coordinate health center child health services, the hospitals, the mental health services, to see if service is much better coordinated for a population that is much underserved.
We have provided emergency funds. I think it is fair to say we rescued two community health centers.
We have a major investment of $1.3 million with the Community Loan Fund, believing that if you don't have some kind of living quarters that are reasonable and decent you can't be healthy. We have done an enormous amount of research. Most of the health data you see out of the New Hampshire Center for Public Policy we paid for. Those papers introduced in the Legislature mind the notion of cost-shifting, which was pretty much unheard of until data began to be developed.
Q. Have you had to shrink what you do because of the economy?
A. Yes. Our largest year we give something like $3.8 million. We'll level for a few years between $2.5 to $3 million until the funds recover.
Q. What's the largest impact that is coming out of the federal health-care legislation, good and bad?
A. I see it as a tremendous opportunity for New Hampshire to address what has widely been recognized as a longstanding, worsening problem of health-care costs, which is ruinous to our economy. We are not getting more value for our money — not as good as it is in other industrial countries around the world. We're spending twice as much and not getting twice as good results overall.
What this bill does is — one, reforms insurance coverage and how insurance is marketed. Two, it begins the reform of how the care is delivered. Three, it creates new revenue sources to pay for this. There is a universal agreement that we can't afford business as usual, and that sustainable change going forward needs to change the incentive in health care.
This is a market system that is broken, and the first thing that is broken about it insurance model. Way too many people – in New Hampshire it is probably 30,000 to 40,000 use the system, but don't pay into it – are uninsured. Many are working and can't afford it. Instead of paying for volume, which is what we do now, we should start thinking about paying for value.
Q. Let's talk about business.
A. There is a mandate that businesses will provide insurance, or there will be penalties. However, that does not exist for businesses of 50 employees or smaller, and that's an enormous number of businesses in New Hampshire.
Q. This won't start for a while.
A. 2014, but it's probably good to get thinking about it — right now, there is an opportunity to get a tax credit. If you have 10 or fewer employees, and your average annual wage is no more than $25,000, then right off the bat, you are eligible for a tax credit, if you pay more than half the insurance premiums. If you have more than 10 and less than 25, you still get a tax credit, you don't get as a great of tax credit.
Q. Do you think it is going to make a big difference?
A. It might. If they pay 50 percent premium and get a tax credit it is much more affordable, given what the premiums are, to offer health insurance.
Depending on how you look at it, this could be a negative. Insurance coverage obligations are now changing for new policies, so you cannot have an exemption for pre-existing conditions. You cannot have the policy canceled, and you cannot have a lifetime cap. And that probably will increase the price.
Q. So what's the bottom line in terms of premiums for small businesses under 25?
A. It will be less than it is today, given the tax credit. Whether it is truly affordable remains to be seen. But this is a four-year window and the whole situation changes when the exchanges become mandatory, but for the moment it is an open question.
Q. Without going into all the details what is your prediction after the transition period?
A. That will be a totally new world. The number of uninsured in New Hampshire will precipitously drop. At that point, Medicaid eligibility requirements will increase. In order to be eligible for Medicaid coverage in New Hampshire you need an annual income of 50 percent or less of poverty level. But when that rises to 150 percent of the federal poverty level, which is where it is going to go, it would cover more people and, consequently, increase the need for general fund spending from the coverage point of view.
In New Hampshire, there is a discussion of whether we should be a state exchange. Well, maybe. But perhaps we will be a regional exchange. The bigger the base, then you get a different kind of rates. New Hampshire is roughly the size of Tucson, and that is not a very big base. New England is approximately the size in population and geographical area of Pennsylvania. It is not at all clear how this exchange would work as a region or as a subset of a region.
Q. What is the biggest culprit for the high costs of health insurance these days?
A. In general, it is the cost of medical care. In the last 10 years, there has been a major shift in the power relationships. In the '90s, you could say the insurance carriers were the dominant force, and there were a limited number of carriers and a proliferation, at that point, of private practices and independents. The carriers had the upper hand. But the majority of primary care in New Hampshire is controlled by and even owned by hospitals. The balance of power has changed to the medical side. The carriers are not in the position that they used to be in. Anthem, being the biggest carrier, probably has most clout, but if Anthem wants to sell a product in Concord, they have to deal with Concord Hospital.
Bob Sanders can be reached at bsanders@nhbr.com.