Q&A with: Educator Mary Heath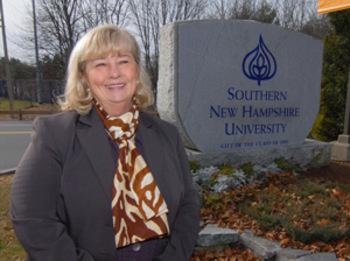 To say that Mary Heath has held many different positions in education would be quite an understatement. Named dean of the School of Education at Southern New Hampshire University in Manchester earlier this year, Heath before that was New Hampshire's deputy commissioner of education.
All told, she has over 39 years of experience as a teacher, a learning disabilities specialist, an assistant superintendent and a grant writer, among other education-related positions.
Passionate about teaching – specifically about giving students the opportunities for hands-on learning and experience in the field — Heath said she has taken on her new role with many goals in mind and the drive to make them all a reality.
<hr>
<B>Q. What are some of your short- and long-term goals in your new job? </b>
<B>A.</B> My goal is to make SNHU the premier teacher education program in the state. Five years from now, everybody is going to want to come here, and the benchmarks for that will be applied experiences — right away, you're teaching, you're out there in classrooms, you're having those experiences while our students gain the content knowledge that they need, but at the same time, making them responsible for their own learning. The most important people in schools, besides the children, are the teachers who stand before the kids everyday.
<B>Q. Going back to your time at the Department of Education, what is your take on the No Child Left Behind Act?</b>
<B>A.</B> In 2001, when they reauthorized No Child Left Behind, the intent was that no child would be left behind. There are many wonderful things that happened as a result of this legislation. I think one of the most significant was that it forced us as a nation to look at all of our children – to look at children with disabilities, children from other nationalities, our poorest children – so that we saw, so significantly, that all kids were not learning at the same rates.
It was that emphasis on getting everybody ahead that nationally engaged educators to greater levels than ever before about teaching and learning.
<B>Q. How do you see the relationship between the business and education communities in New Hampshire?</b>
<B>A.</B> I think they are critical. Business needs us and we need them. It's our job to prepare the future generation of employees and leaders, and we can't do it alone. Each depends on the other.
<B>Q. What are your thoughts on the stronger role standardized assessment testing plays in public education?</b>
<B>A.</B> I think it's important to have standardized assessments as one piece of information. New Hampshire's assessment, NECAP, is of high quality, but it's only one point in time. My fear is that because of this, we're teaching to the middle and there is a lack of creative opportunities.
We need to create learning environments where kids can be given learning so they can go as high as they possibly can. The implications of standardized testing is that it hits us in the middle, and it's almost like enough is enough, when enough is never enough.
The good thing about standardized testing is that it is an indicator of how a state is doing — it gives us those big points so we can ask the larger questions like: Are we doing our job? Are our programs effective? But then you need to use multiple points of assessment to ask, are kids really getting what they need to be successful in the world?
<B>Q. You have been in education for many years and held many different positions. Which have you found to be most rewarding?</b>
<B>A.</B> I feel that every job that I've had along the way has helped me to be ready for the next. All of my teaching – my years of working for the state, my work as an administrator, working as an assistant superintendent, working with teachers – all of this has prepared me for who I am right now. But I have to say, right now I am so excited about taking all of the knowledge and experience that I have and using it to work with my colleagues here at SNHU to get the best teachers out there that we possibly can.
<B>Q. A lot of recent college graduates are having a hard time finding jobs right now. What would be your advice for these young adults?</b>
<B>A.</B> Get internships! Volunteer, participate in as many community activities as possible, find as many internship opportunities as possible, because that's how you build connections. When an employer gets to know you, they're going to want to hire you.
It's like our student teachers — we work with the school, they get to know our students, they have a good relationship with the school, they are going to be more apt to hire a known entity because you want to hire somebody you know and trust. The employers know that they can do the work because they have seen the evidence to prove it.
Right now is a tough job market, but there are still jobs out there. You have to look at what the needs are. For instance, the health field is huge right now. Sometimes you have to start in something that's not the glamorous job you wanted in the beginning, but it's the first step in getting somewhere else, and it begins to build your resume.
<B>Q. You are a member of the Governor Lynch's Gaming Study Commission. What are your impressions of the work being done by the commission so far? </b>
<B>A.</B> Andy Lietz is the chair, and he has come up with a very thoughtful approach. He is providing us with presentations at every meeting to build our understanding so that once we get to the point where we begin to formulate our recommendations, which will probably be in the beginning of December, we will all have a solid knowledge base.
One of the things I like about the gaming commission is that once we formulate some of our recommendations, we're going to go into the communities and actually have focus groups with folks to talk with them about this. This will allow us to have some real conversations about what it means before the final recommendations are made.
I really like Governor Lynch. I think he really wants to have a base of knowledge upon which to make decisions, and you have to give him credit for that.