Q&A with Eastern Bank NH Regional President Joe Reilly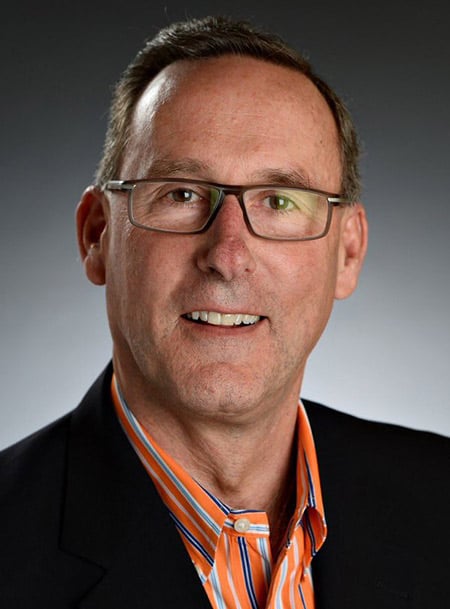 It was a suggestion from his high school guidance counselor to try out a teller job that launched Joe Reilly into a 40-year banking career — one that resulted in well-deserved recognition as an industry expert.
Graduating from the University of New Hampshire's Whittemore School of Business and Economics, Reilly entered a management training program with Indian Head National Bank in Nashua that led to 12 years with the institution, later acquired by Fleet Bank.
After working for six years as chief operating officer at then newly opened Bedford-based bank Centerpoint Bank, cultivated Reilly's relationships in the greater Manchester business community and introduced him to his future banking partner, Lucy Gobin.
After some local businesspeople encouraged Reilly and Gobin to replicate Centerpoint's banking experience, in 1998 they successfully launched Centrix Bank & Trust, where Reilly served as president and CEO.
Over 15 years later, Boston-based Eastern Bank acquired Centrix and Reilly saw the institution through the transition as New Hampshire regional president of Eastern Bank.
Reilly will be retiring from the banking industry at the end of December, an experience he sees as an opportunity for a new chapter in his career.
Q. What prompts a person to consider founding a bank?
A. I think banking is a very cyclical business. Obviously it kind of rises in good economic times and is challenged when there are recessions. I think you just have to look at the competitive landscape and where you are in that economic cycle and make a determination that you can carve out enough space to be successful.
In 1998, we felt there was a real nice opportunity because there weren't any locally owned business-focused banks in the southern New Hampshire market.
Q. What did Centrix offer that made it successful?
A. For 15 years, we just directed singular focus on providing high-quality, business banking services on both sides of the balance sheet — loan and depository and treasury services — and fortunately, we were very well received.
We hired people who had been with us at Centerpoint as well, so they had familiarity in customer relationships in the market. And people were confident that what we were doing made good sense and that we would provide a very high level of relationship banking. We grew from a concept on a piece of paper then to a billion dollars in size over those 15 years.
Q. You and others in the banking industry have talked about how the regulatory landscape has become burdensome for smaller institutions.
A. It's always been a highly regulated industry, but following the Great Recession, the Dodd-Frank legislation that got passed in 2010 created a really significant additional layer of requirements in a widely cast net across the entire industry. It really didn't recognize banks for what their true risk profiles were and held everybody accountable to a very significant increase in compliance and other related requirements.
It became very costly because, as opposed to being able to hire people who were revenue-generating, you had to hire people who were just truly expense, to be able to be in good stead with the regulators.
Q. There must be some discussion over how the rules could be altered in some ways to be more reasonable for smaller banks.
A. Absolutely, and that's through our trade associations: the NH Bankers Association and the national association, the American Banking Association.
The NH Bankers Association has a very challenging job because they've got now approximately 25 members — banks of all different sizes, shapes, geographies etc. — so they do an outstanding job, advocating for our industry both here at the State House and representing us down in Washington.
And it's not an easy job to advocate, educate and connect the industry in a cohesive way. Christiana Thornton, who's the president of the NH Bankers Association, and her predecessor, Jerry Little, who's now the state banking commissioner, have done just phenomenal jobs and have the utmost respect of their bank members for the way that they represent our industry.
We've been working very hard legislatively to try to get Congress to understand that there are differences, there are segments, and not everybody presents the same sort of systemic risk that I think a lot of Dodd-Frank was intended to capture so there wouldn't be another financial crisis. But that has been very slow to happen,
I think because it was such watershed legislation, legislators were very hesitant to make any changes for quite some time. We're beginning to see signs of things around the edges that are going to be helpful, but nonetheless it's still a much more regulated industry than it was 10 years ago.
Q. Is there anything in particular you think could be changed?
A. Yeah, I think those small banks that are doing residential lending, they have this thing called a qualified mortgage, and if you don't fully meet the very tight confines of a qualified mortgage, then you're subject to significant criticism, which, again, you want to always be on the good side of the regulators.
Q. We've seen a lot of consolidation in the industry. What is the landscape like currently?
A. The industry has consolidated dramatically, and I think banks that are in markets like Vermont and Maine, which don't necessarily have strong demographics or growth, have come into New Hampshire trying to capture that particularly attractive southern, coastal New Hampshire market space. So we had a lot of banks come in from both Maine and Vermont, and up from Massachusetts, like Eastern's entrance into New Hampshire through the acquisition of Centrix. Enterprise Bank has come in very strongly. The Lowell Institution for Savings has come in. So it's a very dynamic but also hyper-competitive landscape.
Q. For banks trying to enter the NH banking landscape, is it easier to acquire a bank than open up a new branch?
A. I think it depends on the specific situation, but at the heart of any entrance into a new market, it's all about getting the right people. The New Hampshire banking landscape is going through kind of a transformation of people like myself who have been in the industry for their entire careers who are now going onto new journeys and next chapters. What is mission-critical for any bank, existing or coming in, is to be able to find those people to help them grow their business.
Q. What sort of role do you think smaller community banks have now in this changing regulatory landscape?
A. I have said for a long time that, particularly in New Hampshire, whether you're a small business or consumer, you have a very attractive set of choices as to where you want to do your banking. And from Bank of America and TD and Citizens all the way down to the newest entrant, with regard to Primary Bank, they all play very important and different roles, and offer, I think, a very appropriate and healthy balance of choice for customers.
Q. What led you to decide to retire from the industry?
A. It had been three years since forming the partnership with Eastern. Eastern is a terrific organization, and I've thoroughly enjoyed my time there. I felt, over the first couple of years, I was integral to the transition into our new organization, but once the legacy team from Centrix was firmly in place and in a position to continue to meet or exceed expectations, that's when I knew it was time to go.
Q. It must be rewarding to be a part of the transition for a company you've founded.
A. I couldn't agree more. I will leave with my head held high knowing that, from our legacy Centrix employee perspective [and] our customer perspective. I feel like we've also had a nice opportunity to introduce Eastern into the New Hampshire marketplace. I'm very proud of that.
Q. What are your plans for the future?
A. I am retiring from the industry, but I feel like I've got a lot to offer. I'm too young to really do nothing, but on the other hand I have no predetermined path. My hope is something will come my way in which I can leverage my skill sets and add value to an organization.