Q&A with: Doris 'Granny D' Haddock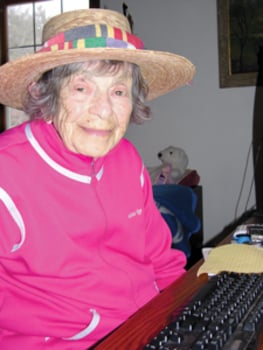 Doris "Granny D" Haddock, the venerable and quixotic campaigner for public campaign financing burst on the political scene 11 years ago when she walked across the country to gain support for her cause. On Jan. 26, the Dublin, N.H., resident celebrates her 100th birthday.
In 2004, at 94, she filled a last-minute vacancy and became the New Hampshire Democratic Party's U.S. Senate candidate against incumbent Judd Gregg – a campaign that was the focus of an HBO documentary, "Run Granny Run."
Granny D, slowed somewhat by a heart attack last June, nevertheless remains spry, sharp and busy. She hardly sat still during an hour-long interview, jumping from her chair to make tea, grab a map to show the state-by-state progress of public campaign financing and show off her talent at crafting Native American-style hook rugs.
Q. How does it feel to be 100?
A. Well, I keep forgetting that I am that old. It always shocks me that I can't lift that or carry that and so forth. I've found it quite difficult to let other people do things for me because I've always been independent. I believe in independence. I've tried to be as independent as I can.
Q. If you had been elected to the U.S. Senate you'd be finishing your term. Could you have done it?
A. Oh, yes I could have done it. Look at Palin.
I promised that I wouldn't go for a second term. My one interest is public funding of elections. I don't pretend to know everything. I'm well read, but limited. I went three years to Emerson College, which was quite rare — in those days, when you grow up in a working-class family with five children, you didn't go to college. My mother told me to take commercial courses in high school so I could work in an office.
There is more dignity in that, she said, than going into the mill.
I wanted something more glamorous than that, but I didn't have any money. There was no way I could save that much money. Then a friend helped find me a job and a place to stay, so I went to college. Then in 1930, I got married, and if you were married you couldn't stay in college. I worked for 20 years for Bee Bee Shoe Company in Manchester, and they went into bankruptcy after I left.
Q. What moment did you decide to get involved in campaign finance reform?
A. I read an article by Common Cause in The Boston Globe and it said that in the middle of the night two members of the House tried to pass an amendment to give $60 million to tobacco companies. My God, I thought, that's fraud. I wasn't interested in politics in the least bit. I was very involved in my church. I never did anything in politics except I always voted. Knowing that my husband was a Democrat, I was one too. My father was shocked that I became a Democrat.
So I asked Common Cause, "What can a woman who is 89 do about this?" "Get McCain-Feingold, passed," they said.
Q. That's how you came to walk across the country. Do you still walk?
A. My husband and I spent all our vacations walking. From the time we were married, we were always poor so we did outdoor things. We climbed the White Mountains very thoroughly. When I decided to take this walk across the country, first thing we did was take a national study asking people to get involved (in campaign finance reform). I went as a pilgrim walking across the country.
I walked 2,300 miles and at the end I had 2,300 people walking with me.
Q. Are we any closer to public financing for elections?
A. It will happen eventually, especially since Obama is in favor of it. He hasn't said so, and he'd be a fool if he did because it hasn't gotten to that stage.
Q. How did you come to run for the U.S. Senate?
A. My son Jim rapped on my door and said, "How would you like to run for office?" I said, "What in the world are you talking about?" He told me about how Gregg's opponent had dropped out at the last minute and I would have to decide by tomorrow. "Somebody's got to run against him, but nobody wants to because he's got money, looks and everything." So, I said OK. They called us from Washington, D.C., and said, "Don't worry about money — we'll take care of you." Then we never heard from them again.
We had very little. We had one TV commercial — that's all we could afford.
Q. How much time does the public financing effort take from your day?
A. All of it. That is all I've done for the last 10 years. I became a different person at 90 years old. I have a group they call Granny's Angels. They come and help me.
Q. What is your typical day like?
A. I get up between 5 and 6 a.m. I've got that computer there with a hundred messages. The documentary has created interest from all over the world. That takes a lot of time. I've favored myself a bit since I had this small heart attack in June. My son made me cancel all my public events, and although I'm a burden and a damn nuisance to him, he likes to keep me alive.
I still go once a week to Harrisville to meet with people. In the summer, it is very busy. People come and say hello.
Technology has changed everything.
I believe that when you are holding a Blackberry in your hand, you've got the whole world. A computer will do the same thing. I am very limited on the computer. I was a good typist because most of the work
I did – when I was working – was in an office.
Q. I learned in your documentary that both your husband and daughter had Alzheimer's disease.
A. My husband had Alzheimer's for 10 years. I took care of him, and all my social events stopped like a clock. That wasn't so hard. Those 10 years, although they were hard, there was no other stress. It was a simple life.
Q. You've lived through a lot. Are we better off today than those old days?
A. It's all about the same, just different levels. To see your first airplane — oh God, that was exciting. There were all of these big things that happened. When I was young, there were no lights, only two cars in Laconia, both owned by doctors. We had a two-holer in the back of the house. Everyone had a pee pot under their bed. You wore union suits under your clothes. We lived in the dark , really.
Q. What is your philosophy of life?
A. Try to do something that is bigger than yourself — something you need help with. I've had a wonderful life, even though we never had much money.
Q. Thank you for spending so much time with me.
A. That is part of my job. You can never tell where it's going to end up. We can do it. Do you realize we could save the world?