Q&A with: Dianne Mercier of People's United Bank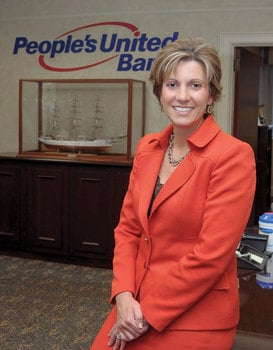 Connecticut-based People's United Bank had purchased the Vermont-based parent company of Ocean Bank in early 2008, retiring the Ocean brand this past July.
Ocean, the former Maine-based bank which had roots stretching back to 1854, had itself replaced the name of more than a dozen New Hampshire banks during acquisitions over the past two decades — including Granite Bank and First Savings of New Hampshire.
People's United Bank has more than $22 billion in assets, 31 branches in New Hampshire and more than 300 stretching from Maine to New York. People's United Bank said that having one name for all its divisions would be more efficient for customers and the company.
NHBR recently caught up with Dianne M. Mercier, the president of the New Hampshire division of People's United Bank, to talk about the name change and keeping a local focus. Mercier has more than 25 years of banking experience in the state and joined Ocean Bank in 2003 before becoming president of the New Hampshire division in July 2009.
Q. How has the name change gone?
A. It's gone exceptionally well, exactly as we had hoped. We also converted our (system wide) software and made our Web site more robust. It was very important not to let our customers down and we're very pleased how it went. There was strong nostalgia with the old (Ocean Bank) brand and it could have been very complicated explaining to our customers where they could bank.
Q. What are the advantages of the People's United name?
A. Probably the most obvious is that our brand is very recognizable and that leads to quite a bit more consistency for our customers. We are the largest independently owned bank in New England and we have 300 branches in our system.
Sometimes it's hard to keep up with our growth, even with a flow chart. It can be complicated, but the real magic comes when you can merge and maintain the cultures while expanding products and services.
One important factor in our favor is the strength of our local leadership. Also, the large People's United Community Foundation allows us to enhance our commitment to local communities – for example to nonprofits like the Boys and Girls Clubs of New Hampshire and to many others across the state.
Q. What's your main focus as president?
A. My focus is primarily to lead the mission of the organization and to represent that mission in the community. We are no different than what many companies are experiencing in that we are asking our people to do a lot more than before. We are 50 percent internally focused and 50 percent externally focused and our community involvement has never been greater. And part of that is to encourage our employees to be very active in the community – and we in turn will support our employees.
Q. What's the status of small-business lending?
A. Unquestionably it remains a concern for business owners and frankly it's a very complicated issue with caution on all parts. What we need is more ingenuity and creativeness.
One of the issues that isn't talked about and makes lending a challenge is the two to three years of losses in property equity for businesses. It became a perfect storm of less overall lending, reduced demand and less equity.
I would say it's far less of an event in northern New England than it is nationally. We have launched a small-business lending program that is focused on the bread and butter of our economy and one that will take a very holistic look at companies to help them find solutions.
Q. How is technology changing the business?
A. I certainly think that technology will continue to have a growing role in banking for the next decade. The more technology presents itself, the more people will utilize it, especially our younger customers.
One of the challenges we face is how do you educate a customer who almost never comes into one of your branches? This will be very important for banks to figure out because so much of the information and education for customers will come through technology.
Q. What are the best parts of your job?
A. The best part of my job is getting the support for employees so they can best represent the company and advance their careers while increasing the level of engagement to customers.
Q. What the most influential book you've read of late?
A. I first read "What Got You Here Won't Get You There" by Marshall Goldsmith two years ago and it's become a reference book to me. It deals with leadership responsibility and how the same behaviors that allow us to become successful aren't the same to realize success as a leader. I recommend it all the time.