Q&A with Derryfield Head of School Mary Carter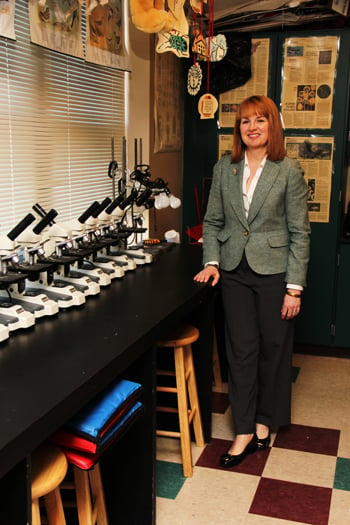 Dr. Mary Carter was named head of The Derryfield School in January, after serving in a variety of roles at the Manchester independent prep institution since 1997, including interim head. She is nothing at all like what one would expect of a "headmistress." Decidedly unstuffy, she is the school's most ardent cheerleader.
In her job, she leads Derryfield's myriad of innovative programs, including the award-winning Breakthrough Program — a summer academic enrichment camp for some 255 talented Manchester public school students of limited means.
Founded in 1964, Derryfield has a student population of 365 in middle and high school. Class sizes average 15 students.
Q. You were appointed head of school in January after serving many years at The Derryfield School in a number of capacities. Why did you want to take this position?
A. Like most 18-year-old girls, I grew up wanting to be a headmistress (laughs).
I was very fortunate and went to a school like Derryfield — I went to Bancroft School in Worcester, Mass. When I was a senior, a really terrific head of school came. I got this sense that you can really change people's lives in very significant ways. I thought, "Clearly, this is a life of meaning."
Q. Are there any new directions you want to take the school in?
A. I'm really thrilled to be launching a strategic planning process right now. We're looking at what Derryfield's opportunities are for the future. To me, the strategic plan is what elevates a school to the next level. What are we doing if not trying to be constantly better?
We're changing to a model called virtualization, where anybody who has a device and is a member of our network will be able to sign in to our network wherever they are with whatever device they have. We also just launched a suite of Google services that is already radically changing how we communicate and work together.
We were really lucky and got a $50,000 grant from the (Edward E.) Ford Foundation last year. That was matched through fundraising to do what we're calling our Digital Project Room. The concept is that we want to provide access to the kinds of technology that kids would not have on a laptop or iPad where they can do interdisciplinary work. We ended up doing a second room as well that is integrating the arts and technology.
We were very fortunate last year and were given a $2 million grant from the Malone Family Foundation for financial aid for gifted and talented students. A group of these Malone recipient schools put together an online consortium, and we're going to run it starting next year with the help of Stanford Online Academy. Kids will be able to take something that would not have been offered at our school, like Arabic, for example, in a distance-learning environment with peers across the country.
Our philosophy is what really matters is that your identity is formed around things you really love, and that you discover competencies and develop them. The way forward, I hope, is that this will be even more built into the program.
Q. Where would you like to see the Breakthrough Program go?
A. It's really relevant for the community. It basically acts as a gifted and talented program for older Manchester elementary students — 4th, 5th grade. They spend summers having an academic enrichment camp. We also provide it on Saturdays during the year. In addition, those students are provided with coaching to get them into honors programs and college placement. For a lot of them, they are the first in their families to attend college.
The other part of this mission is to get talented young people to go into teaching. The teacher interns in the summer Breakthrough program are high school and college students. They're very well trained in teaching technique, but they're also receiving leadership training.
The hardest thing is that more kids can't participate. There are lots and lots of kids who are really bright and deserving in our elementary schools. This program changes their lives, really. Sometimes it changes their parents' lives. It's that powerful.
Q. How does Derryfield set itself apart from other New Hampshire independent schools?
A. We're different in two ways. One, we're really the only independent day school that goes through 12th grade in the state. We do not have boarders. That was part of our mission at the founding.
In addition, Derryfield is only turning 50 in the next two years. We're not tradition-bound. We're not stuck in old ways. Yet at the same time, we do an outstanding job in preparing kids.
We're very clear we're not putting all this investment in them for themselves. We expect them to change the world. There's an incredibly moving line in our statement of philosophy that talks about how "education without concern for others is meaningless."
Q. What impacts has the economy had on the school? Has enrollment dropped?
A. The economy has affected us in two ways. The families who are already here needed more financial aid. That was a big shift. About $1.3 million of merit aid was offered to kids last year. We also tried to trim costs.
The student body is definitely smaller than when I was admissions director in the '90s. But again, it's partly because we have a certain standard for admission that we're looking for. We think it's important to keep that in mind.
Our tuition is basically half of a college liberal arts tuition. While it is a significant investment, if you have that goal for your child, it makes sense to plan backwards to get them in a place where they can really succeed in the college environment.
One of the things I'm most proud of, though, is if these kids were not to attend college, they would still be very impactful employees. I think that's a pretty high claim to make, and I feel perfectly confident in saying that about every one of our seniors.
Q. As an independent school, are you affected at all by the budget issues facing the Manchester public schools?
A. It affects us in that we are talking now about becoming more porous with regard to giving teachers from public schools access to come in and observe. How can we be a place where teachers can come and observe and learn and ask questions for free? How can we serve our colleagues?
Q. Charter schools are increasingly popular choices for education. Do you consider them competitors?
A. For us, they're often feeder schools. I think that having a society where people are aware that there are more options at a younger age will actually work in our favor. I think there's always room in a marketplace for an outstanding option, for the best option. The best option, in our case, is more expensive than charter schools, because charters are free. But we also are able to offer that full access, every child really being taking care of in an individual way with opportunities to play any sport they want, just about, and be taught any of the arts, and cultivating them the way we do.
Our kids are counseled all the way through about college. That's the kind of individualized education that I don't think a charter's going to be able to offer. Everybody being aware of all their choices helps us.
Q. How do you fight the stereotype that independent schools are only for the wealthy or privileged?
A. Our student body has kids from the inner city of Manchester, who are often from refugee families, kids from northern Massachusetts, the Seacoast, from far north like Canterbury. I just met a new student this week from out west in Lyndeborough who lives on a sheep farm. So we have kids from all over.
One of the concerning things to me is that people in Manchester don't even know about Breakthrough, never mind Derryfield. Think of all the kids who could be served, and all the people who would happily donate to Breakthrough and Derryfield, if they recognized what an incredible resource this is really for the whole community?
Another thing is very few of our parents have had an independent school education. They're very grateful and appreciative, and they pass that on to the children. Most of our families are sacrificing to afford the tuition. It's a lot of special effort.
The other thing is we give out merit scholarships, financial aid, and then the Malone scholarship as well. We are also holding a second merit scholarship — we've never done this before — for half-tuition, not just next year, but every year they're at Derryfield. So that puts the tuition very much in line with other schools.