Q&A with Dartmouth tech transfer expert Nila Bhakuni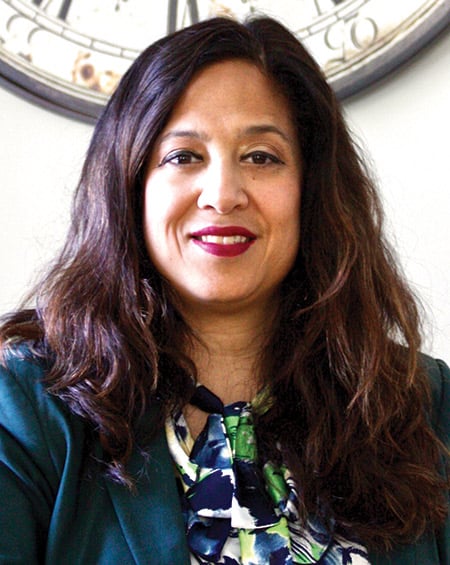 As the director of the Technology Transfer Office at Dartmouth College, Nila Bhakuni manages intellectual property that originates from the college and helps faculty bring innovative products to market. Before moving to the Upper Valley in 2015, Bhakuni served in the same position at Rice University in Houston and as a technology licensing associate at Harvard University and licensing officer at Carnegie Mellon University.
Q. What is the focus of your work?
A. I typically get involved with supporting research and filing patents. A lot of the conversations I have are helping faculty, staff and students vet ideas, deciding whether they should be patented and supporting them with other research contracts they may need to conduct, and talking about how that will affect their research goals or commercialization goals.
Q. What are some examples of ideas that are coming out of Dartmouth?
A. The MVP [Mobile Virtual Player] started as a design project in the Thayer School of Engineering. They created a dummy that they program, the tackling dummy, and they use it to prevent concussions so football players do less tackling. The Dartmouth football coach and one of the creators of MVP were actually on Stephen Colbert's show with the dummy, and Colbert tackled the dummy.
There are many other ideas – drugs that help alleviate different diseases or cure them that are coming out of our medical school. We have researchers that are coming up with methods to screen and to look at breast cancer, so it really is varied.
Q. Tell me more about the intellectual property policy change that took place last year.
A. Tillman Gerngross had been talking to the leadership of Dartmouth College for some time — he's a very successful entrepreneur — and he wanted to serve Dartmouth and became the associate vice provost for the Office of Entrepreneurship and Technology Transfer.
The latest policy we had dated back to 1978. It was very thin, it was not very instructive, and Tillman had this vision that it could be more clear and supportive of entrepreneurship. So they put together a technology transfer task force with people at Dartmouth who are active in technology transfer and commercialization. The policy was circulated around Dartmouth and then it went in front of the board in March and it was passed.
Q. What does the new option offer?
A. You can do the regular path for technology transfer, but if you're an inventor and you start a company, you can require the college to assign the intellectual property to the company under certain conditions, such as all of the inventors have to agree, sometimes sponsors have to approve such a transaction, payment of patent costs. In exchange, Dartmouth will accept 4 percent founder's equity.
Q. What is the impact of that policy on the faculty?
A. I think the people we're attracting want to commercialize their own technology and do it their own way, so this provides them the option to select their own patent counsel, control the patent strategy to do whatever they need to do with that, and in some ways the college steps out of the way and wishes them well.
The structure of the transaction has equity instead of fees and royalties, and is another element that was very thoughtful because a lot of times, the way it was set up with technology transfer, there's pressure to bring in certain kinds of revenue, and thus the technology transfer offices charge fees and royalties.
What I get out of it from the faculty is that they have a stronger feeling that Dartmouth is behind them and they're empowered to commercialize their technologies. So that kind of incentive important thing to have to attract talented researchers in a competitive world to come to Dartmouth.
Q. How has the DEN Innovation Center and New Venture Incubator helped serve aspiring entrepreneurs?
A. The DEN Innovation Center has been a great resource for Dartmouth and a welcoming space for the whole community. It is part of a much larger vision around entrepreneurship, led by my colleague, Director of Entrepreneurship Jamie Coughlin.
Today, the breadth of DEN is far-reaching and includes 15 co-curricular educational and funding programs, curricular partnerships in economics, engineering and computer science, two incubator spaces (DEN Innovation Center and the Dartmouth Regional Technology Center), and strategic DEN city chapters across the country in places like Boston, New York, D.C., Boulder/Denver and San Francisco.
The entire DEN vision and set of resources is in service of educating future entrepreneurs and building value creating enterprises.
Q. How has the Dartmouth alumni network helped aspiring entrepreneurs?
A. The Dartmouth alumni network is our strategic advantage. The people at Dartmouth are so loyal and willing. We have a DEN West Coast alumni-driven entrepreneurship conference in September every year, and the content is amazing. It's all driven by our alums.
Last year, they organized venture office hours where local entrepreneurs and venture capitalists were matched with early-stage startups. We're just beginning to see where this can go, but I can tell by just the one year I've been here, the incredible surge of positive response we've had to the policy, the vision of Tillman Gerngross. And the idea we can create companies in the Upper Valley or wherever they should be, hopefully in the Upper Valley, to give us optionality — a lot of times we have spouses that are coming and finding jobs can be challenging.
Q. The University Research and Commercialization Plan suggests a web portal where faculty can interact online, since it can be difficult to connect on a big campus. What do you think of that suggestion?
A. I think that's an ongoing challenge. I'd like to redo my website and also get in front, go into their labs. I think sometimes people get so busy, so we try to bring some of the programs to their locations as well and hit their different department meetings and be visible and walk the halls as much as we can so we get an opportunity to work with them, and the word spreads as well.
The term that people are using is "innovation ecosystem," and we really work together because it really does take a village to get these things commercialized.
Q. You've worked at different universities. What has that experience taught you about commercializing research?
A. There's a lot I've learned. I think when you're at Harvard, MIT and Stanford, it's a different feel. I've had the opportunity to be at some wonderful small private schools. A lot of times we look to these well-known schools to see what they're doing, but from a strategic point of view, we need to look at who we are and what works for us.
One of the things I like about Dartmouth's strategy is they looked at who they were and what they wanted as an outcome, and they went through this thoughtful process. Strategies differ based on the technology mix and the geographic location of the school.
I think there's a lot that can come of it in terms of providing new places to work and new opportunities for our talented faculty. They almost expect to start a company, and if you look at the statistics among faculty in engineering, one of every three is starting a company, and it's headed to one out of every two. These young brilliant professors are considering the support of the entrepreneurial environment when making their choices of where to go.
Q. Manchester-based venture capitalist TK Kuegler once told me that it was necessary for universities to be in a city, close to businesses. What about Dartmouth?
A. I think the location has its pluses and minuses. But I think the reason why people love living here is you don't have the traffic, you have the beautiful scenery, you have the organic food and the friendly people. We're so close to Boston. We're so close to New York. We also are so close with our alums that I think there are ways we can use the advantages we have, and that's the key – because we can't change our location.