Q&A with Craft beer pioneer Peter Egleston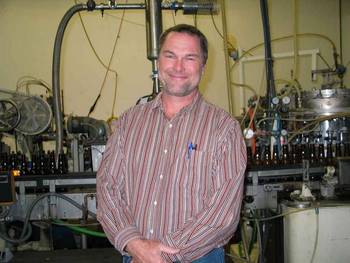 Peter Egelston, president of Smuttynose Brewing Co., was largely responsible for breathing life into the nascent microbrewery industry — brewers that make no more than 15,000 barrels per year — in New England back in the 1980s. In 1987, he opened the Northampton Brewery in Northampton, Mass. The Portsmouth Brewery brew pub in Portsmouth followed in 1991 and Smuttynose Brewery in 1993. In the years since, Egelston, turning 48 next month, has made Smuttynose's rich lagers and sprightly pale ales a force to be reckoned with in a $4.3 billion worldwide industry. New Hampshire Business Review caught up with Egelston at Smuttynose's Portsmouth brewery to ask him what the future holds in store for craft brews here and abroad.
Q. How did you move from being a Spanish literature major to president of a beer company?
A. I was finishing up a master's degree in education, and had a permanent job in the New York City school system and had an offer for a permanent appointment in a large inner-city school not far from where I lived in Brooklyn. My younger sister, Janet, showed up on my doorstep one day in the summer of '85 and had this crazy idea. We were sitting around my kitchen table one night drinking beer that I had made and talked about all the wonderful little bars and restaurants out on the West Coast she had visited that were making their own beer. Nobody thought to do that here on the East Coast, so why not us? The timing was good for me. I was ready to try something different. In those days, it was very easy to borrow ridiculous amounts of money, even with no experience. We got a bank to lend us a million bucks and bought a little carriage house building in Northampton which nobody wanted. We started what is now the oldest brew pub in the Northeast. Janet has since bought me out and is now sole owner of the Northampton Brewery.
Q. Have craft beers come into their own or are they still looked upon as the "poor man's champagne?"
A. Beer, unfortunately, is kind of the Rodney Dangerfield of the beverage and alcohol business, getting little or no respect. But that is slowly changing. We've been singled out by the people that put together Rachael Ray's magazine. They put together the six best beers to go with Thanksgiving dinner, and ours was one of them. The New York Times wine critic, Eric Asimov, periodically does a beer column where he will convene his colleagues and do a tasting. In 2004, they picked our Big A IPA as the best IPA of all the ones they had chosen. And just this past summer, they did a tasting of wheat beers and ours was one of the six they'd chosen. So we're starting to see a bit of a shift, but every so often it kind of feels like two steps forward and three steps backwards.
Q. Where is the craft-beer market going?
A. There's a built-in potential conflict between the artistic side of beermaking and the imperatives of the business. That having been said, there are any number of small breweries that seem to balance those two things effectively. And that's certainly where we want to be. I like the fact that the full-time beers we make are perceived to be pretty friendly, accessible beers. At the same time, we've got brewers making some really interesting things. We've got some beers we're aging in old whisky barrels. Those kinds of products will never represent the bulk of our sales. The beverage alcohol business is very much driven by trends – the flavored vodkas, for instance. The more serious players in our category are trying to be anti-trend, if you will. I think that's easier and clearer to do now that the role of craft beers is more clear in the eyes of retailers and consumers.
Ten years ago, we were just another trend. When the growth in the craft segment in the mid- to late-'90s ground to a screeching halt, there was a sense that trend was over and it was back to imports or mainstream domestic pilsner beers. The trendy aspect of the craft business, I think, did end then. Those of us that are still doing it are back with renewed growth and strength. I think it's based on a much stronger premise which is a much deeper rooted change in consumer trends. It's the whole reason why people are buying artisanal breads and cheeses. There are few food products that have a longer-standing tradition than beer. Beer has been created since the dawn of civilization. In fact, there are anthropologists that suggest beer created civilization.
Q. Another player in your portfolio is the Portsmouth Brewery in Portsmouth. How is its business different from what Smuttynose does, in terms of the beer and markets?
A. As a brew pub without having to package the beer and distribute it, we've got a tremendous amount of creative license. We have a core line-up of four or five beers that are offered year-round. Two others are Smuttynose beers. Three or four are seasonal beers that are really unusual. For example, we make a wheat beer flavored with ginger, and lemongrass and Kefir lime. So it has this really unusual flavor profile. Again, it's a specialty beer that comes on once or twice a year. The beauty of the brew pub environment is that you're making beer that's consumed right there on the premises. You're interacting with customers right on the spot, getting instant feedback. You really know how people are responding to your beers. Here at the brewery, we're somewhat at arm's length selling our beer through retailers and wholesalers. There's a bit more of a lead time in feedback.
Q. Can you tell us about some of the new releases you have planned?
A. We have one in the spring that does involve some fruit, but done our way. We're also always looking to add to our Big Beer series like our Double IPA. These are limited runs of about 750 cases. We're also going to develop a very specialized line of draft-only beers, offered to very special accounts. Kind of like a "brewer's choice" offering, like 40 or 50 kegs' worth. There may be only 12 or 15 places that will have these, and our distribution is now as far south as Virginia and as far west as Milwaukee.
Q. What were some of the beers that didn't make it into production?
A. We were ahead of the curve on Belgian beers, about six or seven years ago. We made Belgian-style Wit, a Belgian wheat beer, which tends to be very turbid. It's an unfiltered beer. It was an absolute disaster. The beer was fine, but people just didn't get it. They thought the beer was bad, they thought there was something wrong with it. When it was part of our special run Big Beer series, it was very well received, because the folks that drink those tend to be beer geeks and are looking for something very different. But in retrospect, when we put it into the six-packs and into the wider market, many of those customers were not quite ready to embrace that style.
Q. If you weren't a brewmeister, what would you be doing?
A. It's very likely I would be back in some form of education. That was something I was definitely passionate about. I think what I do now, running two small businesses, I think is a very great outlet for someone with a very strong creative urge but doesn't necessarily have the talent to be an artist, which was something I fantasized about as a kid all the way through high school.
Q. I noticed your employees are very young, so you may still be in that teacher's role.
A. I guess to some extent there is an education component. But there is almost a salesman component, too. As an example, I can walk in the door with some big idea. The big idea isn't going to go anywhere unless I can sell it to everyone who works here. Just because I own the company doesn't mean I can wave my hand and make it be so. In order for anything to be successfully implemented, it's got to become part of the culture of the company.