Q&A with: Constant Contact's Gail Goodman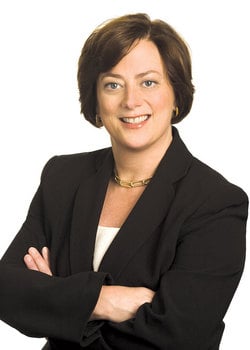 Since taking leadership of Waltham, Mass.-based Constant Contact in 1999, Gail Goodman has grown the e-mail and event marketing firm's customer base to more than 350,000 worldwide.
In an interview with NHBR, Goodman, who has an MBA from the Amos Tuck School at Dartmouth College in Hanover, discusses Constant Contact's 2010 Small Business Attitudes and Outlook Survey, which looks at trends and issues affecting small business owners in a rapidly-changing economy.
Q. What type of businesses made up the sample of your 4,580 completed surveys?
A. They were mostly small businesses, across an incredibly wide range of industries. Retail is the largest, with professional services like legal and accounting, marketing and PR agencies. Really, a wide swath of industries.
Q. Despite several nagging challenges in the economy, fully half of businesses you surveyed held a positive outlook for the economy moving forward.
A. Absolutely. And 70 percent of them are expected to grow this year.
Q. To what do you attribute the fact that suddenly they're feeling better about things?
A. Well, I do think that small businesses are inherently optimists. They're out there fighting the tough economic battle every day and they generally tend to keep a very positive outlook. But I also think they have felt the turn in the economy. A year ago they were feeling pretty bleak not knowing how long it would take before the world turned around. I think they're starting to feel it.
Q. Another of the challenges alluded to earlier is the perception that the federal government is not as business-supportive as it could be. Elaborate please.
A. Forty-nine percent of small businesses thought that the federal government's attitude was moderately to very unsupportive. They look to what has been proposed to help small business, and certainly the federal government talks about small business a lot and they aren't really finding those particular ideas very helpful.
When you look at the tax credit for hiring, 88 percent said it would not influence their decision to hire. They're going to hire if they need it and they're not going to hire if they don't. A tax credit doesn't swing the vote.
Q. How does your survey sample, in general, feel about the recent health-care reform changes?
A. The biggest thing is they don't know what it's going to mean. Thirty-five percent did not have enough information or weren't sure how it would help them. I think confusion reigns about whether health care is good or bad. Twenty-six percent thought it might impact their business negatively, 16 percent positively and 23 percent right in the middle – no impact at all. So really, all across the board I think it's definitely going to be a wait-and-see.
Q. Despite the many options at their disposal, your report says that businesses still feel that word-of-mouth marketing is still the most effective way to find new customers.
A. Absolutely. Small businesses in particular really rely on repeat sales and word-of-mouth referrals to drive their sales. They compete on providing great service and support to their customers, and when they do that they know their customers will tell their friends. But they're also increasingly looking to inexpensive online methods both to promote that word-of-mouth, but also reach new folks. They're looking at things like e-mail marketing. They're counting on their Web site, and they're starting to experiment with social media tools like Facebook, LinkedIn and Twitter.
Q. Your survey reports that Web site and e-mail are the No. 1 and No. 2 tools for marketing one's business. Where do Facebook and other social media fit into the mix?
A. Small businesses are always looking to reach new audiences. It's actually their No. 1 marketing priority. How do I reach that new audience? How do I get more people into my business? And they're hoping by using Facebook, Twitter and LinkedIn, they not only get their own reach, but they get to reach the fans, friends and followers of the same people that are doing the word-of-mouth referrals.
So if I have an audience that loves me, if I can get them to tweet about me, or comment about the great meal they had Saturday night on their Facebook page, I am not only talking to them, but now I'm talking beyond them to their fans, friends and followers.
Q. So is that what you do at Constant Contact – advise the use of e-mail and Web site, but also mix in social media to create the complete marketing package?
A. Absolutely. We want to be coaches to the more than 350,000 small businesses who use our tools and social media is the hot area we're helping them understand how to leverage.
Q. Like many young companies hurt when the dot-com bubble burst in 2001, you considered closing down. What did you do to right the ship?
A. I think perseverance is the No. 1 thing. We went into starving start-up mode and ran the business on sweat equity for a while until we could get some critical mass, until we could find some incremental funding and grow the business.
Q. Give us three things a business can do today to keep their marketing e-mails from not being opened.
A. Be relevant. Be informational, and be sure that you are communicating with permission, that people know who you are and why they're receiving your e-mails.
Q. And the importance of a powerful subject line?
A. You really want to be sure people understand why they should open your e-mails. Share some great tips or information. Don't be too promotional and make sure you have a subject line that has that call-to-action that tells them why they should open it.