Q&A with: Clean Air-Cool Planet's Roger Stephenson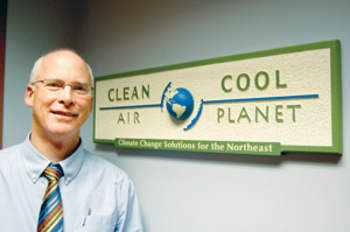 Portsmouth-based Clean Air-Cool Planet, which finds and promotes solutions to global climate change, recently received a $400,000 grant from the state to help more than two dozen towns develop plans to renovate their most energy-inefficient municipal buildings.
CA-CP, which works with municipalities, corporations and educational institutions to create carbon reduction and energy-saving plans, will work with participating towns and cities to develop an energy audit and prepare reports to present to local officials.
"You can't manage what you don't measure," says Roger Stephenson, executive vice president for programs at CA-CP. Beginning last August, when oil prices were skyrocketing and the economy was beginning a major downturn, Stephenson said that towns and cities became more focused on carbon reduction, energy efficiency and savings for taxpayers. He said the tools are available to help them change and that innovative policies are emerging as entire communities become engaged by becoming involved in such efforts as the Carbon Coalition.
CA-CP's diverse client list includes corporations like Verizon, Timberland, LL Bean and Shaw's Supermarkets, and smaller local and regional firms, such as Oakhurst Dairy and Regency Mortgage of Manchester, along with scores of academic institutions, ranging in size from Harvard University to Bowdoin College to the University of New Hampshire.
Stephenson joined CA-CP in 2006 to establish a global warming education campaign in New Hampshire ahead of the 2008 presidential primary. He previously served in the Department of Interior during the Clinton administration and later with the League of Conservation Voters as field director.
<hr>
<B>Q. How has climate change science increased awareness and impacted business decisions?</b>
<B>A.</B> Awareness has increased in part because of the education efforts of some businesses and advocacy groups — efforts made more necessary because of major changes in the past several years in science, policy and price. With regard to science, significant changes include the latest report from the Intergovernmental Panel on Climate Change — the Fourth Assessment Report, 2007 — which concludes that human influences on climate are "very likely," by more than 90 percent. There has been considerable supporting science since then, much of it indicating impacts are worse and accelerating more rapidly than AR4, and impacts are already detectable in observational record.
<B>Q. How are businesses and institutions reacting to the political and policy changes in climate change?</b>
<B>A.</B> With business action in policy, more non-energy businesses, including colleges and universities, are getting in the mix because they are beginning to understand how a federal climate law might affect them, and they are contributing to the debate.
I think one root cause for this is the last presidential election cycle, in which both Senator McCain and (then) Senator Obama agreed that global warming must be addressed. Another root is regulation — the Supreme Court ruled that CO2 is a pollutant, and thus falls within the Clean Air Act and under the EPA. While many agree with Clean Air-Cool Planet that a legislative solution offered by Congress is preferable to regulation, the regulatory train is leaving the station and more businesses will need to remain aware.
<B>Q. How much is economics playing into business calculations?</b>
<B>A.</B> Energy price volatility is the bane of every business owner seeking to plan long-term for his or her organization. Any federal climate bill will need to include a policy element, such as a price collar, that addresses volatility. Last summer, we saw oil go shoot up from $40 a barrel to $140 a barrel and back down to $70 a barrel. You can be assured that as the economy recovers, energy prices are going to go up and it's important to be prepared with a plan.
<B>Q. What is happening under the radar?</b>
<B>A.</B> We are encouraged by a great deal of innovative thinking and the collaboration between the public and private sectors into an arena that had been only the purview of utility companies. It's showing the best of what citizens can do.
<B>Q. What's an example of that collaboration?</b>
<B>A.</B> The city of Claremont worked with Public Service of New Hampshire to change the city's 1,016 street lights. In doing that, Claremont saved $1 million over 10 years. If you use that as an example, it gives them choices. "What do we want to do with that money?" They could improve their parks, buy fire safety equipment or return the money to taxpayers.
<B>Q. What is the best part of your job?</b>
<B>A.</B> Being able to listen to many different people and learn their points of view about energy, climate change and their priorities. I get to listen and learn why energy reducing emissions matter differently to a CEO in ways I'd never thought about. I'm not a businessman, but I have a greater appreciation what these companies do and how they do it because of how we get involved in so many business aspects — from accounting to supply chain management and the services they provide.
<B>Q. What's ahead for New Hampshire?</b>
<B>A.</B> There are a couple of decades worth of work to be done in the state to reduce our dependence on foreign oil supplies and there a couple of decades worth of work to change our transportation thinking and how we move around the state.
Doing this work takes a great deal of continuing education and a lot of boots on the ground to help companies and communities — to use energy better and save energy for their bottom line and to reduce carbon emissions. Luckily in New Hampshire, you can see we are our committed to transparency, taking risks and looking at ways to do things differently.