Q&A with Carsey School's Michael Ettlinger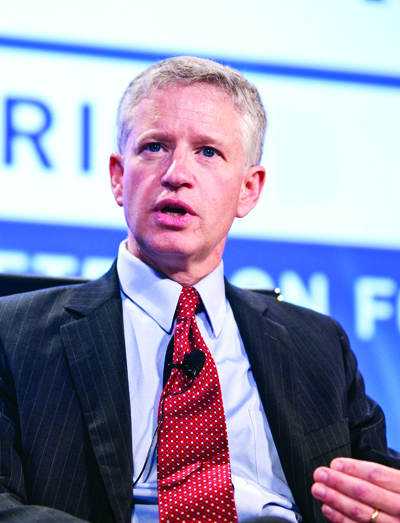 Michael Ettlinger took the post of founding director of the University of New Hampshire's new Carsey School of Public Policy earlier this month.
The school, created with a $20 million gift from Emmy-winning television producer and UNH alumna Marcy Carsey, has a mission of training future leaders to solve problems through research.
Ettlinger most recently worked as senior director of the Pew Charitable Trusts, where he managed Pew's fiscal and economic portfolio, leading a team of experts who provide research-backed advice for government officials on a wide range of national issues. Before that, he was vice president for economic policy at the Center for American Progress.
Q. What are your plans in the first few months at the Carsey School?
A. A lot. I will become engaged in the operations of the Carsey Institute, plug into existing processes for developing the Carsey School and move to the next phases of that development – begin working on building broader support for the school and its work through old relationships and develop new ones, explore new initiatives, figure out how to buy Wildcat hockey tickets and generally get acclimated to UNH and the area.
Q. What do you see the Carsey School being like in the next five years or so?
A. It will have a growing reputation as an outstanding school of public policy with highly regarded graduates as well as being a home for outstanding multidisciplinary research and a range of effective initiatives. It will increasingly be highly regarded in New Hampshire, the nation and internationally.
Q. Did you have any ties to New Hampshire before taking your new job?
A. I attended a model national political convention at Kearsarge Regional High School when I was in high school, and a few years after that worked for a summer as a camp counselor at a camp on Lake Winnipesaukee. I've actually had a lot of people from New Hampshire work for me. One still gets me amazing maple syrup whenever she goes home. Now I'll be able to get it right from the source.
Q. You have a bachelor's degree in electrical engineering and a law degree, how did you end up doing economics and education?
A. That's a long story. The short version is that I got a job working in public policy as a lawyer, but what was really needed where I was working was economic modeling. I had the programming and statistical skills for the specific modeling that was needed from my engineering background, so ended up doing a lot of that.
Also, as a practical matter, the policy issues I was working on were much more about economics than anything legal. I had always had a strong interest in economics and over the years increasingly worked with formally trained economists as well as national leaders in economic policy.
Q. What were some of the projects you worked on while at Pew?
A. I have supervised a team of about 70 people working on a range of fiscal and government reform initiatives. These have included projects that have looked at the fiscal relationships between the federal government and states, studied the impact of government decisions in non-medical areas on health through the use of health impact assessments, assisted states in implementing a cost-benefit model to evaluate whether their program dollars are being wisely spent, helped states examine the effects of their economic development tax incentives, and several more.
Q. How will you use your experience at your new position at the Carsey Institute?
A. I bring a wide range of experiences to the position. That breadth of experience, touching many areas of policy, in several different contexts, will serve me as we develop the program to offer a top-flight training ground for public policy professionals and as we consider new research projects and initiatives.