Q&A with Carmen Lorentz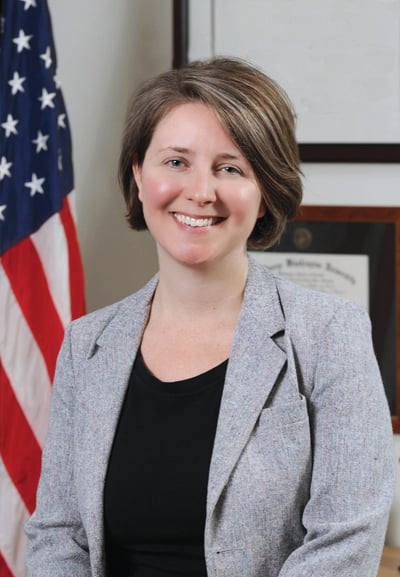 An internationally focused career taught Carmen Lorentz, director of the New Hampshire Division of Economic Development, an important life lesson: There's no place like home.
After studying international affairs at George Washington University, Lorentz worked for six years at various nonprofit organizations in the Washington, D.C., area. She lobbied on U.S. foreign policy in Latin America, working on grant making for organizations focused on government corruption, rule of law and human rights in that region.
But in the midst of Washington's humid summers, she especially longed for her childhood days in Gilmanton, N.H., when she would just hop on her bike and swim all day at the lake.
Realizing she wanted to be closer to the issues she was trying to have an impact on, Lorentz switched gears, earning a master's degree at the University of Maryland School of Public Policy. She took a job with New York's Public Management Institute, where she analyzed state economic development policies for 50 clients across the Northeast.
Lorentz returned to the Granite State in 2011 as executive director of the Belknap Economic Development Council, responsible for retaining and attracting young talent to the area and encouraging creative entrepreneurs. In January, Gov. Maggie Hassan appointed Lorentz to head the Division of Economic Development, where she focuses on business retention and recruitment, government procurement and international trade.
Q. How did the Belknap County position prepare your for your current position?
A. The best thing it did for me was orient me to how economic development is done in New Hampshire. Compared to other states around us, we don't have a huge budget we can throw around when it comes to economic development. New Hampshire's total incentive for business is $4 million annually and Massachusetts' is $770 million.
There are big differences, but our competitive advantage is our relationships with state officials. It's very easy for businesses to get access to state officials. In another state, it can take you six months to get an answer to a question, but our government is so open and so accessible, and I like that a lot about New Hampshire. We pride ourselves on being responsive.
The challenge I'm looking forward to the most is applying the limited resources we have so we're using them efficiently and getting the biggest bang for our buck.
Q. Before researching for this interview, I didn't realize how important manufacturing is for Belknap County.
A. I remember, as a high school student, when it was time for me to make decisions about what to do with my life. I knew we had a hospital. I knew there were teachers, a lot of retail and tourism jobs – those are things I saw and had interaction with. I didn't know about the manufacturing; none of my family worked in the industry. It was like a whole other world, and coming back as an economic development professional, it made me look at the community in a new way.
There's a high concentration of manufacturing jobs. When you look at the numbers, manufacturing's 10 percent of their jobs base. And year-round, a lot of the professional jobs are in that sector. It was important for me to help the community focus on [manufacturing] and grow, going forward because a lot of the issues with manufacturing, and this is statewide, is the ability to find skilled employees.
Q. How has manufacturing changed?
A. It's really interesting when you talk to people in the industry – the nature of the work has changed so much. Manufacturing isn't punching your time card and doing the same thing everyday. It requires a lot of teamwork. You see they're grouped into cells and they're given a problem to solve, to make the product the high quality it should be.
The math skills, interpersonal skills, communications skills are much more important today. It's all computer based for the most part, so the skill level is much more important than it was a generation ago.
There are a lot of jobs in the field, and [it's great] for someone who wants to be on a career advancement track. Most [manufacturers] will pay for [employees] to go to college. So you need a solid skill set to get in the door. I feel like it's a bright spot, and it's not something young people think about when they think of New Hampshire.
Q. What are some things the Division of Economic Development does?
A. We help companies with government contracting and exporting, but there are some barriers there – figuring out how to become qualified to be a government contractor, where to sell products internationally and how to go about marketing them.
In 2013, our procurement technical assistant program worked with 600 businesses, and those clients got over 2,500 prime contracts valued at $414 million. It's not small potatoes when we talk about our work there.
And our export group provides matching grants to companies to help them do overseas business development and market research, and they do a lot of training in financing and export compliance – technical issues you need to understand to be successful internationally. They gave $150,000 in matching grants to 35 N.H. companies and trained over 200 companies in various export topics.
Q. What are your plans for the division?
A. Right now, we're doing our first-ever strategic plan, and my goal is to help this division make better use of technology and data so we can be sure we are measuring our work and focusing our resources where we're making the biggest impact. We didn't have a director in place for over five years, and I'm excited to work with the staff to articulate what it is that this division can do and what our value is to the state and the impact we have on the economy.