Q&A with: Bus company exec Jim Jalbert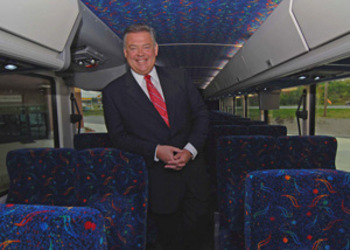 Jim Jalbert says he's "very passionate about transportation and bus." It would be hard to argue that point. Jalbert, who's president of the Portsmouth-based bus line C&J, also is co-owner of Boston Express, the bus company C&J operates with Concord Coach Lines. Boston Express provides service down Interstate 93 from Manchester to Boston and Logan Airport.
From his vantage point not only from New Hampshire but as a member of the executive committee of the board of directors and former president of the American Bus Association, Jalbert has a singular view of the mass transit picture in the Granite State and around the country.
---
Q. What's the state of the bus business in New Hampshire?
A. People don't realize that the bus industry very quietly moved 1.7 million people in and out of the state last year. The industry employs over 350 people in New Hampshire. Our payrolls are between $12 million and $15 million a year. Over $1.1 million in fuel, road tolls and registrations are paid each year. As a result of bus in New Hampshire, over 70 million vehicle miles traveled are reduced off our highways. Over 100 combined service schedules — 100 round-trips a day — are offered from 22 cities and towns everyday. That means 22 cities and towns are served every day by bus.
The unique thing about all of this is, with the exception of the subsidy dollars that went into Boston Express, virtually all of the bus services in the state of New Hampshire are paid for out of the fare box — so it pays fuel taxes and tolls, provides gainful employment and it does this solely from the fare box, without a subsidy.
Q. What exactly is Boston Express?
A. Boston Express is really made up of the two principals who own Concord Coach Lines and C&J. So when you put the whole ball of wax together, we represent 90 to 95 percent of all the bus business in New Hampshire.
Boston Express is really a contracted service of the state of New Hampshire as a result of the widening of Interstate 93. When they did the environmental impact study and statement, they had to decide what mode of transportation they wanted to use and because of both experience and cost they chose bus.
We're eight months old on 93, we're 2 years old on Route 3.
Q. Is it making any money?
A. Collectively, we're 77 percent out of the fare box — that means we're covering 77 percent of the expense of the operations out of the fare box. Hopefully someday we will make money on this, but right now we don't. It's a contracted thing. The state basically pays through federal money the difference between the cost and the revenue.
But if you compare it to other transit systems around the country, Austin, Texas, is 9 percent out of the fare box. BART in San Francisco is 45 percent. It's 56 percent for Las Vegas. Toronto, which we have really advocated the state look at in the case of the Capital Corridor, is 89 percent out of the fare box — that's the best fare box recovery in North America.
Q. Boston Express came into existence because the state saw a need for it?
A. The permitting for the widening of I-93 was premised on providing an alternative means of transportation, during and post-construction. That alternate means is Boston Express.
The state had wanted service from Nashua a couple of years earlier — that was where Boston Express got created. The entity was created when we bid on it. It was really a public sector arm of the two companies combined to go out and bid on public projects. When they came out with the environmental impact statement and the desire to put out an RFP for bus, we responded.
Q. Why did your two companies hook up?
A. There were two reasons we wanted to do this. One, we wanted to make sure the system was run well. We think looking at inter-city bus on a contractual basis across this country, we truly believe that nobody runs a system better than we do. From the operation of the facilities to the maintenance of the buses, the training of the drivers to our safety records, and so on and so forth. We're very keen on that.
Q. You've said elsewhere that, contrary to the perception of most people, buses today have a more benign effect on the environment.
A. M.J. Bradley, an engineering firm in Manchester, recently conducted a study comparing the environmental effects of Concord Coach and Amtrak's Downeaster. The Downeaster has five trips a day and uses 599,000 gallons of fuel a year. Concord Coach runs 16 trips a day along the same route and does it on less than half the fuel — 264,000 gallons.
When it comes to CO2 emissions, the Downeaster emits 6,792 tons a year, as opposed to the bus, which is 2,993 tons. NOx emissions are 135.1 for the Downeaster and 15.6 for Concord Coach. The difference is similar for other emissions as well. So from an environmental standpoint, bus is more environmentally friendly.
Q. Was there a recognition period for Boston Express before people started taking it?
A. I think there still is. We did our pro formas back in 2007, and then we all know what happened in September of 2008 with the financial markets. We're not hitting all of our numbers yet. We had planned to get this thing paid for by itself before the end of three years. We think we'll get very close, but we don't know if we will go all the way because of the economy.
I think that in Nashua's case it will pay for itself in the next six months, and I think in 93's case we got a real shot by the end of three years.
Q. Do you see a growth curve in the number of passengers?
A. I think we started out in the 20,000-passenger range a month, but it's quickly, on the 93 side, eclipsed 26,000, 27,000. It's picked up by over 25 percent.
Q. Are the riders commuters who are tired of taking their cars into Boston?
A. Predominately yes. But we think there's an opportunity for people who want to use an alternate mode to connect with Amtrak or another bus company, to go to Logan Airport. Some of the success of it is it's not what most people are used to when they think of bus.
Every one of our buses has Wi-Fi, so commuters who work in Boston can be productive on the way to Boston. We offer a lot of service. If you take C&J's 9 o'clock from Portsmouth to Logan, you would have a Wi-Fi-equipped bus, video shorts — I pick them because I have a lot of fun with them — complimentary headsets, free coffee in the terminal and seven channels of XM satellite radio.
Q. The ability of people to commute who don't have a vehicle in New Hampshire or don't want to travel by car from most towns and cities is almost impossible.
A. That's called intrastate service, and it can be done in two ways. You have a lot of transit systems around the state of New Hampshire, like the MTA in Manchester, CAT in Concord, the service in Nashua, COAST on the Seacoast. I think between the major cities within a 45-mile radius there needs to be a discussion with those transit authorities. There should be an opportunity to link them together. The Department of Transportation ought to spearhead getting everybody into the room and have a general discussion on this.
In terms of western service or cross-state service, that would be a fairly good distance. That would be more intercity bus, and that needs to be a policy decision by the state of New Hampshire. The state does not have a funding source for transportation. They have seldom taken any money out of the general fund, and in fact the first time they ever did was for the 93 project — and that was because they had to.
Q. From the perspective of employers, in terms of just being able to afford to live in one place and work in another place — especially with housing prices so high in areas where a lot of the jobs are — it seems to make a lot of sense to have some kind of transit service.
A. On the Seacoast, COAST has set up this neat little network that really moves employees all around. The number one stop is the Newington Mall for people who work out of Dover, Rochester, Farmington. The second-biggest stop is downtown Portsmouth. The third-biggest stop is the bus terminal, where we're located in Portsmouth. You've got a transit link to the downtown bus station, to major employment areas.
Q. That sounds like a model for the rest of the state.
A. We have suggested on several occasions that this discussion take place. Last year at this time there was this big blow-up about service leaving downtown Manchester and the people in Concord were complaining that they couldn't get to downtown Manchester. But how do you tell 40 people who want to leave Concord and go express to Boston that they have to take a 25-minute diversion to downtown Manchester? The 40 people will get off that bus because it will no longer be time-competitive to driving a car.
What needs to happen is for CAT and the MTA to sit in a room, with the guy holding the money bag, which is the Department of Transportation, and say, "Come on guys, we're going to have a discussion about this. We're going to make this work."
Q. What about rail, which a lot of people are advocating as the answer to the state's transit needs.
A. Let's talk about the realities of that. If the Capital Corridor service comes in, obviously it's going to take a percentage of the people who ride Boston Express and Concord Coach. When you have that modal shift, all of a sudden it means that Boston Express, Concord, or any other company is going to lose revenue, and it would have to be the responsibility of the state of New Hampshire, Boston Express or Concord Coach — I can't speak for Concord, of course — to reduce bus service or to curtail service in its entirety.
In the case of Boston Express, we carry a lot of commuters right now, so if you have a 20 percent modal shift — 20 percent of 30,000 monthly passengers go over to the train, the Boston Express is not going to survive without a subsidy. So is the state going to make a policy decision to provide ongoing subsidies?
Q. So we shouldn't have rail?
A. GO transit [in Toronto] — I got a real education up there. What they did was develop bus terminals that are also train stations. They start with bus, and when they hit a certain capacity point, let's say it's 6 in the morning and you need three full buses. It makes no sense to run a set of buses — it makes sense to send a train. That's what Toronto does.
What we said to the state rail authority and the DOT, we said let's have the rail and bus people sit down and develop a systems approach to public transportation. Maybe we don't need rail today, but we may need it 10 years from now. So let's get the engineering done to locate stations where you can do bus and rail — do a fully blown financial plan, know what the true costs are.
What sense does it make to run 12 trips a day, all train? Wouldn't it make more sense to walk before you run and do bus and rail together, reduce your costs and make a more cost-effective structure? The customer is still going to get to the same place. He's going to still enjoy the frequency level. But why just go in and take one project and stick it on top of another project — which, by the way, you just spent $32 million on — and destroy one to have another? It makes no sense.
Q. But when people talk about rail, they say the money's available now, let's do it now.
A. First of all, that's if they get it. And remember, that money is capital money — they still have to pay to run it. And once they start running it, what's the effect on bus, what's the deficit to the state?
They have a passenger study that they're using in their application for stimulus money that is so antiquated that it predates the creation of Boston Express, which if they studied it again, it would change the need.
Q. What kind of numbers are they talking about?
A. They're suggesting everywhere from 2,000 to 5,000 passengers a day. I think they're crazy. It's not there. That's why it will be difficult for both modes to survive in the same service corridor.
Q. One of the other arguments of people who support rail is that it can be an economic development tool.
A. The Brookings Institution did an article called, "The Train Drain," a study of trains in the U.S. and the lack of positive economic impact to station location. First of all, let's look at Dover, Durham and Exeter, where the Downeaster stops. There hasn't been one single stick of commercial development in nine years that has occurred as a result of the Downeaster, except for the station development, which was paid for with federal, state and city money.
Q. What about high-speed rail from Boston to Montreal?
A. I'm not saying don't plan for it, don't engineer for the future. I'm not saying don't slowly obtain rights of way, because that all makes sound business sense. But, one, it's not ready today. Two, when they do it, they've got to have it engineered and financed correctly, and they've got to have a plan. And, three, it's got to make environmental. sense.
Q. What about the people who point to Europe and Japan? They have high-speed rail systems all over the place.
A. It makes sense when you have population density. Boston-New York-Washington makes perfect sense. Milwaukee-Chicago — perfect sense. L.A. to San Francisco — perfect sense. Montreal-to-Concord-to-Boston? No sense.