Q&A with Bonnie Newman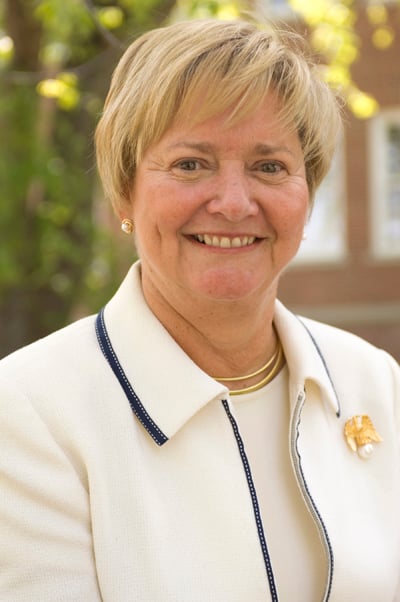 Bonnie Newman has had some extraordinary experiences, from managing Judd Gregg's bid for Congress in 1980 and serving as his chief of staff to serving as the assistant secretary of commerce for economic development in the Reagan administration and having several administrative roles in the George H.W. Bush administration. She's headed Harvard University's John F. Kennedy School of Government and has served as the interim president of University of New Hampshire – and that's just naming a few.
On top of that, Newman is the former director of several large businesses including Markem Corp. and Nynex and is a former president of the Business and Industry Association of New Hampshire.
Recently, Newman developed the Bonnie Newman Endowed Scholarship Fund, which provides one-year full tuition scholarships to seven New Hampshire students pursuing an education at each of New Hampshire's seven community colleges. The students are selected based on academic achievement and aspirations for public and community service.
The first class of Newman Scholars enrolled this fall, each pursuing a program of study in a STEM (science, technology, engineering, mathematics) field.
Q. What prompted you to develop the scholarship?
A. To give you some background, I spent a year as interim chancellor of the community colleges, and most of my previous experience in higher education was while I was dean of students at UNH and interim dean of the school of business.
I was so impressed by the work that was being done at the community colleges that when I left I chose to endow a single scholarship. And in my response to doing that, a number of people, including Paul and Anna Grace Holloway, Judd and Kathy Gregg and John and Susan Lynch, came forward and said, "Bonnie, we'd like to make this more." They helped evolve my single scholarship into seven scholarships.
Q. With education costs increasing, how important are community colleges?
A. In terms of the value represented, it is, in some instances, the only, in other instances, the best, opportunity for students to take that first step beyond high school into higher education. It's not only cost-effective, but what I saw at the community colleges is the quality of the education and the value received for the tuition dollars invested.
Q. How important do you consider education?
A. I think it's critically important. I'm passionate about education at all levels, but particularly post-secondary education.
I'm convinced, at this stage, our democracy is fundamentally dependent on a well-educated citizenry. And that extends to specific skills, such as those represented in the STEM curriculum, because, just given the reality of the world's economy, those are critical skills for future economies.
But so is the ability for good citizens to think intelligently and critically. And without a solid education foundation, all of that is in jeopardy. It affects everything, from our economy, our health and well-being and our national security.
Q. You've had an extraordinary career. Is there a single instance or period that stands out to you?
A. I was a young, energetic professional living in New Hampshire who became involved in a primary in 1976 that caused my life to take a turn that I would never have predicted.
I've been very fortunate and I'm very grateful for the serendipity that I've had over the course of my career. I've worked with extraordinary people, very capable, but people of high character and integrity in almost every one of the settings I've been in. So it's hard to say one was more extraordinary, but working as close as I did with George Herbert Walker Bush obviously is a highlight. It was a privilege to be part of his White House team.
We celebrated his 90th birthday, and it was a chance to look back at those White House years and the difference he made for the country in the period and reminisce about good times.
Q. Why would you say you are so passionate about education?
A. I've described my career to family and friends as eclectic, because it certainly has been, but the common weave has been education.
When I first came to New Hampshire, and this was right out of graduate school, I was an assistant dean of students at UNH, and some of those students – and now they're all very productive adults – I still hear from. Actually, one of them was Governor Lynch. I don't take the credit for John Lynch – he did a lot of hard work on his own – but I look at the growth and the development of students early in my career, and that is as meaningful to me as the honor of being at White House functions.
Q. How has the New Hampshire primary changed today compared to 1976?
A. Most of the changes are probably related to technology. Way back in 1976, I think the 24/7 news cycle, the digital age, the Internet has made it different, social media particularly. Everyone's got blogs now, and things are instantaneous.
It was a lot more retail. The good part of that was a person like Ronald Reagan chose to spend an extraordinary amount of time in New Hampshire. He probably visited just about every community in the state that winter.
Q. What is your advice to those pursuing a career in public service?
A. First, to get their education, so that they bring a set of skills to public service. And then, depending on what one's interest or passions are, to simply pick up the telephone, send an email, find out what nonprofit group or candidate – and it doesn't really matter what party the person is – but a candidate who represents the kind of values that any individual deems important to themselves and their families, and volunteer, participate.
I cannot imagine a nonprofit organization or a candidate of any political persuasion who would not welcome a young, middle-aged or older volunteer in their effort. And you'll make wonderful friends and have extraordinary experiences.