Q&A with BIA Chair Val Zanchuk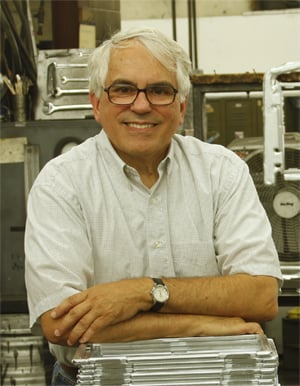 Elected chair of the Business and Industry Association of NH in May, Val Zanchuk is serving in a role he has been executing through several advisory boards for nearly 20 years: advocating workforce development.
As one of the most well-connected manufacturers in the state, Zanchuk was recently asked to serve as the industry co-chair of the NH Manufacturing Sector Partnership initiative, led by NH Works, a division of the Department of Resources and Economic Development. The initiative aims to further the relationship between government, education and industry in order to build a manufacturing career pipeline.
Zanchuk is president of Graphicast, a Jaffrey-based manufacturer of precision-machined zinc alloy castings used in medical diagnostic equipment, robots, escalators and computer servers.
Q. How did you become involved with the sector partnership initiative?
A. I was on the list of companies interviewed when [Manchester Community College Workforce Solutions Project Director] Phil Przybyszewski and Mike Power [community outreach administrator at the NH Office of Workforce Opportunity] were going around. They were collecting information to set the guidelines and adapt the processes to the needs of New Hampshire companies. They asked me if I would be the industry chair of the sector partnership and I said I would be happy to do that, because I've been involved with workforce development and education for almost the last 20 years – through different advisory boards I sit on, the community college, career and technical education and [developing] pre-engineering curriculum.
Being the chair of the BIA also gives me a platform to speak and communicate and get involved with the BIA membership as well. I guess they felt I could leverage those contacts for the better of the sector partnership.
Q. Tell me more about working on the pre-engineering curriculum.
A. Back in the late '90s, a couple of school districts in the state adopted a pre-engineering curriculum to offer to their students. This was coming out of a realization that engineering enrollments were dropping. New Hampshire was the second state to adopt this project, called Project Lead the Way. At that time I was president of a company called Tafa, and the NH Technical Institute asked if I would like to be on the advisory board. That whole process became so successful, and schools adopted the program, that in 2002 the state got involved and legislation was created to form an advisory council and [create] a $100,000 matching grant to help them with the investment.
PETAC [Pre-Engineering Technology Advisory Council] is still involved with approving engineering programs and it's getting to the point now not only are the high schools and career and technical education offering these programs for the older students, but they're working down, with very structured programs [delivered] to the middle schools. We're seeing the results. The recent efforts on STEM really helped with the pre-engineering, which was pre-existed by raising the awareness and interest in STEM-related careers, and manufacturing overlaps that pretty significantly, whether it's shop manufacturing or design.
Q. How do you increase students' awareness of manufacturing opportunities?
A. They don't necessarily know all the intricacies of manufacturing, so we need to educate our teachers about these types of careers. U.S. manufacturing is actually doing quite well and it's emerging as the number one manufacturing economy in the world – we're overtaking China.
New Hampshire manufacturing has always been the driver in the state's economy. The high-tech software development and communications that's being done is overlapping manufacturing, and that is the driving force of the economy.
For every job in manufacturing, you're going to create supporting jobs in other industries as well. Manufacturing jobs have the greatest multiplying factor. That's really where the impact is felt, it's not just the 100 jobs created in manufacturing, it's the 150 created in addition to support industry and services that have a huge impact.
Q. As BIA chair, what issues are you focusing on?
A. If you talk to the BIA membership, there are a number of key issues. Energy is one, but workforce is the more pervasive one. Whether you're in manufacturing or hospitality, it's hard to find people with the skills you need. Unfortunately, in today's environment, you have people with addiction issues, and that affects employment.
There's a host of problems exacerbated by relatively low unemployment, and there are thousands of job openings unfilled right now.
If you look at state revenue, we have this phenomenal surplus, and the migration of the business profits and business enterprise taxes, it's going up. You can see the economy is improving and businesses are contributing more tax revenue to the state, but those businesses are not growing because they can't find people.
They were talking about renovating the Balsams, and one [issue] is finding people. There aren't enough people in the North Country. They've had to bring in people from Europe to work in those resorts in the summer. and it's a constant problem. It's a wonderful place to go and vacation, but if you don't get the service, it will be hard for them to attract the business.
Q. How does the NH Manufacturing Sector Partnership aim to address workforce training?
A. We need to identify what skills we need and work with training providers, whether it's the community colleges or career and technical education or a group like the Manufacturing Extension Partnership, which regularly provides training in-house for many companies. Let's put together many programs that provide training for incoming people or incumbent people to make sure we have the best quality workforce we can have.
I think [manufacturers] realize it needs to be industry-driven and the educational committee can provide the training if they know what it is they need to provide. It doesn't just organically pop up in an educator's mind, so if the industry can focus on that process, then we can put together a program.
Let's say we start with circuit board people on the Seacoast, then the partnership will have regular meetings, and then we can leverage what we're doing for other regions of the industry. We're looking to see individual groups of manufacturers getting together and working on training programs, then those groups are coming together when we have our sector partnership meetings to talk about what's working, what's not working and how we can help each other. There's a lot of promise here.
Q. How are you implementing it?
A. Anne Struthers [business resource specialist at DRED] will be meeting with manufacturers, trying to help find the resources that exist in the state, whether they're financial or educational or training. It will vary with every little cluster of programs we develop.
Q. What was your impression of the first Manufacturing Sector Partnership meeting?
A. First of all, we had tremendous turnout, which was good. They understood the concept. The breakout session we had was very good – lots of good ideas there. So I came out pleased with the level of interest and enthusiasm and not the skepticism that could have been there.
We're trying to make it different. Industry tells us what we need, and then we take the resources that already exist in the state and satisfy those needs and, hopefully, we'll have good examples of successes to share with the community at large so they see this is working. There are similar programs in similar states that are already in operation so it's not like we're getting it from scratch. We're taking it and applying it to New Hampshire.