Q&A with attorney Ovide Lamontagne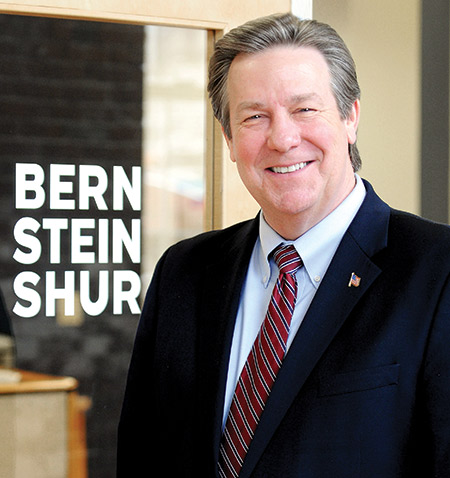 Ovide Lamontagne realized early on, while serving as student government president, that he was drawn to public service.
After graduating from The Catholic University of America in Washington, D.C., Lamontagne worked for three years as a teacher in Maryland and then Wyoming, where he earned his law degree from the University of Wyoming College of Law and clerked for a judge. In 1986, Lamontagne returned to Manchester and worked for 27 years with Devine Millimet, where he focused on commercial litigation, business transactions, construction and nonprofit work particularly in the health care field.
During that time, Lamontagne was appointed chair of the NH Board of Education by then-Gov. Steve Merrill and ran in 1996 and 2012 as the Republican candidate for governor.
In 2013, Lamontagne took a few years for what he calls his "sabbatical," serving as general counsel for Americans United for Life, a public policy nonprofit based in Washington, D.C., before returning to New Hampshire as a shareholder at Bernstein Shur.
Q. What inspired you to pursue a career in law?
A. It was always out of an imperative to serve – that's what motivates me. I was in a very good firm and learned from some of the best lawyers in New Hampshire. John Broderick was my first mentor. At Devine Millimet, I learned what public service really meant from the context of being a lawyer in New Hampshire, and it's very much part of our DNA. The legal community is very much a part of local government leadership, whether you're a town moderator or getting involved in nonprofits.
Q. What was it like working for Americans United for Life in Washington, D.C.?
A. I always wanted to go to Washington for public policy reasons. I have to say, though, I missed the client interaction because, as a public policy organization, you're not dealing with specific or individual clients. You're advocating policy initiatives, and I missed the client contact. I also just missed going to NH Business Review receptions like the BOB Awards and the Outstanding Women in Business awards – those are great opportunities for people in the community to network with one another, to find out what's happening. And Washington is not a place that lends itself to that.
People come and go, there aren't long-term relationships that are established. Here in New Hampshire, once you're in a community or working in the state, you establish relationships of a lifetime, and I miss that contact, so at the end of two and a half years, it was time to come back and Bernstein Shur asked me to come and join them and I was happy to do it.
Q. Maria Ryan, CEO of Cottage Hospital recently said that hospitals are now as regulated as banks.
A. She's absolutely right about that. It is a very highly regulated industry, which I think is one of the problems, and what the Affordable Care Act has done is just accelerate the amount of regulatory oversight and requirements imposed on providers who are interested in your health and your illness if you have it and making you a whole, healthy person.
You talk to any doctor in the state, the transition from the way to they used to do it to electronic medical records is painful. The productivity goes down considerably. When I was outside general counsel for Catholic Medical Center, a role I served at Devine Millimet for a better part of 13 years, I saw this progression because we were working with the hospital and its providers. It also drove costs up, and so forth. Not that we don't want change, but the change we want, we hope, is going to maximize the care that providers can give, whether they're a hospital or doctor or paraprofessionals dealing with patients.
Q. Regulatory burdens have been making it more difficult for small banks, which have increasingly been merging with larger banks. Is that something we're also seeing in health care?
A. The urge to merge is driven in large part by the pressure of government, and that is true in banking as well as in health care. And that's unfortunate because community banks are the lifeblood of business.
The best way to access capital for a small and growing business is through that local relationship, but they can't survive in this environment when they're so heavily regulated, and that's what we're doing to our small businesses and the financial institutions that support them, we're squeezing them out, and forcing them to close or merge or sell out.
Hospitals are the same thing. They can't succeed unless they reach a critical mass, and I give a lot of credit to the hospital system in New Hampshire, where we have so many critical access hospitals, like Cottage Hospital, where it is very tough, but it is very important work. My hope is under both Governor Sununu's leadership and President Trump's leadership, we're going to have a deregulation of health care, allow much more free-market dynamics to play. That's going to benefit not only patients but those who pay for the system, like employers.
I know we talk a lot about energy in our state, as we should, but health care is another driver of costs for businesses and to succeed here in this state, we have to look at it as equally important, from my perspective, as energy costs.
Q. With a Republican majority controlling the state and federal government, what can be accomplished?
A. This is an exciting time in New Hampshire. It's exciting because we do have a Republican governor who's going to be working in concert hopefully with Republican leadership in the House and Senate.
I'll just use this as an example. The Republican view is that business is good for New Hampshire because it's good in terms of creating jobs, it's good in terms of creating opportunity for people to come to the state and prosper. And Chris Sununu is making business development, business recruitment, a priority. He's not sitting in the office trying to pander to some special interest groups that have a side interest here and there. He's trying to be the marketer in chief of the state, and that is a good thing, and I think it's in keeping with the Republican platform.
But now we need to have legislation that enables what we do to recruit businesses and keep them here and help them grow. And I think with the Republican governor, you'll have more chance to pass laws and public policy initiatives that support business and make it easier for businesses to succeed in New Hampshire.
Q. What would help retain young people in New Hampshire to grow its workforce?
A. I was a strong advocate of what I call the Learn to Earn Program, which was to align educational programs with the needs of businesses in the community. For example, the School of Technology might know of a business in the greater Manchester area that needs high-end production workers who can use computer-assisted manufacturing applications. The business would basically align with the school to say, "If you can generate four graduates who are trained, and we'll help train them with you, we're going to give them jobs when they graduate." And that gives an incentive to students to think "OK, I know I can have a job when I graduate from my high school and I may not stay there forever, but it's a place I can go to and I'm trained" and that workplace is going to benefit by having the lead-up time to make sure on day one that employee can actually do the work.
That's true in hospitality and other areas. The educational system needs to be more interactive with the business needs of the community. I think educational reform will be part of the solution to help retain our young people.
Also, cost of education is really becoming unmanageable so we need to look at ways of supporting through scholarships and other financial mechanisms the ability of students to achieve an educational result that leads to a good job that can support the repayment of a loan or allows them to stay here. It's a huge challenge to make sure we keep people here.
Q. What are your thoughts on Frank Edelblut becoming the education commissioner?
A. I'm a former chairman of the state board of education, and so I know a little bit about the Department of Education. The commissioner of education is not simply the person responsible for overseeing public education. The commissioner of education also oversees non-public education, including home schooling, so it is shortsighted to think the only person who can serve as the commissioner of education in New Hampshire is somebody who has public school experience.
I don't think there's anything wrong with having a business approach to looking at the ways in which we're providing educational programming to our students both through the public schools as well as the non-public schools. And I think Frank Edelblut will bring that kind of fresh thinking to the system.
There is going to be a lot less ability for him to change the system quickly because, for generations, educational standards and laws have been enacted to establish our public school system and non-public school oversight programs. But he can start making real change in terms of the directions we move into it, again looking at technical schooling and nontraditional liberal arts programs and looking at ways of delivering those education programs across the spectrum and just not through the prism of public education.
Q. From your experience as a candidate, do you see a changing climate in the interaction between the parties?
A. I do and I have. I was really honored in a way when I attended a New England Council luncheon where the keynote speaker for the luncheon was Sen. Jeanne Shaheen.
She was asked the question of how divisive the political campaigns had become, and she said they are intolerable now. And she looked at me and she said, "You know, when Ovide and I ran for governor in 1996, we could talk to each other." I actually did have communications after the election with her staff on education issues and other things. She said, "We were civil. We knew how to debate the issues but not get personal."
She's right. The climate is very different having run in 2012 with the heavy influence of outside spending. People who are not from New Hampshire cutting ads both for you and against you that you have no control over creates a greater divide between the parties and the candidates. I regret, when I was running for governor, with Maggie Hassan, I said to Maggie, "Regardless of the outcome, we should work together. And if I win I'm gonna call you, I'm gonna find a way for you to work with me," and she said "I'll do the same." Sadly, Maggie Hassan never called me, and I was disappointed by that because I thought maybe she and I could try to pierce through that.
I don't know the rationale, but the point is that I think we have become so divisive and we need to find people who are going to run for office with an eye towards not only winning the election but serving and bringing people together.
This slash-and-burn approach in the political campaigns needs to change. I don't think it's simply campaign finance reform, I think it's the attitude the leaders of our parties have and the candidates themselves, both in their primaries as well as general election. The way you run for office is as important as what you're running for, and my heart aches for our country and for our state that we're going through this period now that's so divisive and so destructive. We need everybody's help to be successful whether we're Republicans, Democrats, Libertarians, vegetarians, we all need to work together.
Q. What is it like being a candidate and having to fund-raise?
A. It's not much different from the candidate's point of view from 1996 to 2012.
Essentially, the better part of your day is on the phone, making calls to raise money or attending events. In 1996, I was able to raise a million dollars, all for a primary and general election. There was a campaign spending limit at that time, which Jeanne Shaheen and I both honored. In 2012, both Maggie Hassan and I raised and spent $2 million individually. But there was $19 million of outside spending, and we didn't have to do anything to raise those dollars.
Eleven million dollars went to her campaign, attacking me; $8 million from my side attacking her and promoting me. So $19 million out of $24 million spent is beyond your control. My point is that while you have to devote two-thirds of your time to fundraising, if you're running for office and you're serious about it, what you do on your own campaign is going to have a lot less to do with the outcome than what other people are willing to spend in the state.
Look at the Senate race in 2016, it's unbelievable the amount of money, but it also shows that for a lot of the candidates and their campaigns, it's out of their control, it's really down to the control of special interests, and that's very unfortunate."
Q. That must be tricky for candidates, because it could boost you but it could also harm you.
A. When someone's spending money on your behalf they could be helping you but they're really hurting you. That's not helpful at all, and I had that happen in my race, in 2012.
Nonetheless, it is what it is, which means the leadership in the state has to be bigger than simply the short-term perspective of an election. You have to think beyond that election and how we're going to work together, because anyone who puts their name on the ballot wants to serve, so why not harness that energy? Just because they're on the other side of the ballot doesn't mean they're not worthy of finding a place for them in government or in public service in some way.