Q&A with: Artist and ex-ad man David Random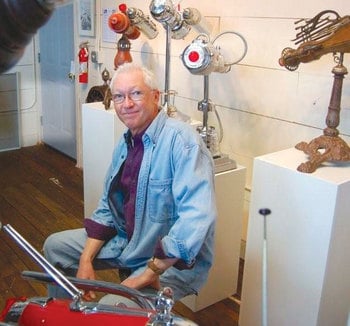 Back in the early 1990s, former advertising executive David Random turned a time dilemma question on its head. While working 60 or more hours a week at Dibona, Bornstein, & Random, the successful Boston advertising firm he co-founded, Random also was holding one-man art shows of "repurposed artifacts."
His colleagues, Random says, were amazed that he had the time to pursue a second passion. "How do you do it?" they asked. His answer was, "Why not do it?" At once, Random solved the mystery of post-retirement life by rendering it moot. "It will always be in the future," Random said of personal plans that may or may not happen later, and he chose not to wait.
Random officially retired in 2003 and has since continued his artistic ventures. In particular, he has become known as the "Rocket Man" for his rocket-shaped "fantasy sculptures" that pay homage to the Buck Rogers and Flash Gordon era of space travel imagination – and are made by an unlikely and whimsical assemblage of unsoldered vintage components, including oil cans, windshield wipers, antennas, reflectors and kitchen utensils, such as electric beaters.
For more down-to-earth interests, Random recently released a new line of repurposed cremation urns, known as "Altered States." His studio at the Rollinsford mill complex is a step into a familiar but laugh-inducing gallery of materials found in antique shops, flea markets, yard sales and just lying around.
A Massachusetts native who now lives in Dover, Random has also made time to be an antique dealer and write two books, including "Defying Gravity" about his 35 years in the advertising industry. "Life is too short to be serious," Random writes – a motto he attempts to live every day.
Q. How did you get into the advertising business?
A. I studied graphic design and advertising at Massachusetts College of Art. It was in the late 1960s, and frankly it was a "do your own thing" era and the rules were very relaxed. Unless you applied yourself, you could coast along, but I was married and had to buckle down. We were told advertising was a high-pressure business and it was going to be difficult to find a job – you'd have to carry your portfolio around and knock on doors.
In my senior year, I was hired and never had to knock on a door. That was how my career went.
Q. How did you end up co-starting your own firm?
A. My two partners and I worked for Bresnick, a decent-sized agency in Boston, that was sold to a New York firm, which decided to close the Boston office. We had a lot of clients who we figured might go with us, and many of them did. Of course, it was in the middle of recession when we did it, but we thought, "It can't go down anymore and can only get better." And it did. We ended up with a wide range of clients, from Fidelity Investments to Ocean Spray to the Berklee School of Music. We did hot dogs, sneakers, bottled water, toilet paper, condoms and banking. It was an amazing mix.
Q. What are some interesting highlights?
A. I was a creative director, which involved me in the visual arts and writing sides. We did a lot of television advertising but also print ads and package design.
In my book, I tell many stories about this crazy and cynical business. We were challenged by Berklee to do something totally different – their enrollments were too high, and they wanted a "fewer but better" ad campaign theme to lessen the application pool. We also learned that the people who make toilet paper don't like to use that term – they insist on bath tissue.
I didn't do a lot of copywriting, but one I remember is a spot we did for the Store 24 chain that had exclusive rights to a low-cost cigarette brand and wanted to advertise it. The line we came up with was, "Bad Habit. Great Price."
Q. What are your thoughts about the industry?
A. I like the television show "Mad Men," which really shows the cynical side of the business. It's a fun business, otherwise I wouldn't have done it for so long. Economically, without advertising, it would be much harder to sort through the different types of consumer goods – but it's clear that advertising adds to the cost of goods.
Things are changing so fast now with TiVo, DVRs, and other media forms that I don't know what I would do if I was in advertising now. I wonder who's sticking through the commercials. You can see what's happening – you see (product) placements in TV shows, and we'll see commercials buried inside of programs.
Q. Compare the fun of advertising with the fun of art.
A. I think there is a correlation in both of those cases. You're always looking for something to attract people's attention and different ways of doing things. I don't paint landscapes and love doing the unexpected. I keep the fun in it. I think there's a part of my brain that wants to just reach for the most unexpected I can do.
Q. Why these materials and why rockets?
A. I started collecting parts of things that I like to look at. I didn't buy something intending to do something with it and like nothing more than to hang them on a wall and appreciate them. Sometimes I just like to go to my studio and sit and read and feel the energy. Some of the first things I made were clock cabinets. As I played with parts and shapes so many said they wanted to be rockets. Anyone growing up as a baby boomer was familiar with Flash Gordon and Jules Verne and thinking about space travel before we did it. I remember the drawings and images of these contraptions that thought we could go into space but had no aerodynamic capability.
Q. Why do you admire older designs?
A. Take something like a heating grate. You saw on my wall all of the old iron heating grates. They are just beautiful, and it's true of so many things anything made 70 to 100 years ago. It's made today stamped out of sheet metal and there's no design, just a shape to fill a hole in the floor with no pride in workmanship. Of course, we've had a lot of amazing technological advances, but I think no one is trying to make them (normal goods) look beautiful on their own which is kind of sad.
Q. Are you a good businessman as an artist?
A. I'm not making a living at it, but it's not my intention to make a living at it. I have the luxury to spend my time doing what I love. They (rocket sculptures) sell from $650 to $1,800, and I've certainly sold pieces but if I sell one, I consider it a bonus. It's the same thing with my books – I write because I write and am grateful to do it.
Q. What question didn't we ask you that we should have?
A. What is the meaning of life – but I don't have the answer.