Q&A with 'American Picker' Mike Wolfe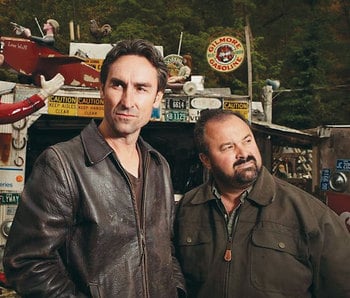 Mike Wolfe co-hosts the History Channel's "American Pickers," one of the most watched shows on cable TV.
Combing through other people's junk has been Wolfe's passion since he was 4 years old, and along with partner Frank Fritz, Wolfe travels through rural areas — including New Hampshire — foraging for forgotten dust-covered items like old cars, signs and vintage juke boxes.
Aside from turning these hidden jewels into cash, Wolfe is even more interested in the background behind his finds and the people who share their stories about them.
After attempting to sell the concept to network TV for four years, Wolfe's persistence finally paid off when the History Channel bought the show. Now in its second season, American Pickers consistently scores high ratings.
Wolfe also owns Antique Archeology in Le Claire, Iowa.
Q. For those who haven't seen "American Pickers," explain exactly what a picker is.
A. A "picker" is a guy that's on the front line in the trenches. We're the ones resurrecting these things, digging them out of the dirt. Sometimes before it even hits the market it may change hands four or five times through dealers before it sits on the shelf of your local antique shop or at an auction.
Q. You actually cold-call at people's front doors if you suspect they may have the types of items you're looking for. Do you meet with occasional rejection?
A. Yeah. I been doing this for 20 years, and basically I started knocking on doors because I started collecting antique bicycles, turn-of-the-century stuff and stuff before World War II, and I used to run ads everywhere and put up little flyers in grocery stores and no one ever called me.
I live in Iowa, so basically in Iowa you can drive 10 minutes and you're on gravel no matter where you're at. So I drove around the country and I saw barns and I would go up and I had a flyer and ask, "Do you have any old bicycles in your barn?" And that's how it started because I was so frustrated.
I love this stuff so much and I wanted to find it and I wanted to experience it firsthand. I didn't want to buy it at an auction or an antique shop. I wanted to talk to the person that owned it and rode it.
Q. Did you think you made a wrong career selection the day you faced a pistol at someone's front door?
A. (Laughs). That only happened one time. The only thing that I could think of to say was, "Is that gun for sale?" I was so freaked out. Most people are cool. The thing is, when we go up to someone's door and we want to talk about collecting stuff, 99 percent of the people out there collect something.
And they have to have a connection with people sometimes because if they don't they can't share their passion with them. All of a sudden Frank and I show up at the door, we're like "We love this stuff, too. Let's talk about it. We want to learn about what you're doing. This is what we're doing. Hopefully we can exchange some money here and you know, make some money."
Q. It's been written about you and Frank that you guys have put the man back in "mantiques."
A. We've done that. The thing with us is, we're not the Keno Brothers. We don't have blue blazers and 10 cats, you know. We want people to see that antiques are rad. They're fun. They're cool. They're exciting. I wanted younger people to experience what we experience. And I wanted people to see that these places still exist. I wanted to give them a voice. I wanted to give the item a voice.
Q. What is it that people say attracts them to "American Pickers?"
A. There are so many facets to the show. Either they like it because of the item we bought or the relationship between Frank and I, the person that we come across, the location that we were in.
It's like an onion. You just peel it back while you're watching it. A lot of the people who watch aren't collectors, which is really cool because maybe they'll start. If you go to a garage sale, you go to the estate sale, you go to an auction, you're hoping to get something that's worth more and you can pay a little bit less for it. And even if you're the guy on Friday night scratching a lottery ticket, guess what? You got a little bit of picker in you.
Q. Isn't New England a big treasure trove for things that you'd be interested in?
A. We were in your area in July. We just got done doing New Hampshire, Connecticut, Massachusetts, Rhode Island, New York. We did a little bit of Pennsylvania. We were on the road out there 18 days and we got some amazing things. The East Coast is where I've really made my living the last 10 years.
Q. Your website says your wish list includes a pre-1915 Hornecker Torpedo motorcycle.
A. Actually, there's a guy with one in New York state, and it's the only one that's ever been found. I know they exist so keep looking for me.
Q. You know "Sanford and Son" were the original TV American pickers.
A. We're like Indiana Jones meets "Sanford and Son"!