Q&A Interview with U.S. Sen. Jeanne Shaheen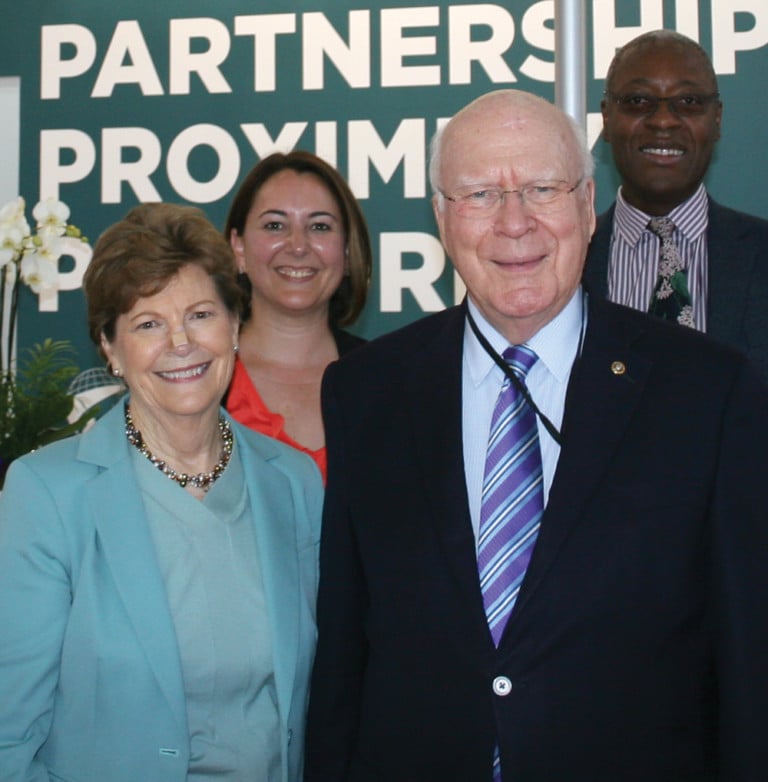 As Donald Trump met with international leaders at the 2018 NATO summit, earlier this month, U.S. Sen. Jeanne Shaheen, D-NH, and U.S. Sen. Thom Tillis, R-N.C., co-chairs of the Senate NATO Observer Group, attended the meeting to reassure U.S. allies of America's commitment to NATO.
Shaheen said that international relationships — whether they be diplomatic efforts or international business partnerships — are key to economic success and political stability.
Joining six U.S. senators in the U.K., Sen. Shaheen finished her European trip by visiting American companies at the Farnborough Air Show outside of London, where she met with five New Hampshire companies and one Vermont firm at the NH Economic Development trade booth and sat down for an interview with NH Business Review.
Q. You were the first New Hampshire governor to lead a trade mission to the outside of North America to the U.K., and state trade resources and services significantly grew under your leadership. What is the impact of these efforts 20 years later?
A. I think we're really seeing the benefits of investing in ways that help companies get into international markets. You probably heard Tina [Kasim, director of Office of International Commerce] talking about 2017 being the year that had the largest amount of exports in New Hampshire's history, and I think this is the result of all these investments that have been made along the way.
Q. You've also supported legislation in Congress to expand exports.
A. One of my favorite axioms is 95 percent of markets are outside of the United States, but only about 1 percent of small- and medium-sized businesses are doing business outside of the United States. Helping those small businesses get into international markets is critical, especially as we see countries in Africa and Asia developing their markets for American goods, and we also see the increasingly global world that we live in. Making sure that our businesses can compete is really important.
Q. Why do you think that the federal government should be funding trade resources?
A. I think it's important policy to try and help make sure businesses can grow because that's good for the economy and creates jobs. Good jobs give people more opportunities in their personal lives — it's all connected. And we can help companies do well not just in the United States, but around the world. It's good for America.
Q. As a way to protect U.S. businesses, the president has been imposing tariffs. What is your perspective on this type of policy? Is there a consensus on this issue among the delegation you traveled with?
A. I haven't talked to all of the members of our delegation — I know there's a great deal of concern among senators that I've talked to on both sides of the aisle about tariffs and about the president's suggestion that we can win a trade war. A trade war is not good for anybody, and what we're seeing is that while putting tariffs in some areas may help some domestic companies, it also creates problems for other domestic companies in a way that actually has the potential to lose more jobs than to gain jobs, and we're seeing retaliation from other countries in a way that's not good for the American economy.
I think there are international players that are bad actors like China, who have dumped products into American markets, who steal American technology, but the way to deal with them, I think, is through trade enforcement. We need to beef up our enforcement operation within the Office of the Trade Representative. We need to take more actions with the World Trade Organization. And we need to go after those people who aren't playing fair. I think that's a much better way to deal with the problem. What the president is doing is using an ax with a problem that you really need a scalpel to deal with.
Q. Has your office heard from any New Hampshire businesses regarding tariffs?
A. We've heard from a number of businesses. One of the ones that I've cited before is Moonlight Meadery, which is a small company in Londonderry that makes mead. They had a very good deal in the making with China that was going to allow them to add six new employees, and for a small company that's a really good thing. Because of the tariffs, that deal has fallen through.
Sadly, there are companies all over New Hampshire who are concerned about what's happening, in particular with Canada. It was really unfortunate to see the exchange at the G7 with Canada because Canada is our biggest trading partner in the U.S. and in New Hampshire, and while Canada has been tough in some areas, I think, again, our way to deal with that is to be tough in our negotiations, it's not to slap tariffs on things that then allow for retaliation.
Q. What can Congress do about tariffs?
A. Congress is supposed to have an oversight role. Right now it has not been as aggressive in that oversight role. On the other hand, we added to the defense bill an amendment from [Sen.] Bob Corker [R-Tenn.] on tariffs and trade that was passed with a very strong bipartisan vote, and that's an effort to send a message to the president that we are watching what's going on, and we don't think it's in the best interests of America or the American economy.
Q. You recently toured the New Hampshire trade booth. What did you think of your meetings with the companies?
A. It's very exciting to see the prominent location here, to see the companies who are here, to hear from them that they've already set up some meetings and there has been a lot of interest in some of the products that are produced here. We've got companies like Corfin Industries that has been here five times, and they have their contacts; they're doing a lot of international trade. And then we have companies like NanoSolutions who are just starting up. It's their first time, and there's a tremendous amount of interest in what they're doing. And then of course AQYR has been into international markets. All of these companies have the potential here to do good business. There's been a lot of interest.
We have a very good international operation. Tina at the state level and Justin [Oslowski] at the U.S. Commercial Service — they work so closely together. That's an arrangement that we actually set up back when I was governor. We had a couple of other players who were in that office at the time.
Q. Why did you decide to invest in international trade resources and make them a priority?
A. All you have to do is look at the world and look at where the markets are to know our competitors are not just in New Hampshire or New England or the U.S. — they're around the world. The more we do to help our businesses in New Hampshire get into those markets, the better they're going to do.
---