Q and A with: Health-care execs Tom Collachio and Alyson Pitman Giles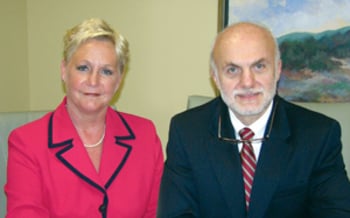 Tom Collachio, president of Hanover-based Dartmouth-Hitchcock Clinic, and Alyson Pitman Giles, president and chief executive of CMC Healthcare System – parent company of Catholic Medical Center in Manchester – have been busy the last few months promoting an affiliation between their two organizations.The proposal has prompted protest from some members of the Manchester community who object to CMC – a Catholic hospital – joining forces with a non-Catholic institution.
Collachio and Giles, however, insist that the affiliation bears no resemblance to another failed attempt in the 1990s to merge CMC with Elliot Hospital into Optima Health – a deal that ultimately failed amid rancor and mistrust in Manchester.
A podcast of the entire interview is available at NHBRNetwork.com, under the "Audio" section (scroll down, on lower left).
Q. What led to the affiliation?
Giles: It started about 2002, out of necessity, really. We opened The Mom's Place and only had one pediatrician. I met Dr. Steve Parris at that time, who was medical director of Dartmouth Hitchcock Clinic-Manchester. He got to know me, got to know Catholic Medical Center. It started very gradually, with midwives coming over and doing deliveries at CMC, pediatricians starting to cover our nursery and starting to talk to us about increasing the level of care in our nursery.
Incrementally, we started to improve the care in Manchester. We brought in two young, well-trained endocrinologists, we brought in an intensivist. We have hospitalists, we have neurologists, and probably the most obvious to the public is the Norris Cotton Cancer Center. We now have people getting infusion therapy that they've never been able to get before – ever – in Manchester.
Collachio: We began to realize we were getting to a point where the advantages of integration were becoming more and more apparent. We looked at the alternatives, and the one that made the most sense was one that allowed us each to remain who we were fundamentally – a Catholic hospital, with Catholic traditions, and a division of a multispecialty group practice with a very strong linkage to an academic medical center – and yet to have enough of a relationship that it met the requirements of federal and state regulators.
Q. What's the difference between this deal and Optima?
Collachio: The most important difference is it's not two hospitals – it's a group of about 120 physicians and a hospital. We aren't doing this for all the reasons that two hospitals in a community might choose to merge, which are to reduce duplication or to distribute programs.
Giles: Optima was a business deal. It wasn't a mission deal, it wasn't an access-to-health deal. We have a bishop with reserve powers, we've had a canon law attorney, we've had ethical reviews and we're not planning on moving or merging anything.
Q. How are costs going to be affected by the affiliation?
Collachio: As we are able to reduce the variation in the care of patients and reduce hospital stays and reduce complications, that gradually reduces the overall costs of care and then allows the payers to begin to recognize that they don't have to charge as high a premium to cover those populations. That's the power of having an integrated group practice caring for patients – understanding how it is that they can manage the care of those patients.
Giles: I'll give you an example. With the academic medical center link, we were able to bring in an intensivist into our ICU. In one year he put together ventilator protocols and reduced ventilator days and reduced the length of ICU stays by a significant amount. In one year, we saved $1.7 million with one guy who developed all these protocols and took care of all these patients.
Q. Dartmouth-Hitchcock has relationships with other hospitals around the state. Do you have plans to develop more?
Collachio: Dartmouth-Hitchcock sees New Hampshire as the population that it feels responsible for, and its focus is to create the healthiest population possible. So as a corporate entity, we will very purposefully move in those ways which we think will facilitate that. That does not mean that we imagine that there will be multiple hospitals that have the type of relationship that we have with CMC. There will be other types of relationships, because that's how we can add value in different communities.
Jeff Feingold can be reached at editor@nhbr.com.