Q and A with: Chef Liz Barbour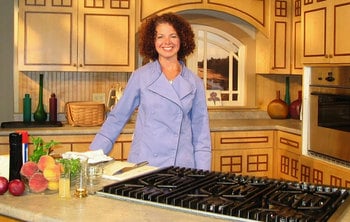 Liz Barbour, chef and owner of The Creative Feast in Hollis, travels all over the state giving cooking demonstrations and classes in people's homes and elsewhere, teaching them how to make scrumptious, healthy meals. Now she's taking the same concept and adapting it for school lunchrooms.
Barbour, wife and mother of two teenagers, is trying to show school districts that cafeteria food – not exactly known for being gourmet cuisine – can be healthy, tasty and cost-effective.
Q. When did your love affair with food and healthy preparation begin?
A. I graduated from Syracuse University and went into clothing retail in Manhattan. It just wasn't the place for me. I then came to the Boston area. I was the manager of a gourmet deli and food store in Cambridge.
I was fascinated with the idea of cooking. My college roommate could just pull stuff out of the fridge and make something wonderful. I always wanted to be able to do that.
I got a little burnt-out working on the deli floor all the time, so I said, "Put me in the back." The gourmet food store also made prepared foods. That where I really got my training. It was definitely a seat-of-the-pants kind of thing.
I did that for a while and realized I needed to have some kind of training. I found the Inn at Harvard and went in and asked the chef what she suggested I do. She said you need to get job with a kitchen, then train and move on. I went in the next day with my resume, I made her lunch to thank her – and she hired me.
That's how I learned how to cook.
I eventually went on to work at an Italian restaurant in Maynard, Mass., and eventually became the chef there.
Then I went on to catering in Newton. What that brought me was the realization that I am movable – I can create a kitchen in a place that has no kitchen.
All of that together allows me to do what I do today.
Q. Tell us about your cooking-class business, The Creative Feast.
A. My idea was that I would go to you, a library, a community adult ed, a kitchen showroom. I would bring everything with me, and offer whatever program I was teaching.
What I want is for everybody to walk out having had a great meal, but having had four recipes that they are confident to make. They've seen how to prepare them. They get why the heat on your sauté pan has to be really hot, why your onions have to be cut to same size – they've seen the results.
Q. You're embarking on a new program focused on school food service departments.
A. Before we start the sessions, I give food service personnel a questionnaire – what are the most challenging foods that you get from your government commodity food service? When I come to them, I take those answers they've given on the questionnaire and incorporate them into the program.
There are actually several classes in the program. The first one is "Infusing Flavor." That focuses on not only adding flavor to dishes, but layering it. There's also "Improving Knife Skills."
My other goal is I need to be that staff's champion in learning how to work within federal food program guidelines and their budgets. I may be a trained chef, but I think what they do is pretty amazing. It's a lot. They have to accomplish a lot with incredible restrictions.
Q. Were you thinking about this before Chef Jamie Oliver had his TV special on The Learning Channel, "Jamie's School Lunch Project"?
A. Yes. The timing was perfect. I had already had my first session before he did his program. Right after he had it, I sent out that press release, thinking now was the time to do it.
Q. What goes on in a session?
A. One of my other cooking class students happened to be the superintendent of schools in Raymond, Dr. Jean Richards. I told her I was looking for a school that would let me come in, free of charge, and let me work with their food service staff, let them be my guinea pigs, so I could learn how to teach, learn what they need to work within these guidelines but still make food that was healthy.
At the first session, there were 17 food staff members from across the entire Raymond school system.
I brought in with me a big batch of plain brown rice with nothing in it. I passed it out in sample cups for everybody to try. It wasn't very tasty. Then I took the brown rice, added healthy olive oil, a little bit of salt, a little bit of pepper, stirred it up and passed it around again.
Not bad. They were in control of every ingredient that went in there. So rather than butter, we used olive oil. Control the salt.
Now, let's add some herbs, then a little bit of feta cheese. They said, "Oh, our kids will never eat feta cheese."
Do not underestimate the palates of kids. If they learn how something tastes or why it tastes that way, they're ready for that.
So mix white rice with the brown – which is a whole grain and a great way to get whole grains into their diets. Start with 75 percent white, 25 percent brown and try that for two weeks. Then 50-50. It works.
You can make a simple stir fry using commodity foods like broccoli and peas, put it over brown rice and add a simple Asian sauce you can make that keeps in the refrigerator or freezes.
Q. Tackling school lunch programs sounds like it's a challenge.
A. There are a lot of barriers to cafeteria staff as far as training goes.
Number one, it's the appreciation and understanding that the food staff at your school is just as influential on your children's education as the teachers.
In schools that receive a lot of free and reduced (cost) lunches, that may be the best meal of the day for some children – the healthiest meal of the day.
If we're not providing the healthiest meal of the day, then they continue to be eating things that are not feeding their brains. We all know this – what we eat influences how we perform during the day.
Food service staff are hourly employees, so their days are structured differently, their contracts are done differently.
Many do have training in their contracts, but training provided for them is on a weekend. A dedicated employee may give up their Saturday, but they're not necessarily getting paid for that.
Some have to pay for the program themselves, and may be reimbursed or may not be.
The other barrier to them is the USDA guidelines. They are very outdated, but they are trying to improve them.
The lunches have to have a certain amount of vegetables available to the kids, a certain number of foods, to get the free and reduced lunch program. The amount of money schools receive from the government is based on how many free and reduced lunches they provide.
They also rely on government commodity foods – they meet the government guidelines, but remember they are very out of date. Your goal for your bottom line is to use as many of the commodity foods as possible.
So there are a lot of things that come into play.
Q. With school districts so strapped for cash, how do you convince them, A) to pay for your class, and B) start offering more nutritious – and arguably more expensive – food?
A. I have a rate that's the same whether they send one staff member or 35. It comes out to about $10 per person.
It's paying for my travel time and whatever, but the unique thing about what I do is I go to that school. I will travel, they pick a time – they have professional days when the school is basically closed.
I tailor the program to that specific school; they need to walk out of there thinking they got a lot of information for their school.
Q. How many districts have you worked with so far?
A. So far, with Raymond to get it started off. Now I have bookings for the fall with two school systems and one is considering it.
Q. How have the programs been received? Were food staff skeptical at first, or were they excited?
A. I actually haven't been getting any resistance. But it's important how I present it. I can't go in there assuming I know everything – every kitchen is different, every staff dynamic is different.
Through the School Nutrition Association of New Hampshire, I gave the knife skills class to over 75 food service staff in three sessions.
The food service directors are very excited. It's very easy for school food services to go into the red, but if you use some of that money to train your staff, to make tastier, healthier meals, your income is going to go up because you'll be selling more lunches.
Q. How are you introducing new foods to the kids? How do you get them to choose broccoli over hamburgers or Twinkies?
A. I've developed a kids' tasting program based on one from Vermont.
Say you're introducing brown rice. You introduce it to two children from each class at every lunch time. They get to sit at the special tasting table. The other kids are out there watching, wondering what they're getting.
Food service asks them to taste it and tell them what they think of it. Then they go back and eat their lunch.
The teacher back in class will ask them what they had and how they liked it and the other kids will hear about this. The next week, it will appear on the menu.
Recipes will also go home in the school newsletter so parents can prepare it. Now it's not a new thing when it's in the cafeteria.
Q. Why do you think the typical American diet is still so abysmal?
A. A lot of people blame the manufacturers, but we're not being tied up and dragged to the store and told to buy this.
The book "Mindless Eating" talks a lot about this. A lot of what we do is being influenced by sources that you're not even aware of.
For example, when you go to a restaurant, they serve you dinner on a very large plate. A normal portion on a large plate looks very small. Your perception of a calorie content of a meal is off.
I also think we have to learn the basics. Eat more plants. When you start to do that, then you can start to embrace the organics.
Q. What's next? Are you taking your food service program to other community organizations or nonprofits that have food programs for kids?
A. The possibilities are endless. This is open and available to any group. We need a larger parent group who's going to promote this kind of thing. But change happens slowly.
Q. What's the one thing parents should be doing in the kitchen for their families?
A. Take your kids to the grocery store and have them participate. They have to learn how to choose the right things.
Cindy Kibbe can be reached at ckibbe@nhbr.com.