Pure Barnyard wants you to 'Doo' right by your lawn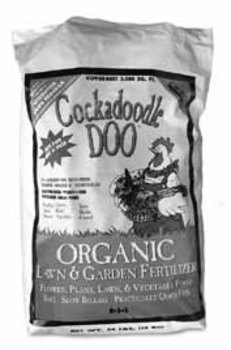 Like many visionaries, John Packard, founder and president of Portsmouth-based Pure Barnyard, was looking for a better way to do something — in this case, fertilize his lawn without worrying about his grandchildren playing on the grass and chemical run off into the ocean near his home.
He was visiting the Holland office of his other business, Gemini Valve, when his epiphany came in the form of a chicken. Much of Holland is below sea level, so runoff of manure is a severe issue there. According to Packard, the Dutch had developed a process of eliminating most groundwater contamination by refining chicken manure.
"I went to the processing facility that had eggs coming out one end and packaged fertilizer out the other," quipped Packard.
In 1998, he formed Pure Barnyard and began importing the product from Holland, calling it "Cockadoodle Doo." He began selling in select stores around Boston "just to see if there was a market. There was indeed a market."
According to the National Gardening Association, Americans spent more than $38 billion on their lawns and gardens in 2004. The Lawn and Garden Consumables report issued in August 2004 by the Cleveland-based market research firm Freedonia Group Inc. says the organic consumables demand is expected to grow nearly twice as fast as conventional product sales.
"Two years ago, we were trying to create a market, now we're trying to supply the demand," said Packard.
Two years ago, Pure Barnyard developed a relationship with Perdue Farms Inc., which has one billion chickens at its facility in Maryland — the highest concentration of chickens in the world, said Packard. "Each chicken produces about 70 pounds of raw waste a year. Times one billion — that's a lot of manure," he said.
Perdue makes a pasteurized chicken fertilizer similar to the Dutch product that Packard said "is perfect." Pure Barnyard takes the finished material, packages it and sells it under the Cockadoodle Doo brand name.
Targeting weeds
How does Cockadoodle Doo pile up against the competition?
The major difference between Cockadoodle Doo and many other organic fertilizers is in its pasteurization. By evenly heating the raw material at high temperatures, harmful pathogens, such as Salmonella, are killed. Composted organic products, while still beneficial, may break down unevenly, produce liquid waste as a byproduct of the composting process and have an odor.
Unlike horse or cow manure, chicken manure has more nutrients, largely because poultry are not very efficient at digesting food. It has higher concentrations of nitrogen, phosphorus and potassium than other manures. It also has calcium, which helps heal grass blades after mowing and prevents browning. The pasteurized product does not burn the way other manures can. There is little odor, and it can be spread in a regular lawn spreader.
"And it works," said Packard.
Testimonials range from Pure Barnyard office staffers with 15-foot-tall tomato plants to golf courses to communities looking to move away from synthetic fertilizers due to run off and health issues.
"Ask landscapers and farmers anywhere, and they will tell you chicken manure is the best organic fertilizer you can get," said Packard.
Stan Fry of the Fry Family Farm in Peterborough began using Cockadoodle Doo about three years ago. He plants gardens, shrubs and perennials on his 12 acres and has ponds on the property. "We were concerned about fertilizer runoff harming our ornamental fish," he said. "I tried a few bags on the lawn and was really impressed."
Fry said he was so impressed that he bought a pallet the following year, and this spring purchased 12,000 pounds.
He said he didn't feel cost was an issue. "It's not too bad," he said of the price. "I get a volume discount, but some of the synthetic fertilizers can cost as much, if not more."
Since his farm is located in a residential area, he also had concerns about odors. "Each year, we used to get complaints from neighbors about the odors when we fertilized, but this year, we didn't hear a thing," said Fry.
Pure Barnyard has found another way to sweet success through byproducts. Cockadoodle Doo Weed Control corn gluten meal, developed by the University of Iowa from the byproducts of corn syrup production, is a powerful non-toxic herbicide. It is spread through a regular yard spreader, but the transformation happens when it is watered.
"It liquefies, turning almost into a glue," said Packard. "It attaches to and encapsulates weed seeds. They will germinate, but not develop roots and then quickly die."
He said in the first year of use, it is 65 percent effective, and by the third year, 100 percent effective. "It will not hurt the grass and also acts as fertilizer," Packard said, adding that the corn gluten is by far their best-selling product.
'Bridge product'
In New Hampshire, Pure Barnyard sells Cockadoodle Doo fertilizer in 20-pound bags for $14 and 40-pound bags for $24. The corn gluten comes in 50-pound bags and retails for about $39. National-brand synthetic fertilizers in similar quantities run for about half the price. Weed preventers are even less.
Packard claimed synthetic fertilizers feed lawns and gardens for about 30 days. "Our product feeds for up to 90 days, so you actually use less," he said.
Richard Lough, superintendent of the Sagamore Hampton Golf Club in Hampton, said it was that steady release of nutrients over a longer time that made him choose Pure Barnyard's products for his course.
"We've been using organic products for years," said Lough. "We believe that if you feed the soil, if you have healthy soil, you'll have healthier plants."
Lough said that, while you don't get the "quick greening kick" from organic products, "you get a slow, sustainable release. It works very well."
Sagamore uses Cockadoodle Doo products on flower beds and shrubs and Pure Barnyard's Bio Basics line of natural fertilizers for the greens.
Packard called Bio Basics a "bridge product" used to "wean" golf courses and other large commercial users from an exclusively synthetic treatment system to a fully organic system.
But cost is an issue for Lough. He said that, dollar for dollar, there's no question that synthetic nitrogen fertilizers are much cheaper for larger areas.
"But if you're worried about runoff, I think it's worth it," Lough added.