Public counsel fires back over businesses' Northern Pass claims
He refutes claims their interests aren't being heard in Site Evaluation Committee hearing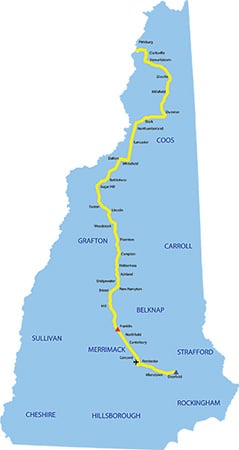 The NH Site Evaluation Committee's Counsel for the Public insists that he has consistently reached out to the business community to gauge its concerns when it comes to the impact of the proposed Northern Pass hydroelectric transmission project.
In an email to NH Business Review, Senior Assistant Attorney General Peter Roth, who is acting as Counsel to the Public in the SEC's Northern Pass proceedings, refutes claims made in two recent letters sent to the panel by businesspeople claiming that those concerns are not being heard.
The two letters, one sent on Feb. 8 by the presidents of the Greater Manchester and Greater Nashua chambers of commerce and the other sent on Feb. 13 by top executives of BAE Systems Electronic Systems in Nashua and Globe Manufacturing Co. in Pittsfield, charge that, because they were denied their requests for intervenor status in the SEC's Northern Pass case last spring, their "interests and concerns" aren't being included in the Counsel for the Public's submitted reports and testimony.
Roth, however, denies the letters' claims, saying that, "over the past year I made it a priority to hear and address concerns of all business interests that may be affected by the project both beneficially and adversely."
'Vantage point'
Both letters refer to an Oct. 31, 2016, meeting with Roth at which the organizations, among others, were represented.
At the meeting, "we highlighted a variety of concerns," wrote Skelton and Hatch, including "the sense of urgency among businesses" over energy supplies and high energy costs, the difficulty attract and retain "good-paying manufacturing jobs" because of those costs and the belief that Northern Pass "is an important part of the solution" of the state's energy problem.
And both letters point to Roth's pre-filed testimony, in which "we don't see any mention of the issues we raised in our meeting," wrote Montminy and Welch. "From our vantage point, it does not appear that CFP sees it as part of his role to advance our interests."
As Skelton and Hatch wrote, "we were hopeful" that Roth "recognized his role in representing all interests before the SEC. Alarmingly, that hasn't been the case."
Roth, however, sees the picture very differently.
"In response I simply say that I actually did consider the need of businesses for electricity price relief and concern over price stability/volatility," he wrote in an email to NH Business Review.
In fact, he said, he coordinated meetings in Concord, Portsmouth and Manchester with the Business and Industry Association of New Hampshire and chambers of commerce "to hear the concerns of their members."
'Fair and objective'
He said he attended 10 public meetings last winter and spring "and carefully listened to the concerns of the public, including those representing business interests. I held 6 public workshops last summer where I met a number of business owners. I met with business leaders and owners in Plymouth to hear their concerns. I generally see and read numerous comments from the public including those of many businesses and others who support the project."
In addition, said Roth, he hired Kavet Rockler & Associates "to conduct a fair and objective study of the impacts and benefits of the project on the local and statewide economy," as well as the Brattle Group, to study "the wholesale market benefits of the project, including electricity price and stability. "
Both the KRA and Brattle reports were included in a Dec. 30, 2016, SEC filing, said Roth.
"Both Brattle and KRA studied scenarios which led to the conclusion that the project would generate some electricity price relief," he wrote. "KRA specifically mentioned the emphatic concerns voiced by the chambers and other business leaders in their report. KRA performed a detailed analysis of the beneficial effects on electricity costs in New Hampshire and assumed the highest of the scenarios from a benefits perspective."
Nevertheless, the chambers' letter and the BAE Systems-Globe Manufacturing letter insist that, after reviewing Roth's pre-filed testimony, "we have yet to see any mention or acknowledgement of our concerns."
If the SEC process fails to include their concerns and look at the issues they have raised, wrote Skelton and Hatch, "we are left to question how our interests are now being represented before the SEC. If our voices aren't being heard, we feel that's a major problem – one that gets to the very heart and integrity of the process."