Proposed independent contractor definition makes its way to full N.H. House
Vote may mark beginning of the end of years of legal wrangling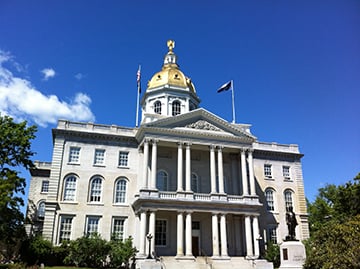 The House Labor Committee has apparently found the holy grail – a single definition of an employee, or rather, when an individual is not an employee, but an independent contractor. It has recommended by a 16-4 vote that the full House agree to it on Wednesday.
That is just one of the dozens of bills affecting businesses that are coming up in the next week and are likely to be overshadowed with hearings on the budget, as well as votes on ending Medicaid expansion and decriminalizing marijuana.
Employers, particularly in the building trades, have complained for years about the confusion caused by different definitions when it comes to workers' compensation and unemployment, as well as such things as the minimum wage law and the Whistleblowers Act. Previous definitions had from five to 11 different criteria.
House Bill 450 as amended has 10, but only eight have to be met.
In order not to be considered an employee, an independent contractor would have to meet all of the following requirements: control the manner of work; have the opportunity for profit and loss; perform services customarily engaged in as an independent established trade; hire and pay his own assistant; and get paid based on the agreed scope of work performed.
In addition, the contractor would have to satisfy three of the following five criteria: have substantial investments in facilities, own tools and instruments; be held to a satisfactory completion of work; have a written contract; perform work outside the usual course of business of the hiring unit; work outside the hiring unit's place of business; or the Internal Revenue Service has classified him or her as an independent contractor.
Meanwhile, the Senate seems likely to approve Senate Bill 271, a bill requiring employers to provide women employees with a safe place and a "reasonable" amount of time to breastfeed their child.
The Senate Commerce Committee recommended it unanimously to the full Senate. A similar bill failed last year.
What labor bills probably won't pass? Minimum wage increases (committees in both chambers recommended against it), mandatory sick leave, prohibition against using credit history or (criminal history in the public sector), and requiring employers to use the E-Verify system to prevent the hiring of illegal immigrants. The Senate Labor Committee did recommend a right-to-work bill, but if it does pass, it is likely to be vetoed by Gov. Maggie Hassan.
General Motors' attempt to roll back the state's Auto Dealers Bill of Rights also seems doomed to fail.
By a 19-1 vote, a House committee rejected the bill sponsored by its chair, despite the support of some dealers who wanted the changes to get the manufacturer to reinstate millions of dollars in incentives. Most dealers, however, opposed those changes.
The bill goes on the consent calendar, so unless a representative removes it, it will be among the many other bills that can be killed or approved by a single voice vote at the beginning of the session.
Here are some other bills on the consent calendar likely to pass:
• HB 171 would remove the limit on rebates offered by insurance providers
• HB 177 would allow any alcoholic beverage manufacturer to sell one sample per person per label at its facilities
• HB 184 would regulate the travel insurance industry (and is supported by the industry)
• HB 498 would require notification of arsenic testing when selling your home, similar to the current requirements on radon testing
• HB 200 would allow home-based makers of products like breads and jam to sell up to $20,000 of their products at retail without a license.
• HB 599 would require that economic revitalization zones be reevaluated every five years, and only count full-time jobs for the purposes of calculating the business tax credit.