Program guides veterans through business startup process
Boots to Business offers guidance and assistance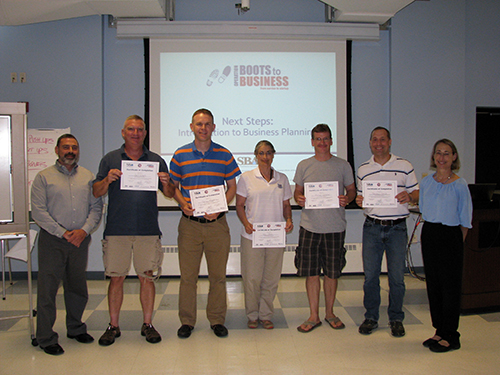 Leaving after a career in the military, most service members aren't ready emotionally to kick back and retire in the traditional sense, says Jeff Clark, avionics technician at the Pease Air National Guard Base in Portsmouth.
That's why there are programs that prepare veterans for a career track upon retirement, or in the case of the U.S. Small Business Administration's Boots to Business program, prepare veterans for starting their own business.
One year out from retirement, Clark, a budding entrepreneur, attended a session in July at the base to help with his business idea.
"You've probably seen farm equipment sitting beside the road," says Clark of his business. He says he wants to take that "rusty gold" and refurbish it to sell for reuse. "It may have corrosion or a broken part, but most of that equipment will last a long time," he says.
When veterans prepare to retire, there are three paths they can embark on, as identified by the Transition Assistance Program, or TAP: seek higher education, receive career technical training or become an entrepreneur.
The TAP program was founded in 1991, when the military underwent a downsizing and Congress became concerned about a high number of service members entering the private sector, according to David Madden, work and family life consultant at the fleet and family support center at the Portsmouth Naval Shipyard in Kittery, Maine. Department of Labor, Department of Defense and Department of Veterans Affairs were instructed to form a program to help prepare service members for private sector careers.
In 2011, Congress became concerned again with high unemployment among veterans and passed legislation asking those departments to revamp the program, also making it mandatory, even for those planning on traditional retirement.
On the agenda
Retirees typically start the five-day program two years out from retirement and again one year out, with those serving shorter time in the military attending the program a year out, said Madden.
"The first day is basic to the service. On day one, the three biggest things that have to happen is a block on resilient transitions," says Madden. "Anyone who does this is going to go through some type of stress."
Service members are encouraged to speak with their spouses about the transition.
The second day's agenda focuses on the individual transition plan, "so there is a requirement they look at certain things," says Madden. "For example, post-service housing, what are they going to need for transportation, what are their basic salary requirements, what are they going to do for medical care?" It's also when the Department of Veterans Affairs briefs service members on their benefits.
The Department of Labor runs days three, four and five, taking service members through job-searching, resume-writing and interview skills as well as making a 12-month budget for post-retirement.
Only retirees who can prove they've been accepted to college or have a job offer can opt out of days four and five.
"Most folks have not written a resume, so we work with them, with the military style they would use in evaluations and their job descriptions and how to put them into terms that are civilian-friendly," says Madden.
'Everybody is different'
Madden says there is no common career path for service members.
For instance, in Clark's Boots to Business session there was Terry Nawara who is looking to work with a tech startup in the Boston area; Andrew Smith, who is seeking to expand his family's marinade company; AC Ash, who wants to run a seasonal retail shop in New Hampshire and New Mexico offering metaphysical science and fortune telling; and Michael Webster, who is undecided.
"Everybody is different. It's very interesting," says Madden. "I have them introduce themselves, what they do now, what they want to do, and you have everyone who wants to go to school all the way up to people who want to buy an RV and travel across the country and everything in between."
After the five-day training period, there are additional two-day career paths.
Those who plan on attending college learn how to write college essays, research colleges, how to make a decision on schools, and start to apply to college if they haven't already enrolled.
A similar program is geared toward the trades and apprenticeship programs, how to research the programs, how to apply, how to file for financial aid and apply to the GI Fellowship Program at colleges.
The third option, Boots to Business, brings in outside resources, including representatives from the NH Small Business Development Center, SCORE, bankers and lawyers, to explain what aspiring business owners must do to receive financing, what banks are looking for when they go in for financing, the different types of companies they can set up, the pros and cons and other information to get them started.
"It's a reality check on how to start a business, all the things they need to do, marketing and research, all of the legwork they have to do to get permits, all of the educational trainings we have through our resource partners," says Miguel Moralez, business development specialist and veterans officer at the New Hampshire SBA office. "Our resource partners are always there to help them out so any questions they have; they're there for them."
Boots to Business began in 2012 as a pilot program on certain bases and "just took off" says Moralez. Veterans' spouses and children over 18 are welcome to attend as well.
Business plan
After completing the two-day program, participants can embark on an eight-week online course taught by professors from a consortium of accredited universities led by the Institute for Veterans and Military Families at Syracuse University, says Moralez.
The class requires 10 hours per week to work through the fundamentals of developing an actionable business plan.
New Hampshire U.S. Sen. Jeanne Shaheen has co-sponsored a bill with Sen. David Vitter, R-La., to make Boots to Business a permanent program, with updated language that is more consistent with how the program is operating and that enables SBA to better coordinate with Veterans Affairs facilities at a local level, says a staff member.
The bill passed the Senate Committee on Small Business and Entrepreneurship and is expected to be voted on by the full Senate this fall.
"I think there's great value in [Boots to Business]," says Madden. "If you just sit down by yourself and try to go through that process, it can be very daunting. I think it provides them with a lot of information for them to get started. They can have a point of contact."