Private rail service to NH picking up steam
Boston Surface Railroad would eventually link Nashua, Manchester-Boston Airport to Lowell and beyond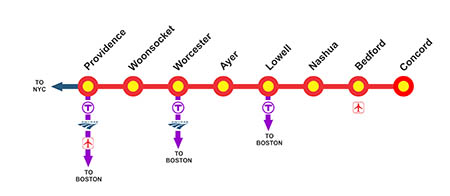 Boston Surface Railroad Co., the firm seeking to develop a mostly privately funded rail line that would eventually commuters departing from Nashua to Lowell, Mass., and eventually Boston is moving ahead with its plans.
The company recently purchased the first train cars that would run from Worcester to Providence, Vincent Bono, CEO of Boston Surface, told the Nashua Telegraph.
"We're pretty excited," Bono said.
Bono told the newspaper his company is working with the Massachusetts Department of Transportation to negotiate the rights to passenger rail service. His company is also applying for a federal matching grant of up to $1 million.
The newspaper reported that the company is 20 months away from starting its Worcester-to-Providence operations. After that, Boston Surface will work on expanding to New Hampshire, in addition to a service connecting Lowell to Worcester.
Bono said his company kept a wary eye on the effort in New Hampshire to win state support for a commuter rail line. That effort eventually failed in the Legislature.
"There is no way we could compete with a publicly funded competition," Bono said.
Bono said without government support, the price per ticket will be higher than government-backed services, such as the MBTA.
The New Hampshire line is proposed to have a stop in Bedford, near the Manchester-Boston Regional Airport, and one in Nashua, before ending its run in Lowell, Mass. There, commuters could get MBTA service into Boston.