Pot business is fertile ground
NH's medical marijuana industry ready to blossom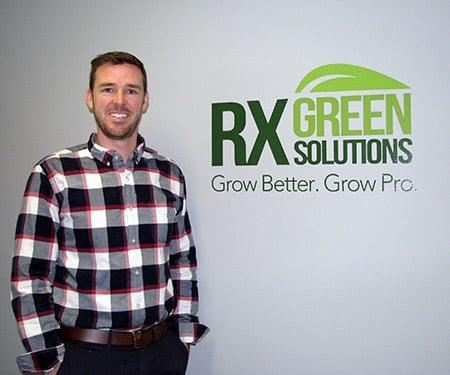 Sometime this spring, medical marijuana dispensaries in New Hampshire will open their doors to patients.
Granite Staters with cancer, glaucoma, HIV, Crohn's disease, a traumatic brain injury and other qualifying medical conditions will be able to pick up their prescriptions just like at any pharmacy, says Brett Sicklick, chief operating officer of Prime Alternative Treatment Center in Merrimack.
"In reality, it's safer than the pharmaceuticals people pick up at Rite Aid or Walgreens," argues Sicklick.
That's because cannabis growers must abide by strict state regulations, he said.
"We are prohibited from using synthetic ingredients" and most pesticides, says Ted Rebholz, president of Temescal Wellness, which operates a dispensary in Dover and Lebanon. "We applaud the state on that. We plan to provide all-organic products."
In fact, New Hampshire has among the strictest regulations regarding medical marijuana, says Rebholz.
The state Department of Health and Human Services is taking careful steps in bringing the new industry into being, but the regulations also coincide with a growing awareness and regulatory crackdown on the use of pesticides in Colorado, where the sale and use of marijuana is completely legal.
Since marijuana remains a Schedule I substance according to federal law, the EPA has not issued guidance or regulations regarding pesticides and products used to grow it.
In early December, Colorado took the matter into its own hands, approving a list of pesticides for use in marijuana production as well as highlighting pesticides that have been removed from that list.
At the beginning of the year, the Cannabist, a marijuana-focused edition of The Denver Post, reported a recreational marijuana recall of nearly 100,000 edibles due to use of pesticides that are now banned – the 15th such recall in 16 weeks.
Sicklick says the Merrimack alternative treatment center, or ATC, is taking its time "to build out these facilities properly because, if you don't, you have a bad growing environment, and that's where the mold and mildew will come from is bad airflow, low airflow and temperatures swings."
Field scientist and product developer Shara Ross works at at Rx Green Solutions' testing facility in Colorado.
'Soft science'
"We really think at some point the FDA may come in with regulations," after some form of or step toward legalization, says Shara Ross, field scientist and product developer at Manchester-based Rx Green Solutions. "We'll see a lot more food grade requirements for cultivation, processing, things like that."
Receiving her graduate degree in biological science from UNH, Ross has been planting, cultivating and harvesting crops out in Colorado for over a year. She and four other employees work in a lab shared with a dispensary under the state government's watch, testing Rx Green Solution's natural seed cloning, nutrition and additive formulas and pH adjusters on cannabis plants, and comparing it to competitor's products.
"There's a lot of soft science out there and theories about the formula of what a plant needs and what we have works exceptionally well. We always believe we can improve," says Ross. "With the cannabis plant, it's very genetically variable. The different strains are genetic variances that have different nutrient requirements, which makes this even more complicated."
Ross thinks that's due to the plant growing "underground" for so long, so a lot of people have played around with the genetics.
"Some have very stable genetics and some have very unstable genetics. It's a factor that plays into plant cultivation research," she says.
"We found with our product, with a very simple formula, we were able to see more consistent growth and yield results across a wide variety of genetics," says Ross.
Gaining a footing
Rx Green Solutions also has employees in Washington and Michigan (a large medical market) and is in the process of hiring an individual in California, but the main office is based out of Manchester.
Led by CEO Todd Brady, Rx started out as an urban farming product company. With experience in venture investment and agriculture consulting, Brady said he "fell in love with early-stage company culture" and decided to start on his own in 2013.
"There was a lot of buzz around sustainable farming and new technologies to hydroponically grow plants," says Brady, who built up a team of researchers and scientists to develop natural, food-grade formulas.
While Rx's products are a hit among rose growers, they also have gained a footing among a new type of grower.
"Very quickly we found that we were getting a lot of buying interest from retail stores in marijuana-founding states and retail stores focused on hydroponics and, after doing some digging, we found that's where a lot of interest for our products was coming from," explains Brady. "Fast-forward a year or two years, we've become more ingrained in the cannabis space, and I would say we've spent a significant amount of our time specifically with that plant, developing products for those and producing research and development for our products and future products on cannabis."
The goal of his products is to increase yields, which are 50 percent higher than an unnamed competitor's, as well as increase potency, such as THC levels – the chemical that gets you high. Brady says his company's formula is more simplified too, requiring fewer products to get those results, and therefore minimizing costly mistakes.
He also sees growth in the space, as few plant nutrient companies openly support the cannabis business, even though their products are known to be used to grow the plants.
"Our goal is to work with those facilities and support them from the product standpoint as well as technical support to ensure they have the highest quality and highest output. At the end of the day, quality is the most important thing for the patient."
Fledgling industry
Prime ATC and Temescal Wellness have yet to start growing plants, a process that takes about 16 weeks, says Brady.
Rx Green Solutions' testing facility located within a dispensary in Colorado.
"We're going to start demolition here shortly and start building out for the cultivation area soon," says Sicklick. "We're hoping to have plants going here as soon as possible."
Patients won't only buy buds, but also have more familiar medical forms, like cannabis oil capsules, transdermal patches and cannabis oil vapor, with an instructed dosage.
"We see that as part of our social responsibility to the patients of New Hampshire to provide them the knowhow to know the proper uses of these medicines," says Rebholz
"There's so much research showing the efficacy of this, the sooner people get it out of their head that this is a bad product being manufactured unnaturally like other medical products, we'll recognize these is a beneficial plant like any other supplement or vitamin, because it's something our bodies over time we reduce the natural cannabinoids we produce," says Sicklick.
Neither is using Rx Green Solutions products, at least not yet.
"I would agree many more vendors, whether suppliers of nutrients or equipment, they realize their products are applicable to the medical cannabis market so there are a vast growing amount of vendors also serving the medical cannabis market," says Rebholz.
As the dispensaries prepare for their growing space, there are other concerns regarding how the banking industry will accept payments for a product that is not legally recognized by the federal government.
"The Federal Reserve recently came out and said if you're a medical marijuana business, you can't be placing that money into the federal banking system, despite the fact there may be local and state-chartered banks that are willing to help out," says Richard Uchida, a real estate and business attorney at Hinckley Allen. "Right now, as the banking system is set up, their business will have to operate on a cash basis."
But Sicklick says Prime ATC had no issues getting a bank account and can accept debit cards as well, though he is paying more for the account.
"What we've found is there are a very small number of banks that are willing to accept deposits in the industry," says Rebholz, but Temescal Wellness will not be able to accept credit cards. Marijuana does not need to be legally recognized in order to allow a credit card processer to conduct business, but there will have to be some change.
Sicklick thinks that day has already come, as Congress strips away the U.S. Drug Enforcement Agency's funding aimed at marijuana, especially in states where dispensaries are abiding by the laws.
With recreational marijuana likely to be on the 2016 ballot in Massachusetts, Rx Green Solutions' Brady sees further opportunity.
"The East Coast will become a very large market – it's just a matter of how long that's going to take. The population of Massachusetts is much larger than the population of Colorado."