Portsmouth team takes STEM to elementary school
Newly developed Learniverse curriculum seeks to stir children's interest in science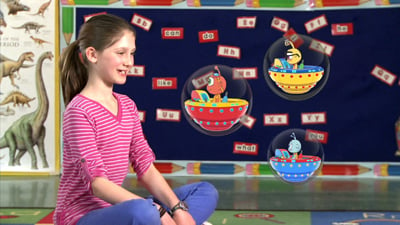 To get kids interested in STEM principles (science, technology, engineering and mathematics), you need to get them really early on. Oh and use aliens – that helps.
An "A team" of children-focused media, education and product development experts has created Learniverse, STEM curriculum geared toward school-age children ranging from kindergarten to second grade. The brains behind the concept is Dennis Neil Kleinman, part of the original team of the long-running PBS show "Reading Rainbow." He came up with the idea of cartoon characters interacting with children, says Learniverse marketer Jamie Forbes. Having developed and tested a number of episodes, the Portsmouth-based firm is now working on distributing the curriculum across New Hampshire, and eventually the country.
"We've tested it in various phases," says Forbes. "We tested in four different classrooms last summer at Lincoln Akerman School in Hampton Falls, and since then we've tested in various controlled classroom environments through one of our strategic partners at UNH in their education department."
The team worked with the University of New Hampshire's STEM Discovery Lab in Manchester to assure the material clicked with youngsters and met Next Generation Science Standards, set by the U.S. Department of Education.
"The critical and most effective entry point in the education system for making an impact on student interest and achievement in STEM is in early childhood," says Lauren Provost, research assistant professor at the STEM Discovery Lab.
"The academic achievement gap for disadvantaged students evident in the early childhood years widens over time if this entry point does not exist. The Quinks curriculum, created in response to this need, complements an inquiry-based pedagogical approach to learning, encouraging children to explore."
"We chose to focus on this age group because it harnesses kids' innate curiosity," says Forbes. "They're born scientists and ask questions incessantly, and this program reinforces that activity."
Pent-up demand
The animated aliens, or Quinks, named Quazar, Neutrina and Fluxx, take students through a journey of discovering the wonders of the earth and learning the principles behind them with their human friend, Willow, Forbes' 6th-grade daughter.
There are pauses built into the videos where teachers provide a hands-on activity that expands upon the principles taught in the video. Eventually there will be an online community where teachers can discuss lesson plans, making it easier to utilize the video curriculum.
"For example," says Forbes. "If they're watching an episode on motion, there will be a pause, they'll talk about what was just reviewed in the episode and there will be a really simple activity the teacher will walk the kids through that brings it to life. It could be rolling a marble, for example, that makes it real and tangible for the kids. We worked hard with other educators to come up with simple exercises."
Forbes says the group is currently preparing to launch the product, completing four episodes that will be available for limited release throughout New Hampshire later this fall. Eventually the curriculum will be available online so any teacher can download it for little or no cost.
To make the curriculum affordable, the team has developed corporate partnerships and bootstrapped it with their own funds. There will be additional curriculum add-ons that will have a fee associated with them.
"There is pent-up demand for early childhood science curriculum, we're anticipating a significant number of teachers will use the curriculum," says Forbes.
Learniverse also has a media partner relationship with New Hampshire Public Television and will show shortened eight-minute episodes that will start appearing on NHPTV's website as "interstitials," a video that pops up as the web page loads.
"It's been really amazing because we've been working on this for over two years, and now we've really gained a lot of momentum, in the last six months, as we've shown the curriculum and talked about it with other experts in the field," says Forbes.
The group started in New Hampshire because that's where they're located, have existing relationships with educators and are "passionate about having an impact locally," Forbes explains.
"You know there are very few statistics, particularly for this age group, so it's been hard for us to really quantify how New Hampshire sits versus the rest of the country," says Forbes. "We do know that very few elementary schools are teaching science at this level, so this is really our solution to that."