Plymouth's enterprise zone
Incubator gives startups support, access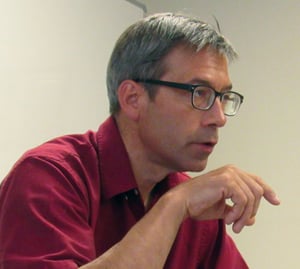 While working in the family real estate and appraisal business, Tom Armstrong created his commercial property appraisal software company, Narrative1, by looking up pieces of open-source code online.
"It was a very unorthodox way to learn how to program," Armstrong said. "Everything I learned was specifically task-related. For example, if I needed a form to prompt the user for certain inputs, I would learn how to make a form, how to prompt the user for inputs, and where to put that input. I found coding to be extremely engaging and interesting."
Conversely, the process by which commercial property is appraised is tedious. Traditionally, commercial appraisers work with Microsoft Word and Excel, copying over appraisals previously used, changing some content, and then copying and pasting sections from other reports and building their documents that way.
"In fact, that was really almost the only way commercial appraisers did their work," said Armstrong. "Our software automates that process and really tightly integrates the database, analytics and report generation. So we brought a platform to automate that to the market."
Looking for office space in the Plymouth area, Armstrong and his team were among the first tenants at the Enterprise Center at Plymouth, a business incubator that opened in October 2013.
By 2015, Narrative1 was acquired by ExactBid, a real estate information management firm based in San Jose, Calif., which had reached out to Armstrong with an attractive plan and price.
"They wanted me to stay on for three years so we're one year into it," he said. "We simply moved the development team to ExactBid's and hired a few new people in Plymouth."
Narrative1 currently employs 20 people in Plymouth, four of whom are Plymouth State University graduates. The company also has given opportunities to several interns from PSU.
"Prior to occupancy here, I had reached out to different professors at the university for advice on how to grow the business," said Armstrong. "There's a marketing professor I worked with who has become a good friend of mine and, overtime, an advisor. She's been really great. And we worked with others to find programmers and interns, so I just wanted to be able to have an ongoing dialogue with the university and closer connection."
Two-way relationship
The Enterprise Center at Plymouth "isn't just an office space," said Mark LaClair, managing partner at TotalScope Marketing, which graduated from the incubator earlier this year and moved to a new location on Main Street in downtown Plymouth. "The center," he said, "is about providing access to the startup companies or the companies that need to accelerate their growth."
That access "can mean lot of different things," said LaClair. "It can mean access to education, talent, finances, real estate, support services. It's different for any company that comes in. What we were interested in is our access to Plymouth State University."
TotalScope, a tourism marketing firm, formed as the result of the merger of LeClair's career in hospitality and marketing and his managing partner Allan Guilbeault's outdoor recreational business. TotalScope took in four interns in the three years it was housed on campus, two of whom were hired but are no longer with the company.
"We were able to gain access to students for the talent, but also departments in the school that we needed to make an impact," said LaClair, who specifically pointed to marketing students coming out of the College of Business Administration.
The relationship went both ways, with LaClair and Guilbeault keeping faculty up to date with current marketing methods.
"We were working with some of the faculty and staff who hadn't heard of what we were working on. It was a symbiotic relationship, and I think that's the best type of relationship an incubator can provide. Entrepreneurs know something that academics will never know, and vice versa. Academics know things entrepreneurs don't know, but the two of them work perfectly together," said LaClair.
As TotalScope Marketing grew its presence in the area, LaClair and Guilbeault met Roy Whitaker and purchased another business that complements their work, True Colors Print & Design.
"It does full-service print and design work for companies all over the place, but it's a business that's been in Plymouth for 40 years, so it shows the connections you make at the Enterprise Center, establishing as a marketing relations firm in this town, has allowed us to grow," said LaClair.
'Pay it forward'
Spirit Seeker, founder of Affirm Community Accounting, built his client list through the Enterprise Center and ENACTUS, an international entrepreneurial club at Plymouth, while attending Plymouth State as a student.
"While I was in college, [my husband] started up his business, and I used my education to help him through his business. It basically spread through word of mouth. I had two other clients waiting for me," said Seeker.
"Working with people who are complete strangers and finding a great relationship and building that relationship that increases a network, it increases resources, and you find people you can pay it forward to," said Seeker.
"The impact of the Enterprise Center is felt throughout Grafton County, beyond the companies who are tenants," says Chris Wellington, CEO of the Grafton Regional Development Corporation, which oversees the Enterprise Center. "Right now, we have 12 companies within the Enterprise Center, but we serve over 100 companies a year, through the programming and workshops and the one-on-one mentoring we provide through counselors we have on staff. Even though you may not physically be in the Enterprise Center, we can assist your business and we have through those workshops and counseling."
After searching for nearly a year, the Enterprise Center welcomed a new director, Eric Spieth, in April. Spieth previously worked at Central Oregon Community College, where he was a professor and program director of the Center for Entrepreneurial Excellence and Development, the school's incubator.
"We really wanted to make sure we brought in someone with the skills to drive the vision we had," said Wellington.
"I love being that interface between the university, the community and the state," said Spieth, who was hit with the sense of community in the Plymouth area. "That's one of the major benefits of an incubator. To be able to walk into a turnkey solution that has all of the benefits of a fully articulated business environment is something you can't get at home, it's the mix that gives you an amazing head start at starting your business."
---