Pizzeria extortionists seek bitcoin ransom from N.H. restaurant
'What's a bitcoin?' asks GM of Manchester's 900 Degrees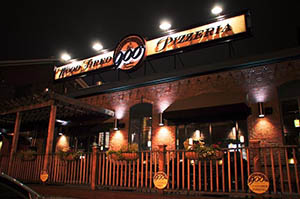 A handful of pizzerias all over the U.S., including Manchester's 900 Degrees Neapolitan Pizzeria, have received suspicious and ominous-sounding extortion letters.
The ransom: one bitcoin.
The letter was received by the New Hampshire restaurant near the end of June. After reading what it had to say, Manchester's General Manager, Michelle Doucette, said she "thought it was a joke."
The pizzeria has another location in Epping.
The letter states that if the company does not "pay the one-time monetary tribute, by the deadline provided below, (the) business will be severely and irreparably damaged." These damages are listed out in the letter as well, and range from negative online reviews and anonymous reports to health inspectors to bomb threats, vandalism and anonymous reports of terrorist training activity.
The threatened pizza joints have until Aug. 15, 2014, to pay the anonymous group one bitcoin, which is equivalent to roughly a little less than $700, though the amount fluctuates. If the restaurant fails to meet that deadline, it will be required to pay three bitcoins, though the letter does not give a second deadline.
"It's really silly, and when I opened it, I almost threw it away," Doucette said. "I had to ask one of the waiters, 'What the heck is a bitcoin?' It sounded like something you get in a video game."
After a moment of reflection, however, Doucette decided to take the threat somewhat seriously and turned to the pizzeria's social media in order to find out what she could about the letter.
"When you're a restaurant and when everyone has their phones in their hands … the last thing you want them to do is Yelp! your restaurant (with these kinds of things)," she explained.
As of July 3, Doucette's Facebook post on 900 Degree's page already had a couple of shares and more than 24 comments on the matter. Many of the commenters offered support, saying that the letter was a scam and that any negative reviews would be ignored.
"Forward (the letter) to (New Hampshire's) Attorney General. Otherwise I wouldn't be concerned or do anything else," wrote commenter Matt Deloge. "No hacker is getting in the way of me and great pizza, I'll tell you that much."
Doucette said she took that advice to heart and had the letter sent to the Attorney General's office. Since then, Doucette said, "It's gone all the way down the chain, and now resides at the Manchester Police Department. She said it was also reported to the U.S. Postal Service, and that if anything does come of it, it will be considered a federal crime.
900 Degrees isn't the only pizzeria to received the ransom letter. Both Sandra Alhilo, general manager of Pizza Pirates in Pomona, Calif., and Mark Raymond of Grand Rapids Pizza & Delivery in Grand Rapids, Mich., said they received letters as well.
"You have to wonder which extortionist brainiac thought, 'You know who probably has a lot of extra money lying around? Pizza places'," joked Doucette.
In the end, Doucette said business will continue as normal, and that she has little worry that the extortionists will stay true to their threat.
"I hope the day will come and go, and we won't hear anything back from them," she said. "If not, I'll keep posting their follow-up letter."