People and Property: Real Estate and Construction News Rundown
Milestone completes Bank of N.H. branch, RE/MAX Insight on 'Inc.' list … and more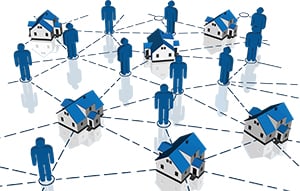 Milestone Engineering & Construction Inc., Concord, recently completed Bank of New Hampshire's new Plymouth branch. The branch includes a teller line, drive-up window, private offices and a conference room. The woodwork was installed by Milestone's craftsmen. Architect was Dennis Mires, The Architects of Manchester.
Salem-based RE/MAX Insight, with offices in Massachusetts and New Hampshire, has been named to Inc. magazine's 2014 Inc. 5000 list of the fastest-growing private companies.
Ranked at number 1,733 on the list, RE/MAX Insight has experienced 241 percent growth over the past three years, reaching $2.6 million in revenue in 2013. It was the four fastest-growing company in New Hampshire on the Inc. list.
Homeless services provider Families in Transition has received a $25,000 donation from Londonderry-based MTS Services through the Community Development Finance Authority Tax Credit Program. The donation will help to sustain and enhance FIT's housing and services for the homeless by helping to fund construction of the Family Place Resource Center and Shelter in Manchester.
Once an additional $410,000 is raised, and the new expanded emergency family shelter is built, it will also include a comprehensive resource center specifically designed to meet the needs of homeless families and children.
The dual purpose nature of the project will ensure that families with complex and varied needs are able to quickly and easily access the services that they need to regain housing stability and long-term wellness, said Maureen Beauregard, president of FIT.
Six projects recognized by the American School & University as part of its annual Educational Interiors Showcase awards – including one that won the highest honor in its class –incorporated the use of products manufactured by Manchester-based Kalwall.
The Milan Center for Innovative Studies in Milan, Mich., a 23,000-foot addition to an existing high school, was awarded the Crow Island School Citation, the highest award for designs used in educational buildings housing students from kindergarten to high school. The new Dunbar High School in Washington, D.C., a $128 million project, was awarded a Gold Citation. The new Brenda Lawson Athletic Center at the University of Tennessee, the commons area at the Meadow Glen Middle School in Lexington, S.C., the Student Center for Life at Augustana College and the Aviation Training Institute at Vaughn College of Aeronautics were all cited for outstanding designs.
The Plymouth Regional Senior Center will be able to avoid a shutdown after receiving a $170,000 emergency grant to replace its broken sprinkler system after receiving an emergency Community Development Block Grant from the Community Development Finance Authority.
The fire suppression system that serves the facility required five emergency repairs between April and May. Inspections revealed numerous leaks throughout the system where condensation had built up.
Laura E. Farago has joined the Portsmouth office of Colliers International as an associate. She will specialize in the leasing and selling of office, industrial, and retail properties and is a licensed real estate salesperson in New Hampshire and Maine.
She previously worked at ONE Commercial Real Estate, where she focused on office and retail leasing and industrial sales in the Portsmouth area.
Professional geologist Bettina Eames of Hampton has joined Tighe & Bond as an environmental services project manager working out of the firm's Portsmouth office.
Mark Beroney has joined the Manchester-based Metro Walls team as an estimator. Most recently, he was senior designer at Porter Building Systems in Maine.
The company also recently announced completion of Seabrook Commons, a 300,000-square-foot retail project on Route 1 in Seabrook.