People and Property: NH Real Estate and Construction News Roundup
Citizens expands commercial real estate finance offerings, $10 million TIGER grant for I-89 bridges … and more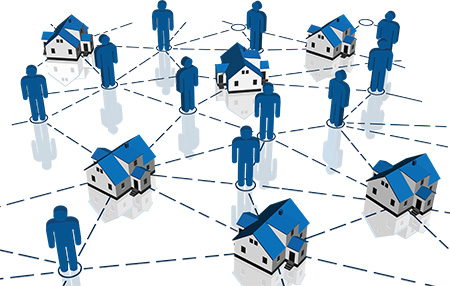 A High-Performance Building Conference will be presented by the Construction Specifications Institute held Thursday, March 15 at Holiday Inn By the Bay in Portland, Maine.
Speakers will include Chris Mathis, president of Mathis Consulting, who will discuss the importance of the building envelope and the future of building performance in New England. Other topics include window selection, moisture and concrete, subcontractor responsibilities, and best design practices.
More than 30 exhibitors will also be available to talk about design- and construction-related products and services.
For more information, visit csimaine.eventbrite.com.
Live Juice, a downtown Concord restaurant, has been sold by Aryn and Aaron Moore to Kristen and BG Moore. The restaurant, located at 5 S. Main St. offers a range of healthy fresh fruit and vegetable smoothies as well as a variety of made to order salads and fresh soups. It also offers catering services. The sale of the business was coordinated by Mark Lagasse, an associate with NH Business Sales Inc. and an advisor with its Business Transition Strategies division.
Resilient Buildings Group Inc. of Concord has been contracted by Concord Housing + Development to perform an ASHRAE Level II energy audit of the organization's public housing units and buildings.
The energy audit uses blower door testing in conjunction with infrared photography. The audit also evaluates air quality, identifies safety or health issues and evaluates heating systems, levels of quality of insulation.
ASHRAE, the American Society of Heating Refrigerating and Air-Condition Engineers, sets the energy audit standards.
Portsmouth-based Wason Associates Hospitality Real Estate Brokerage Group has announced the sale of the Saratoga Downtowner in Saratoga Springs, N.Y. The 42-room, 14,000-square-foot property features an interior courtyard with an indoor pool and a retractable roof. Wason Associates' Joe Cardillo negotiated the transaction between sellers Bill Asay and Mary Cae and buyer Lark Hotels for $4.55 million.
Citizens' Commercial Real Estate has joined with PGIM Real Estate Finance to offer clients an additional source of long-term permanent financing opportunities.
"We are excited about our new partnership with Citizens Bank to deliver high-quality, permanent financing solutions to their commercial real estate clients, with a particular focus on multifamily properties," said Michael McRoberts, managing director at PGIM.
Citizens' Commercial Real Estate Finance team provides project finance loans of more than $25 million. Citizens provides loans for multifamily, office, retail, industrial and hospitality properties.
Waterville Valley Resort has acquired the Silver Fox Inn in Waterville Valley, formerly Best Western Silver Fox. The resort said the addition aims to strengthen and diversify its portfolio of hospitality businesses.
Waterville Valley Resort began the transition in February and is now operating the 32-room hotel, which is located. next to the resort's conference and event center.
Waterville Valley Resort acquired the property from Tor and Susan Brunvand.
Craft beverage maker Ancient Fire Mead and Cider will open its doors on March 17 at 8300 S. Willow St. in Manchester. Ancient Fire – owned and created by the husband and wife team of Jason and Margot Phelps – produces craft mead and cider locally-sourced ingredients. Matthew Bacon of NAI Norwood Group represented the tenant in their search and negotiations, working with the landlord, New England Duplicator.
Summit by Morrison, an 83-unit senior living community in Whitefield, recently closed on financing with USDA Rural Development. The two low-interest loans from the Rural Development Community Facilities Guaranteed Loan Program, which partners with municipalities and nonprofit organizations to invest in essential community facilities in rural areas, total $24,973,000.
"Closing on our USDA Rural Development loan is a key milestone as we work toward welcoming residents to Summit by Morrison this spring," said Chad Dingman, executive director of Summit by Morrison and The Morrison Assisted Living and Skilled Nursing Care.
Ground was broken for Summit by Morrison in September 2016, and construction was completed on its 14 independent living cottages in December 2017. Construction of Summit House, the main campus building, with 33 independent living apartments, 24 assisted living apartments and 12 memory care studio units, is expected to be completed in the next few months.
A $10 million Transportation Investment Generating Economic Recovery (TIGER) Grant has been awarded to the NH Department of Transportation and its partners in Vermont for the Interstate 89 Lebanon-Hartford Bridge Project.
The grant will support efforts to replace the existing deck and superstructure, and widen the current bridges connecting Vermont and New Hampshire that carry I-89. In addition, the grant will prioritize roadway safety by eliminating substandard ramp merge distances and providing standard shoulder width.
The grant was announces by U.S. Sens. Jeanne Shaheen and Maggie Hassan and U.S. Rep. Annie Kuster.
GZA GeoEnvironmental Inc. has acquired Emery & Garrett Groundwater Investigations (EGGI) LLC. of Meredith. Serving New Hampshire and the eastern United States for the past 28 years, EGGI will operate as a division of GZA and will maintain its current leadership as well as its Meredith office.
Snap Site Studio LLC of Manchester has leased 1,239 square feet at 117 Elm St., Manchester, from CMS Real Estate LLC of Westbrook, Conn. Tom Dickson of Stebbins Commercial Properties Inc. represented the landlord and assisted the tenant in the transaction.
Kid's World Indoor Playground has leased 13,964 square feet at 288 North Broadway in Salem. Hugo Overdeput of Colliers International's Manchester office, represented the landlord and assisted the lessee.