Pelham company honored for innovative pump technology
Design Mentor aims to improve patients' circulation during cardiopulmonary bypass surgery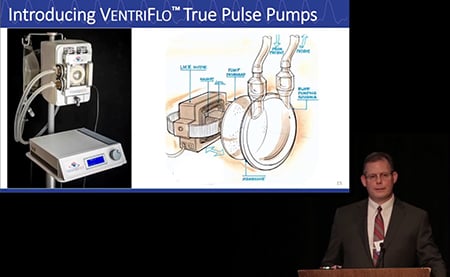 Design Mentor CEO Doug Vincent gives a presentation on VentriFlo True Pulse Pump.
VentriFlo True Pulse Pump, an innovative pump that pulsates blood through the human body – in contrast to traditional, continuous flow heart-lung machines – was awarded $25,000 in a competition sponsored by the Sheikh Zayed Institute for Pediatric Surgical Innovation at Children's National Health System in Philadelphia.
The device was one of six to be honored last month through the "Make your Medical Device Pitch for Kids!" competition, hosted at the Sixth Annual Pediatric Device Innovation Symposium.
The VentriFlo is being developed by Design Mentor Inc., a Pelham, NH-based company led by Doug Vincent, who moved to the state in 1989, upon graduation from MIT, to work as a mechanical engineer for Dean Kamen at DEKA Research and Development in Manchester.
Having joined DEKA when it was just a small shop of 15 workers, Vincent worked as the lead systems engineering on the Baxter HomeChoice Peritoneal Dialysis Machine – a breakthrough product for DEKA that embarked Vincent on a nearly 30-year career of developing medical device products.
His latest technology, the VentriFlo True Pulse Pump, utilizes a suspended magnet linear motor coupled to a high-performance, flexible diaphragm to mimic the pulsation of the human heart.
"As straight forward as it sounds to recreate the human heartbeat, it has [previously] not been done where you can deliver the same blood flow that your heart does," Vincent says.
Technological challenges that halted efforts to mimic pulsation resulted in the medical industry adopting the continuous flow heart-lung machine, which takes over the body's circulation as the temporarily stopped heart is being operated on.
The machine provides an average pressure and flow rate to pump the blood, but there are problems that can arise from the surgery, says Vincent.
"Continuous flow is a very good 70-percent solution and I pick that number because more and more data is coming up that 20 to 30 percent of the capillary beds drop out with continuous flow, and the longer you're on continuous flow, the longer it takes that part of the circulation to come back online when your heart starts after the surgery," says Vincent.
By mimicking the body's biologic blood flow delivery, "our goal is to try to help the body maintain its systemic regional as well as local auto regulatory functions. The body is incredibly sophisticated and has lots of backup systems upon backup systems. What we rely on with continuous flow is these backup systems that help maintain pretty well regulation of blood flow, but it takes a toll," argues Vincent.
DesignMentor's scientific advisory board, comprised of several cardiologists and cardiac surgeons, has seen organ distress leading to complications such as Acute Kidney Injury 10 to 12 hours after surgery.
These are the complications that VentriFlo aims to prevent. The introduction of the alternative blood pump is well-timed too, as advances materials have made it possible to introduce VentriFlo as an option, says Vincent.
Where previously flexible diaphragms mimicking the membrane of the heart have broken, VentriFlo has engineered membranes that exceed the FDA's requirement of six hours with membranes lasting over 700 hours. Magnets have also generally improved to a strength where they can be used to power linear motors.
"Currently, there are no blood pumps – at any price – that are capable of recreating a life-like heartbeat in a heart-lung machine," argues Vincent. "VentriFlo True Pulse Pump accomplishes this by integrating modern motors, magnets, membranes and microprocessors to – for the first time – recreate the human heartbeat outside of the body. This will enable better blood flow to organs such as kidneys, lungs, brain and intestines, in order to support improved patient outcomes, fewer complications, saving hospitals money."
Angel investing in the medical device field is challenging because of the longer turn around, when compared to consumer technology, but medical devices have a greater staying power and help improve patient lives, says Vincent.
That's why a $100,000 state-funded grant from the New Hampshire Innovation Research Center (NHIRC), in 2013, was instrumental in enabling VentriFlo to undergo preclinical trials at Dartmouth Medical Center, which then led to interest from the Cleveland Clinic.
"We were absolutely stuck. NHIRC came to the rescue. We worked with Dr. Ryan Halter at Dartmouth's Thayer School of Engineering – and for the clinical side, Dr. Joe DeSimone. This work was essential for us to gain credibility and ultimately be able to work with researchers at the number one heart hospital in America [according to] U.S. World and News Report, Cleveland Clinic," says Vincent. "The folks at NHIRC have been an essential part of our successful history."
Earlier this year, Design Mentor met with Food and Drug Administration to discuss a pathway toward clearance and introduction to the marketplace.
"We were happy to share our early data with them, and they have been great in terms of laying out the pathway, and now that we have a green light, investor support is still needed," says Vincent, who is seeking $1 million for an early feasibility study with up to 15 patients or $6 million to complete all work necessary for FDA 510(k) clearance.
Considering the demands placed upon pediatric patients, who must undergo cardiopulmonary bypass surgery a few times early in their life, Design Mentor plans to launch the pediatric-sized VentriFlo first, followed by neonate and adult sized pumps.