Pax World launches women's index fund
It's the first fund to invest in companies that have a strong commitment to women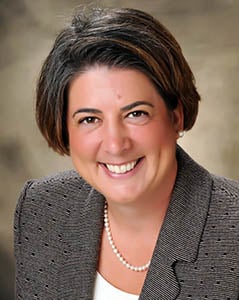 Gender equity in workplace leadership has gained a different kind of support, thanks to a partnership born between Pax World Management and Ellevate Asset Management.
Together, the two are teaming up to manage and distribute the Pax Ellevate Global Women's Index Fund, the first and only mutual fund in the United States that will invest in companies that invest in women and their advancement in the workplace.
Pax World Management is the advisor to Portsmouth-based Pax World Funds, a more than 40-year-old family of socially responsible investment funds.
"Pax World has really committed and really demonstrated the importance of gender diversity and women leadership in their entire investment," said Kathleen McQuiggan, senior vice president of global women's strategies for Pax World Management and managing director of the fund. "We're excited to be partners with Ellevate."
Ellevate was founded by Sallie Krawcheck, a former Bank of America and Citigroup executive who in 2013 purchased the women's network 85 Broads, whose name was changed to Ellevate.
The announcement of the partnership came on June 4, with 406 companies already index constituents for the fund.
"Since this is an index, what we end up doing is actually identifying the pool of companies that have the highest ranking in demonstrating gender equity in their leadership," said McQuiggan. "We're actually doing research to select companies to be a part of the fund."
Each company gets the cumulative ranking based on five criteria of gender leadership. These include the number of women representatives on boards of directors or in executive management, as well as those who have a female CEO or CFO and have signed the Woman's Empowerment Principles, a joint initiative by the UN Global Compact and UN Women that provides guidance for companies on how to empower women in the workplace.
Besides these criteria, companies must also meet key environmental, social and governance standards, a requirement that matches Pax World's overall mission.
"Pax World is a leader in sustainable investing," said McQuiggan. "While this fund is a little different from our other funds at Pax World, we wanted to have a baseline MSCI ESG (Morgan Stanley Capital International environmental social and governance) standards."
According to the Pax Ellevate fund's website, all of the index constituents have one or more women on their board of directors, with 97 percent having two or more. Among the Fortune 500 companies, only 16 percent of board seats are held by women.
For McQuiggan and many others involved in the investment project, there are high hopes of change.
"We really feel that the research that has pointed to the positive benefits that gender diversity brings to the company," said McQuiggan. "We believe that by creating this fund is a chance (for companies) to be investing in woman."