Opening up about opioids
BIA forum looks at how to deal with substance abuse in the workplace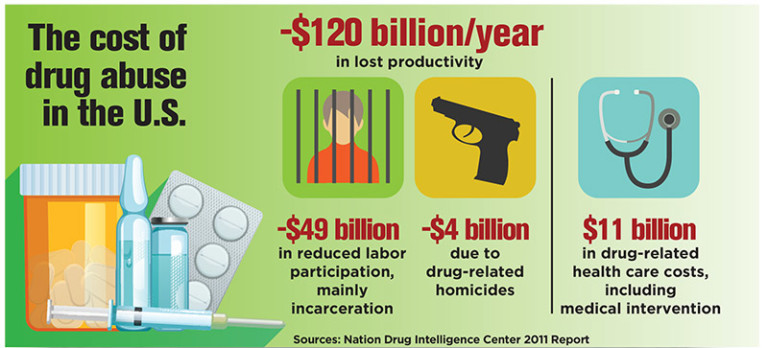 Mirjam IJtsma, people services director of Worthen Industries, said she attended the Business and Industry Association of NH's "Opioids in the Workplace" forum on May 18 in Manchester to learn more about substance abuse.
About half of the performance issues at Worthen, an industrial adhesives firm in Nashua, are addiction-related, she told NH Business Review. And almost all of that drug abuse arises following a longtime work absence to recuperate from an injury or illness, often with the help of pain medication.
"It's a big problem. Anyone telling you that it isn't, doesn't know their employees," she said.
It's not just that more than 400 people died in New Hampshire last year from opioid-related overdoses. Substance abuse has resulted in a nearly $2 billion drain on the state's economy – a figure determined before opioid abuse became an all-out crisis in New Hampshire.
In fact, the very idea that the BIA held the forum shows how front and center the issue has become. For instance, when forum moderator Kevin Flynn asked the audience whether their businesses had encountered substance abuse, half raised their hand.
That's why panelists primarily focused on what to do about it.
"Fifteen years ago, the most common experience of opioid addiction was an inner-city poor person, a stereotypical junkie situation," said Steve Kozak, director of behavioral services at Tufts Health Plan, one of forum's sponsors.
But with the "emergence of a handful of legal prescription drug medications for treating pain, you now have someone who hurts their knee playing tennis, a kid who gets their wisdom teeth pulled out, someone who had never had any intention of using drugs who is a hardcore addict."
And often, the first time addiction becomes apparent, it is at work, because it affects performance. That's a problem, but also an opportunity.
"The workplace is a great place for people to initiate their recovery," said Melissa Crews, a board member former chair of the organization Hope for NH Recovery. "Typically in business we don't want to acknowledge the issue, but, I hear from people coming into our centers, if it wasn't for their employer and doctors they never would have gotten help."
Setting parameters
Hope for NH Recovery works with companies and their employees to get them peer-to-peer support and hook them up with rehabilitation programs, but "it was a little scary for our initial partners," she said.
One of them was her husband, Andy Crews, CEO of AutoFair, one of the state's largest car dealerships.
"Believe me, convincing my husband to make his business a recovery-friendly workplace was not easy, but after we lost an employee, a 28-year-old who died of a heart attack that came back positive for an opioid overdose, that changes your thinking, because you never would have believed he had an addiction," she said.
Indeed, even companies that are dealing with the problem internally won't talk about it publicly.
Take panelists Ruth Marie Swisher, regional human relations head of BAE Systems in Nashua. While she offered general advice on how companies should handle the problem, she didn't talk about how it was affecting her own company.
When asked to discuss it afterwards, BAE would only allow her to release some of her forum talking points: develop a drug-free workplace policy (which includes confidentiality, drug testing, paid leave) whether to come up with some kind of contract – or last-chance agreement – and how to deal with termination.
"When these situations happen they happen quickly," she said, and that's why having a plan in place is key.
"Details are so important," she added.
Charla Stevens, director and chair of the Employment Law Practice Group at McLane Middleton, spelled out some of those details and their legal ramifications.
"You want a policy for a substance-free workplace and you set the parameters for what that is," she said, adding that it has to be strictly followed. "If the policy says no alcohol on the premises at any time then you don't want to gather in the kitchen at 5 p.m. and have a few beers."
One thing to keep in mind is that performance issues can be dealt with as just that, Stevens said. But when you come to addiction, you are dealing with a disability, and that is covered under the Americans with Disabilities Act, at least when it comes to legal substances.
So you can ask about and test for illegal drug use, but "you want to be careful asking, 'Are you taking any prescriptions drugs? Can you give me a list? Why are you taking them?'" she said.
But even in that case, things are complicated. First, you have to spell out the criteria for when you test for illegal drug use, such as reasonable suspicion or after an accident, or at random. "Just saying 'we reserve the right to test' is not specific enough," Stevens said. Such vague policies, or inconsistent enforcement of detailed ones, can lead to charges of discrimination.
Dealing with the problem
Even legal drug use can be restricted if it interferes with safety. Medical marijuana is a tricky case, since it is legal under state law, but illegal under federal law, so employers don't have to tolerate its use, but could do so if not done on the premises and if its use doesn't impact safety.
"The problem with marijuana is that we don't have enough information to determine what level you are impaired," said Stevens. She said most of the employers she works with just choose to ban its use. The problem is that marijuana is not only more common than other drugs, it remains in the bloodstream longer.
Once a problem is discovered, what do you do about it? Insurance companies often insist on prior authorization of initial treatment. On May 19, the day after the BIA conference, the NH Legislature passed a bill on to the governor that would mandate that insurance companies reimburse providers for such treatment without prior authorization.
Tufts, said Kozak, already does this, though he did say that the insurance company does follow up partly to make sure that the treatment is evidence-based – some are very effective and others are not – but also to keep them "on track."
"We don't want to intrude, but we find a fair number of people are appreciative to talk to someone who knows their way around the treatment addiction system," he said
Melissa Crews said she recommends that a recovering addict have at least some contact with a person who has been through it all.
"Four or five visits to a clinician on the back end of their treatment is never going to be enough. Unless they have connected with someone with lived experience to teach them how to have fun in their life without substances, it probably won't work. You just don't go away for 30 days and get fixed."
Next steps
After employees return, what happens next? That's when employers grapple with reasonable accommodations, as long as it doesn't cause "undue hardship" for the employer, explained Stevens. "Maybe it's an hours issue, maybe time off to attend a 12-step program and counseling," she said.
Crews said that employers shouldn't have to bend too much. Many programs provide assistance after hours. "Most of those struggling with addiction actually come to work every day. I wouldn't go take that ride down some crazy road of accommodations," she said.
That road goes both ways. Employers can set expectations, said Stevens. "You are going to show up on time. You are going to be substance-free. If there is an issue, you are going to clue us in and let us know what is going on."
Sometimes the details are spelled out in a "last-chance agreement," she said, with consequences if the expectations are not met. "We are going to require you to attend x number of counseling sessions, or, if it is a sensitive safety position, we are going to require you undergo drug testing for a certain period of time." But if you draw up the agreement, be prepared to dole out the consequences or "you lose your credibility," said Stevens.
If it comes to that, she added, it is important to treat someone with dignity, and to offer when possible post-employment coverage or counseling, when it's needed most. While it is important to give an employee the reason for the termination, it is not necessary to have it sound like a grand jury indictment.
"You don't want to have a dialogue on the topic or blame the employee for his behavior," said Stevens, though she added that a good memo detailing the particulars should be written up right afterward, just in case there is a legal complaint.
She also recommends assuring the safety of whoever delivers the termination, particularly if the employee in question is impaired.
Kozak said it's also important to remember that relapses are expected, and not all affect job performance. "The mere instance of a relapse doesn't make it an employer issue, unless it is one." Still, that doesn't mean the employee has a "blank check" and at some point there are consequences. "You can only protect people for so long," he said.
Yes, said IJtsma after the conference. Once a person is addicted, it is very hard problem to resolve. "So that's why we are trying to create awareness in the workplace before it gets to that point," she said.