Northland sets itself apart in forest products industry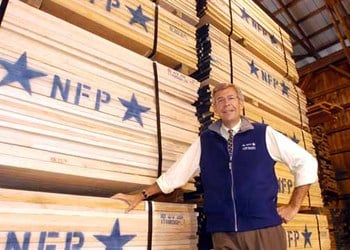 Since its founding in 1970 by Robert French, Northland Forest Products of Kingston has weathered a few major economic recessions, a pair of oil embargoes, transformation of the timber industry and the fickle nature of consumer tastes for wood products.
Over the past 35 years, the company has evolved into an internationally recognized processor and distributor of quality hardwoods for the flooring and furniture industries for customers ranging from local craftsmen to companies in 23 countries.
"Our family has been involved in the forest business since the 19th century," said Northland President Jamey, who joined his father's company in the late 1970s.
French is not your typical corporate executive. He once aspired to be a professor and was studying for his Ph.D. at the University of Edinburgh, but he discovered studying economic history wasn't as fulfilling as making it. He has overseen the company's slow and steady growth, not unlike the rhythm of tree-growing itself, to a $35 million company with more than 80 employees and offices in Kingston as well as in Manassas and Troy in Virginia, Hardwick, Mass., and Shanghai, China.
French is an ardent environmentalist, something he said "is part of our family culture to acknowledge the importance of natural history, land stewardship and carefully utilizing nature-created products."
French – who as a teenager in 1970 organized the first Earth Day celebration at his school — has put Northland at the forefront of a small but growing forest certification movement (through the Forest Stewardship Council) that buys wood from sustainable forests.
"It's a very small part of our sales, but more well-educated consumers are asking where there wood comes from and how it's being harvested," said French.
He also adds a pragmatic business twist to his environmentalism, because his business depends on the quality of rough-sawn lumber Northland receives daily from mills throughout the Northeast and as far south as West Virginia.
"We are in the quality hardwood business, and the longer the growing cycles and the greater the forest care, the better the wood is," French said.
As he gives a tour of Northland's 40-acre Kingston facility, of which 10 acres is used for storage, drying and pre-distribution sorting (the remaining 30 acres is mostly forest area), French describes a complex operation.
The drying warehouses for the inventory of ash, cherry, maple and oak (French estimates the company sells more than 23 different wood species) are powered in-house with recycled wood chips. One of the modern logistical changes Northland has refined, French said, is just-in-time delivery to domestic and international customers (exports make up about 40 percent of company revenues.)
"It means we have to have millions of dollars of inventory, which is a lot, but we are in a niche market and it helps us serves our customers," said French.
One of those customers is Thos. Moser Cabinetmakers of Auburn, Maine, a high-end furniture maker with showrooms on Madison Avenue in New York, the Washington, D.C., area and San Francisco.
Tim McIntyre, Thos. Moser's supply chain manager, says Northland has supplied quality wood to his company for more than a decade and describes their relationship as more than business.
"It's a very important partnership. They account for more than one-half of our raw material and their on-time deliveries allow us to keep our inventories low," McIntyre said. "They have set themselves apart in this industry by their dedication to service. They understand and are very responsive to our quality requirements."
French said that the company-wide focus on service is reflective of the job done by Northland's employees.
As he explained a sorting operation, he pointed to the people who performed tasks that looked straight-forward to an outsider but involved "quick judgments about the quality of wood that make our bottom line," French said.
Like many of its customers — French said more than two-thirds have been clients for 15 years or more — most of the sorters, forepersons and forklift drivers who handle the wood are long-term employees.
"We strive to offer a good working environment. We also work towards a consensus-building management plan which takes into account the contributions of all our employees," French explained.
In addition to health-care benefits, profit-sharing and a 100 percent 401k matching plan, French said that some of Northland's long-serving employees have been given shares of stock in the private company. Northland also offers some employees company-paid apartments until they can save enough to move into their homes or apartments.
French said affordable housing throughout the region — and not just for his employees — is "my big issue. It's a huge issue for the region, and if we don't tackle it, it could have long-term-economic consequences."
"Northland is involved in a traditional New England industry, but they are also a leader in their community, committed to making it better," said Jean Hulit, a commercial lending banker for Citizens Bank in Portsmouth who nominated Northland Forest Products for the Not Your Typical Business Award. She said its commitment to its customers, colleagues, and community sets a high example.
"They are a successful business, and through Jamey French, the company also dedicated to enhancing public policy debates about the importance of issues like affordable housing," said Hulit.