Northeast Record Retention: an extension of your office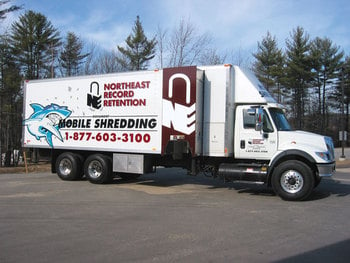 Serving more than 750 clients across four states, Northeast Record Retention LLC provides digital data storage, records storage and document-shredding services to clients in industries that include banking, law, health care, hospitality, retail, insurance, law enforcement, autos, financial services, state and municipal government, education, corrections and small business.
The family-run business began in 1985 as one of the first self-storage facilities in New Hampshire and now has a total of five locations. In 1998, Russ Letendre and Cindy Roberts decided to expand the business and develop NERR's records management and shredding division, which today encompasses 50,000 square feet of storage and shredding space in addition to an ever-growing team of committed employees and full fleet of dedicated vehicles.
Digital data storage
NERR has created a secure, climate-controlled environment that protects computer media by controlling temperature and humidity through a separate heating and cooling unit within a monitored, four-hour fire-rated vault. NERR can even set up tape rotations to keep your back-up tapes off your site in the event of a database crash.
Records storage
An off-site extension of your office or filing room for businesses of any size, NERR uses the O'Neil Software System to track, locate and organize all critical information using barcodes, so access can be gained quickly and accurately to a specific document stored within your existing files — or have a document added to a file stored in the NERR record center.
In addition to cutting the space, cost and personnel requirements associated with managing and tracking information, data can always be retrieved and delivered to your place of business with same-day service. NERR's in-house courier service is able to pick up and deliver records in climate-controlled vehicles 365 days a year. One-hour delivery for emergency retrieval is also available 24 hours a day, seven days a week.
Document shredding
It may be necessary and cost-efficient to destroy confidential records, but simply tossing records into a trash receptacle can cause legal liabilities and a breach of security for your company, your clients and your employees.
As part of its document-shredding services, NERR will pick up and destroy all types of records, including paper, microfilm, microfiche, blueprints, magnetic tapes and mylars, and will also help set up retention schedules so you are not keeping records any longer than needed.
NERR's new state-of-the-art mobile shredding truck offers fast, efficient destruction of documents right at your facility so there is no need to move confidential documents off-site. Consoles and roll-away containers for scheduled pickups also can be provided.
The firm will soon be offering a document-scanning service that will give clients the ability to view documents securely from their desktop computer. In addition, NERR has begun a three-phase expansion plan that will account for an additional 90,000 square feet of space.
The NHBR Business Profiles section contains content provided by New Hampshire Business Review advertisers.