North Branch Construction offers unrivaled quality, value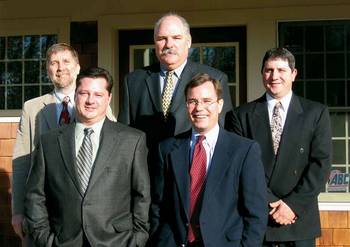 One of the largest construction firms in the state of New Hampshire, North Branch Construction provides full-service general contracting and construction management services for institutional, commercial, industrial, municipal, high-end and multi-unit residential, and historical renovation projects throughout New Hampshire and northern Massachusetts.
Founded in 1958 on the belief that the key to every successful project is teamwork and communication, North Branch began as a single family, multi-family and barn builder in Henniker. Over the past 47 years, the company's continuous growth and expansion has required three additions to its original office location and today it boasts an experienced workforce of over 60 project managers, supervisors, foremen, carpenters and laborers – averaging seven years of employment with North Branch apiece and successfully completing projects ranging from $1 million to $30 million.
In addition to a proven track record of completing projects on time and ahead of schedule, North Branch has never failed to meet a contractual deadline, employs a Real Time Project Cost Accounting System to ensure project cost accuracy and has combined the roles of estimator and project manager into a single person to eliminate fumbles between estimating and project management departments.
A testament to the company's dedication to the industry, the five principals of North Branch – Robert G. Smith, CEO, Kenneth F. Holmes, president, James Schwartzkopf, vice president, Bruce Blazon, vice president, and Robert C. Terry, treasurer – remain active in the business' day-to-day operations. Three are project managers, one is a job site superintendent, and one is in charge of office operations.
North Branch's unique combination of top-notch craftsmanship, commitment to teamwork, unparalleled expertise, and hard-earned reputation has led to numerous awards, including five consecutive Excellence in Construction Awards in the Institutional Over $2 Million Category from the Associated Builders and Contractors and three ABC Excellence in Construction President's "Best of the Best" awards.
Current projects include: $29.2 million Youth Development Center in Manchester; $18.7 million Tuck Mall Residence Hall at Dartmouth College in Hanover; $2.9 million new Safety Complex, town of Sunapee; $12.3 million Alumni Gymnasium Renovation at Dartmouth College; $2.8 million additions/renovations at the police, fire and DPW facilities for the town of Hollis; and the new $7.6 million, 38,000-square-foot, Portsmouth Public Library in Portsmouth.
Recently completed projects include: $5.4 million, 57-unit Wadleigh Falls Senior Housing in Newmarket; $2.4 million Hanover Street Senior Housing in Manchester; and the $2.6 million St. Joseph Hospital Medical Center Office Building in Milford.
For more information, visit northbranch.net or call 603-428-3233.