Nonprofit bundles up hurricanes' child victims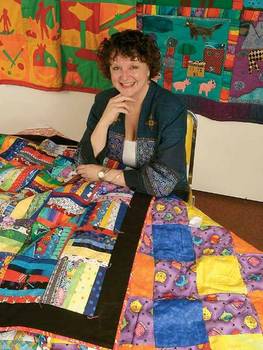 A national organization with roots in the Granite State stretched its mission just a bit recently to blanket with love and comfort children separated from their families by last year's Gulf hurricanes.
Volunteers of ABC Quilts — an organization traditionally dedicated to creating quilts for children who have been abandoned, infected with HIV or affected by drugs or alcohol — redirected part of this year's efforts to create its cozy covers for children suffering from abandonment of another kind.
"Their parents didn't leave because they wanted to," said Pam Weeks, executive director of Northwood-based ABC Quilts. "The reason for their abandonment is where we had to stretch a little, but these kids are still alone and our volunteers just said, 'We have to do something.' Making quilts for these children is well within our mission."
So far, more than 1,600 quilts collected from volunteers all over the country have been delivered to the young victims of hurricanes Katrina and Rita by way of two ABC Quilt coordinators living in Houston, Texas, and Picayune, La. Weeks expects the efforts to continue until the need is filled.
Offering comfort to the children of the Gulf hurricanes is only the most recent chapter in the outreach story started 17 years ago by organization founder Ellen Ahlgren.
The organization was a response to a challenge, of sorts, presented to Ahlgren – then a graduate student at the University of New Hampshire — by Elisabeth Kubler-Ross, the famed expert on death and dying and her instructor at the time.
"Dr. Ross challenged Ellen to do something for these AIDS babies," said Weeks, who began quilting in 1976 when the country's bicentennial sparked a crafting revival. "She made a quilt, and then friends got involved, and from there it just grew and grew."
Now the organization is nationwide, with nearly 200 regional coordinators, each of whom has a network of five to 30 volunteer quilters, some of whom have worked with ABC Quilts for more than a decade.
This network of volunteers – from homemakers to doctors, corporate executives to engineers and students to prison inmates — has delivered over a half million quilts since the organization was formed.
History of helping
John Linville of Wolfeboro is one such volunteer. Linville began offering shipping assistance to ABC Quilts in 1999 following his retirement from his position as a chemical manager at the Seabrook nuclear facility, but he soon learned how to quilt from wife and fellow-volunteer Linda. Now a member of the ABC Quilts board, Linville credits the groups' frugality and dedication to making changes with his ongoing involvement.
"This is the most fiscally conservative organization I know. We're moving these quilts on the wings of angels," Linville said. "There are other organizations out there that make quilts for at-risk children, but we are the only one that has added the education component, and that is critical."
Like its pool of volunteers, the focus of ABC Quilts has also expanded, becoming an inspirational and educational conduit in the fight against drug and alcohol abuse, AIDS and abandonment. Lesson plans and resource guides specifically designed to address these issues are now available for use in classrooms as school-aged children gather around a community-quilting project.
"ABC Quilts is just one organization in a 200-year history of women using quilting to do community service, raise issues or address causes," said Weeks who's also a quilt historian.
Today there are more than 21 million quilters across the nation spending $2.27 billion on their passion, according to a 2003 "Quilting in America" poll conducted by Quilter's Newsletter Magazine.
With an annual budget of $100,000 and the generosity of volunteers, ABC Quilts alone produce 30,000 quilts each year, equaling $900,000 worth of product, according to Weeks. This, coupled with the growing number of volunteers, has prompted the organization to adopt a more traditional business model, Weeks said.
"We want to retain our corporate culture of love and comfort but behave in a more businesslike fashion," Weeks said. "We've taken time to put our house in order, developing a new strategic plan and expanding our board. We hope to have 15 members within the next year. We're always looking for more resources."
For Weeks and the others involved with ABC Quilts, the ability to adapt their focus and operation to better serve those affected by AIDS, drugs and abandonment will only aid in the attainment of their goal.
As Weeks said, "We'll just keep on trying to change the world through quilt making."