Nigerian entrepreneurship effort relies on N.H. assistance
Exeter-based Knowledge Institute's online tools and mentorship program are being used to build a small business backbone in the African nation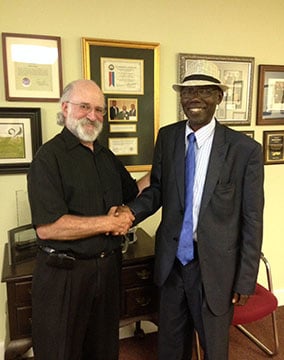 Nigeria may have the largest African economy, but two-thirds of Nigerians ages 15 to 24 years old are unemployed, according to the Brookings Institution. And the reality is that while Nigeria is home to large organizations that control oil resources and related wealth, there are few employment opportunities for the masses.
Thus, the Nigerian Entrepreneurship Project was born – a consortium of Nigerian universities and government agencies set out to resolve this issue. And, in his pursuit for training materials, Nigerian professor and economist Dr. Larry Fejokwu came across some white papers that were core to the concern at hand.
Where did he find the resources best suited for this endeavor? The Knowledge Institute for Small Business Development, or KISBD, based in Exeter, N.H..
Fejokwu flew out to New Hampshire twice this year, in July and early December, to meet with the institute's co-founder, Dr. Bill Osgood, to discuss online and offline tools to train aspiring entrepreneurs and pair them up – through the Internet – with a mentor in New Hampshire.
"He's a very interesting guy," Osgood says of Fejokwu. "He was aware of our educational programs and our educational materials that he learned about primarily through our Web presence."
Fejokwu found two online entrepreneurial training development programs he thought would be useful, as well as a series of books called the "Strategic Management Learning System," once sold by the U.S. Small Business Administration, says Osgood.
"Collectively, they were the answer to a very bad problem," Osgood says.
According to Osgood, many Nigerian young people are educated and speak both English and French, but are not taught skills that lead to future employment.
Fejokwu's idea is to use entrepreneurship as a facilitating tool to start businesses and build commerce at the street and community level.
"Our core belief is the basis of capitalism is small business, and without a small business foundation … you can't really grow an economy," Osgood explains.
But the basic small business infrastructure "just doesn't exist in Nigeria," says Osgood. "There's no kind of basis of knowledge and expectation. We believe here that anyone can start a business. Here in New Hampshire, we have a small entrepreneurial community in the state. It's one of New Hampshire's secret weapons – entrepreneurship is the living essence of live free or die."
But the reason why Americans believe that is the amount of support that exists in the U.S. In fact, small business development resources are something Americans take for granted, says Osgood.
Osgood can name a number of resources off the top of his head. There's the University of New Hampshire's Small Business Development Center, SCORE mentors and Buzzgate.org – a free online resource Osgood helped create that lists 30,000 business development programs across the country. (There are 450 in New Hampshire alone.)
"Most people aren't aware these programs exist in our own country – well, they don't exist at all in Nigeria. We'll be able to provide that support," says Osgood.
Practical training, resources
Fejokwu will screen recent college graduates in Nigeria to determine who is serious about entrepreneurship, then the participants will undergo a self-assessment process that will reveal their skills, interests and abilities and align those with business opportunities, says Osgood.
The Knowledge Institute's "10 Steps to Venture Success" will lead participants through the steps of evaluating a business idea, evaluating the market, and developing market strategy through online tools and social media to reach markets beyond their own local communities. Then participants will put together a business plan and prepare a launch.
Young Nigerians will have to look at market gaps, to decide whether they will start up an Internet café, coffee shop a variety store or more expansive venture.
Once a venture is launched, the participants will go through the online "Strategic Management Learning System" workbooks, that address day-to-day basics of running a business, like cash flow, hiring and HR issues in segments with an interactive exercise.
"Whole sets of skills that simply do not currently exist in the society are skills we can import," says Osgood.
And the Knowledge Institute will provide mentors who will receive emails on the results of their students' interactive exercises, talking to them and provoking thoughts through email.
The idea is – as the program progresses, and youth start their ventures – they can form a peer-to-peer resource network for newer participants, becoming mentors and examples of success themselves.
"Having access to the practical entrepreneurial training and venture development resources created by KISBD, along with the expertise and experience of the KISBD Team will fill a critical gap in Nigeria's economic development efforts," said Fejokwu, in a press release. "We are pleased and proud to have this opportunity to work with the KISBD Team and have use of these powerful resources they have created."
KISBD has collaborated before with IBM and the World Bank to create business development resources that have been translated and taken abroad to areas of extreme poverty now seeking to build an economy.
But, Osgood says, Nigeria and other countries are not the only places experiencing lack of entrepreneurial infrastructure – the same situation can be found in inner cities and on Native American reservations in the U.S., where KISBD continues in its efforts to help teach the basics of budgets, commerce, profit and other essentials of entrepreneurship.