Nicole Brassard Jordan, 2018 Outstanding Woman in Business
Director of marketing, merchandising and warehousing at the New Hampshire Liquor Commission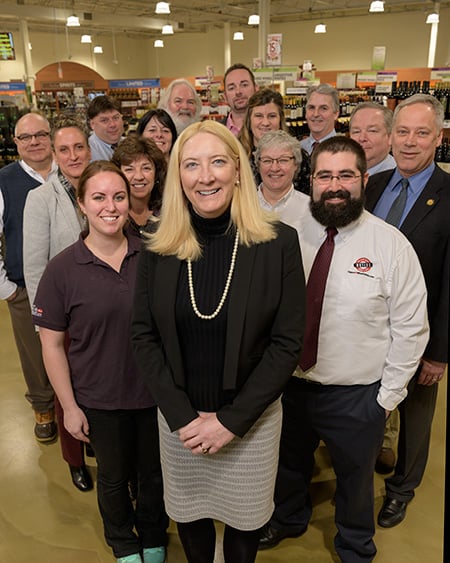 Wine lovers can thank Nicole for the impeccable selection in the New Hampshire Liquor & Wine Outlets.
Joining the New Hampshire Liquor Commission as a cashier, Nicole progressed upward in the ranks to manager of the Bedford Liquor & Wine Outlet.
The state had just started to expand its wine selection. Back then there was no formal wine education for employees.
After successfully applying to become the state's wine buyer, Nicole immediately sought to educate employees on wine.
She spent her personal time at tasting experiences and researching the industry to compile a formal education booklet. Nicole even started bringing in leaders from the wine industry.
Approaching 30 years at the Liquor Commission, Nicole has been instrumental in establishing annual events such as New Hampshire Wine Week and the Winter Wine Spectacular that benefits Easterseals, an organization close to her heart.
Q. What is a challenge that you have faced and overcome?
A. I've overcome a lot. My mother was a young mother. She had me when she was 18 years old. She could not support me and my sisters when she got divorced from my father, so we lived with one set of grandparents. They were there for us and allowed my mother to be somewhat of a young woman and gave us a great foundation. The year I was graduating from high school, my mother wanted to get remarried to someone she had known years earlier who lived in Florida. I wanted her to do that for herself. I suggested she take my youngest sister with her and I kept my middle sister with me to allow her finish her last two years of high school in Manchester. I was happy to do it. I can tell you, all of these hurdles I've been through my entire life, I wouldn't change anything. It makes me who I am. It makes me strong; it makes me humble. You can't be a fighter unless you struggle a bit in life.
Q. You have a personal connection to Easterseals' services. What inspired NHLC to partner with Easterseals for the Winter Wine Spectacular?
A. I wanted to do something to raise the level of awareness of wine in the state with our consumers. I wanted to offer a tasting where people could learn about wine and meet people in the industry and give them that access to world-renowned winemakers. And I can say, 15 years now, the winter wine spectacular was a success from the moment we planned it. Christine Pederson is a strong force at Easterseals and she knows how to manage events; we couldn't do it without her. The experience for me with Easterseals was when I was caring for my mother's mother. I had moved in with her with my family because she had Alzheimer's and she needed care. So here I am the wine buyer, I have a pretty significant job, I have two small children and I was supporting the household and caring for my grandmother, and there came a time when my grandmother needed additional care. My aunt looked into a number of services and one of them was Easterseals, they had a daycare program for Alzheimer's patients. It worked out very well for a very long time. I would get my grandmother ready every morning and the bus would come directly to our door and then I'd take the kids to school and then I'd go to work. At the end of each day, Easterseals would drop her off at the house, my kids were coming home from school, and we did really well for a while. The service they provided was outstanding and it took the pressure off me.
Q. How have you found the strength to face the many personal challenges you've overcome?
A. All of us face challenges, we really do. It's how we choose to get through them and what we make of it. I wouldn't change anything. I had very, very, very hard moments and difficult times when I was caring for my grandparents, and frankly there are challenges with my mom now. I wouldn't change it for a second though, it made me a better person and it made my children better people. First my grandmother took care of my children then, years later, when I'd come home and they're feeding her dinner, that's very special to see that role reversal and to give back.
Q. What advice do you have for young women just starting their careers?
A. I believe you have to be hardworking, dedicated, loyal, and true to yourself. Don't stand still. Don't sit in a position and do the same thing. Give yourself goals. Make the job your own. And really let yourself flourish in that job because it makes the job interesting and you learn so much from it.
Video by Edify Multimedia Group