NH's road repavement work continues to fall short
Funding needs limit effort to catch up on maintenance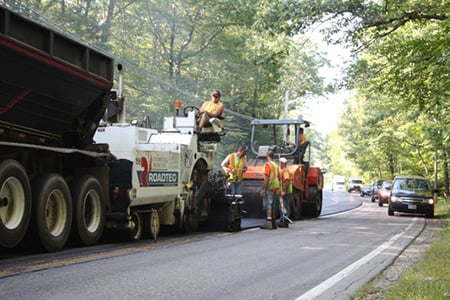 Although the pace of investment in New Hampshire's highways and roadways has quickened since the gasoline tax was increased in 2014, the NH Department of Transportation projects that with the expenditures scheduled in the 10-Year Plan, pavement conditions, which deteriorated significantly during 20 years of deferred maintenance, will remain unchanged over the period.
With 4,600 miles of state roads, NHDOT strives to treat each once every 10 years. But, apart from 2010, when the American Recovery and Reinvestment Act provided additional federal funding, fewer than 500 of the 4,600 miles of state roads were resurfaced every year between 1999 and 2014, representing a total deficit of 1,582 miles.
During this period, the portion of roads rated "good" or "fair" declined from 81.6 percent to 67.9 percent. And earlier this year NHDOT officials told the Legislature that despite resurfacing more than 600 miles a year, the imbalance is projected to persist.
State roads are divided among four tiers or categories.
Tier 1 includes the interstate and divided highways as well as the turnpike system; Tier 2 consists of statewide corridors carrying traffic between regions and to bordering states; Tier 3 includes regional corridors linking municipalities within regions; and Tier 4 consists of local connectors within and between municipalities.
While 100 percent of Tier 1 and 85 percent of Tier 2 road miles are rated good or fair, nearly 40 percent of Tier 3 and 70 percent Tier 4 road miles are rated poor or very poor.
The paving program follows a preservation strategy intended to "keep good roads good" by applying low-cost treatments relatively frequently to sustain sound driving surfaces to forestall the need for more expensive rehabilitation or reconstruction projects, the cost of which ranges from as little as $250,000 to as much as $1 million per mile. Without timely maintenance, the condition of roads reaches a tipping point at which the pace of deterioration accelerates and with it the cost of restoring them.
Resurfacing funds
This year NHDOT has proposed 199 resurfacing projects in some 150 municipalities. That will improve 656 miles of roadway as well as 16 miles of turnpike. Altogether, the state is investing $101.3 million in the paving program, $30 million more than was spent in 2016.
The work is funded with proceeds from the gas tax and betterment program along with federal funds borrowed at an interest rate of 1.09 percent through the Transportation Infrastructure Finance Innovation Act.
Improvements to the turnpike system – 89 miles of limited access highway of which 36 miles are part of the interstate highway system – are funded by the tolls collected at six booths on the Blue Star and Spaulding turnpikes on the Seacoast and the F.E. Everett turnpike in the Merrimack Valley.
Tier 3 and 4 roads, those serving regional and local traffic, represent nearly 350 of the 605 miles slated for paving while 125 miles of Tier 1 highways and 133 miles of Tier 2 roadways are scheduled for resurfacing.
In addition, 28 miles of Tier 1 roads, 20 miles of Tier 2 roads and 3 miles of Tier 3 roads are to be rehabilitated by improving the surface asphalt without disturbing underlying material.
Workforce 'challenge'
According to contractors, current conditions provide an opportunity to undertake roadwork at favorable costs.
"This is definitely the time to invest," said Mark Charbonneau of Continental Paving, Inc. of Londonderry.
Alex Phelps of Pike Industries in Belmont agreed, stressing that "the industry has the capacity to take on additional work."
Likewise, Norm Saucier of Brox Industries in Dracut, Mass., said that while his firm won the contract to pave the Blue Star and Spaulding turnpikes, it also bid on contracts to across the southern part of the state.
Charbonneau acknowledged that the "labor market is tight, but not problematic," explaining that a $2-per-hour raise "brought us back to where we should be."
Phelps said that the seasonality of the work and appeal of technical careers makes marshaling a workforce "a challenge."
The company, he said, taps into the student population by operating a robust intern program that brings employees back year after year."
He noted that recruitment is more challenging in the southern than in the northern reaches of the state where seasonal employment is more common. Saucier said that replacing an aging workforce has become increasingly difficult as the pool of young jobseekers seeking seasonal work has diminished.
'Normal' asphalt prices
According to Associated General Contractors, the construction sector added 1,500 jobs in the last calendar year, an increase of 5.9 percent, while the NH Department of Employment Security projects employment in the industry, which currently employs about 27,000 people, to rise 4.5 percent in the next 12 months.
Charbonneau said that with the fall in oil prices the price of liquid asphalt has returned to what he called "normal – in the $400-a-ton range."
Phelps noted that while asphalt prices "have crept up recently there has not been a spike since 2008." He also explained that the state adjusts the terms of paving contracts to significant changes in the price of asphalt.
Nevertheless, Charbonneau remarked that "the state is treading water, but the towns have fallen even further behind and their long-term liability is growing." He noted that the miles of poor roads, both state and municipal, would stretch from New Hampshire to Alaska.
Gov. Chris Sununu made directing money to municipalities for investment in infrastructure a high priority when he presented his budget in January. Senate Bill 38 would distribute $30 million to cities and towns for roadwork based on their share of Class IV and Class V highway miles and population, together with $6.8 million in additional funding for municipal bridge repairs.
The bill has been passed in both the Senate and House and has been referred to the House Finance Committee. Manchester, Nashua and Concord are among the municipalities preparing aggressive improvement programs in anticipation of the additional funding.
However, Charbonneau said that neither the federal gas tax, last raised in 1993 — by 4.3 cents to 18.4 cents per gallon — nor the state gas tax, raised in 2014 for the first time in 23 years by 4.2 cents to 18 cents per gallon, generate sufficient revenue to fund an effective pavement management program.
Phelps, who refers to the gas tax as a "user fee," pointed out that the increase in the gas tax was accompanied by elimination of the surcharge on the vehicle registration fee, and 42 percent of the revenue from the tax was applied to servicing the borrowing needed to widen Interstate 93. Both emphasized that, with the growing prevalence of fuel-efficient vehicles, the mileage driven increases 3 percent or 4 percent a year, but the revenue from gas taxes continues to decline.
"We could do more work," said Saucier, "if we had the money to do it."
Charbonneau likened the plight of the state's roads to a household living in 2017 on the income it enjoyed in 1994. "That's what's going on with our roads," he said.