NH's film festivals prove good for business
Lights, cameras, customers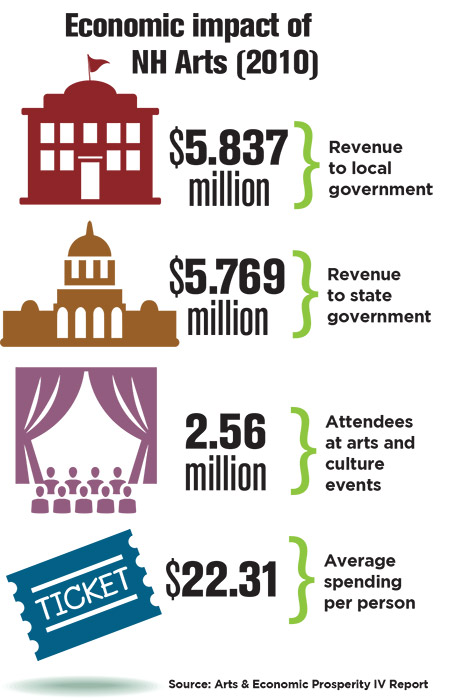 It's New Hampshire's version of the Sundance Film Festival. For four days in October, thousands of people descend on Portsmouth for the NH Film Festival, which has been shining a spotlight on independent films for 15 years. And Portsmouth welcomes the visitors and filmmakers with open arms. It's an economic blockbuster, with booked hotel rooms and overflowing restaurants and bars.
In 2010, an Arts and Economic Prosperity Study, a project of Americans for the Arts, looked at the economic impact of nonprofit arts and cultural organizations in New Hampshire. The findings concluded that spending by the
organizations and their audiences supported jobs and generated revenue of $5,837,000 locally and $5,769,000 for the state.
A New Hampshire legislative commission, established last November, is currently working to come up with updated numbers. The commission, charged with studying the financial impact of arts and culture in the state, is co-chaired by Rep. David Danielson of Bedford and Rep. Ken Gidge of Nashua.
According to Danielson, so far the study has found that "conservatively, people spend at least $60 a day, but that doesn't include people who stay over and book hotel rooms and eat out additional meals, nor retail shoppers. If there are 10,000 people attending the NH Film Festival, that's a lot of money coming into Portsmouth."
Hotels in the area are generally booked solid in October anyway, said Jonathan Silver, general manager of the Hampton Inn in Portsmouth, so the film festival doesn't necessarily translate to increased bookings. But he said the hotel supports the event for the exposure it brings to the city and future business.
"I'm a fan of what it brings to Portsmouth. It's fantastic for area restaurants," said Silver.
"Generally, each night the festival hosts will 'buy out' a restaurant in town to hold their nightly parties," said Izak Gilbo, a front-of-house manager at the Martingale Wharf restaurant in Portsmouth. "These are huge events that generate a huge profit for each of the businesses involved. Not only does the festival attract its own following of a couple hundred VIP and registered guests, but the thousands of people that come as visitors also increase business for the area."
The Wharf, he said, is on the "party stop list" and last year hosted the festival's annual red carpet event.
"For the four days that they were in town, we beefed up our staff, doubling our typical numbers to accommodate for the extra people in town. The red carpet event brought a huge amount of business through our doors; sales almost doubled from what we are used to on a normal October day."
A community staple
The economic impact goes beyond the four days the film festival's in town. It lures tourists to the state, generating tourism revenue, and even recruits new residents attracted to a lively arts community. A vibrant arts culture, which includes independent film festivals, is a draw, Danielson said. "We want to see artists move in; we want that creative industry."
George Carlisle, owner and broker at Olde Town Properties in Portsmouth agreed. "Portsmouth is a desirable place for people who appreciate the arts," he said.
Carlisle said the arts in general have transformed Portsmouth into a town "that is more like Europe than New Hampshire or New England. The arts saved Portsmouth, particularly the performing arts, and I'd put the film festival in that category. Portsmouth is an example of the incredible transformation that can take place when you acknowledge the importance of the arts."
For a town of 21,500, he said, "we punch way above our weight class." Within a five-mile walk, there are eight live performance theaters, and the film festival brings a different group to the city. "It takes it up a notch," bringing in a lot of creative people, he said.
Nicole Gregg, who founded the festival over 15 years ago, said its importance extends beyond the event itself.
"It's become a staple in the community. It's part of what makes this community so special and vibrant, and it's very much a part of the whole movement of cultural tourism," she said. "It brings Portsmouth to a current place. Film festivals are trendy and it keeps Portsmouth current with major cities across the country. It keeps us current and on trend." And that's good for business.
Matt Newton, director of the NH Film and Television Office, said communities that host film festivals, including Portsmouth, Concord and Keene, "are not just focused on the film festivals but on marketing themselves as destinations too. Film festival tourism is a market unto itself."
Festival tourists pick a festival for specific reasons and return year after year, he said. In New Hampshire, "people can enjoy different regions of the state and have different film festival experiences. They all have something different to offer."
Likewise, he said, when filmmakers come and have a good experience, they will think about returning to the state to film here.
"I look at the film festivals as an important way to market the state," said Newton. "It's a tool for me to use, too."
Concord's perfect fit
While the NH Film Festival in Portsmouth may be the oldest festival with marquee status, the SNOB (Somewhat North of Boston) Film Festival in Concord attracts 3,000 to 4,000 people during its three-day run every November.
Launched in 2002, the festival, which is considering changing its name next year to the New England Indie Festival, features local live music, local craft beer and independent films, making it what Director Jay Doherty called "a melting pot of independent arts."
Brian Parda, sales and marketing manager at Great North Aleworks, said the Concord festival is unique in its celebration "of all things independent" and its strong emphasis on local craft beer and breweries. Because of its appeal to the type of people who attend independent film festivals and people who "go the extra mile," he said, the festival is a perfect fit for fans of craft beer.
"We have a common customer base," he said, "people who like to know who makes the product and the story behind it."
The festival helped build awareness of his fledgling business last year when it was the "official" beer of the festival. Great North Aleworks had been in business just a few months before last year's festival, and being in bars and restaurants gave Great North important exposure.
"It made them aware that we exist," Parda said. Many of those bars and restaurants now carry his product, and consumers are more familiar with the brand.
Richard Kelly, general manager of the Holiday Inn Downtown Concord, another festival supporter, said it brings business and promotes the city.
"It's a great fit for our great little city," he said.
Dos Amigos Burritos in Concord is a longtime supporter of the festival, which operations manager Amanda Hackett said brings people to the restaurant who might not otherwise stop in and leads to return customers.
It's one of the eatery's busiest weekends, she said, boosting business by about 25 percent. "We love it. We look forward to it every year," said Hackett.
Creating energy in Keene
The Monadnock International Film Festival, or MONIFF, made its debut in 2013, and attendance averages about 2,000 people, said Executive Director Dianna Costello. Not only do hotels and restaurants see increased business during the three-day event in April (it runs this year April 14-16), but companies such as graphic designers and printers also benefit.
The real beneficiary of the festival, she said, is the city and its broader business community.
"In a place where the arts are flourishing, business also flourishes. Companies are able to attract a high caliber of employees who want to move to an area with a vibrant social scene. Employees want to live in an area where they have a wide range of activities to enjoy." In addition, young people are drawn to an area where there are a lot of social and recreational activities.
Sales increase about 15 to 20 percent at Luca's Mediterranean Café in downtown Keene, said owner Luca Paris. That's not why he's such a fervent supporter of the festival, though. A packed restaurant is nice, he said, but the growth potential is bigger than immediate profits: "I love the energy it creates."
He said "there's the potential for this being something bigger than what we can imagine. If this does go to the next level, it will be tremendous for the city and its businesses. Long term, it will help all of us. We haven't seen the boom yet; it's still early. But it's going to happen."
As in Portsmouth and Concord, he said, "it's about promoting the city. Any reason to make Keene a destination beyond just attendance at one event is good. Someone comes to Keene, sees the area, has a good time, and comes back. The film festival brings in a diverse market," including filmmakers, actors and the people who follow them. "They all spend money."