NH's annual tech job growth doubles
Industry report reveals promising upswing in year over year comparison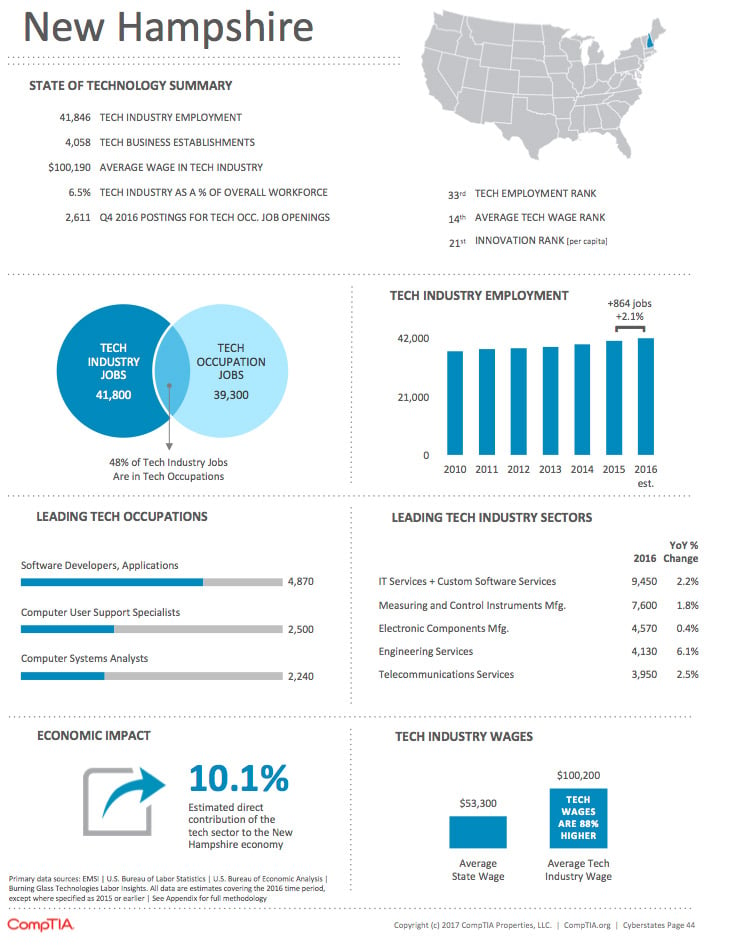 New Hampshire added double the number of tech jobs in 2016 than in 2015, according to a report by CompTIA — the Computing Technology Industry Association.
In 2015, just 401 new tech jobs were created in the state, continuing a trend of just 1 percent tech job growth since 2009. That trend ended in 2016, during which 864 new tech jobs were added, an increase of 2.1 percent, according to Cyberstates 2017.
The leading tech occupations are software developers/applications, computer user support specialists and computer systems analysts. The sector that experienced the most growth in terms of tech occupations was engineering services, which grew 6.1 percent. Telecommunications services grew by 2.5 percent and IT services and custom software services grew by 2.2 percent, with smaller growth from measuring and control instruments manufacturing and electronic components manufacturing.
New Hampshire still ranks on the lower end of tech employment growth in the country. With an estimated 41,846 workers working at 4,058 tech businesses, New Hampshire ranks 33rd among the 50 states for tech industry employment. There are also another 39,300 technology occupations across all industries in the Granite State.
But the tech sector accounts for 10.1 percent or $7.5 billion of New Hampshire's economy, and produces competitive wages. The average wage of a tech industry worker in New Hampshire was an estimated $100,200 in 2016, 88 percent higher than the average state wage of $53,300 and ranking New Hampshire 14th nationally in average tech industry wages.