NHBR honors business excellence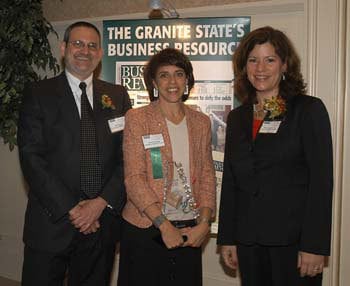 Fifteen small-business owners from 14 industries across the state were honored Wednesday, Oct. 11, for their determination, industriousness, innovation and achievements at the fourth annual New Hampshire Business Review Business Excellence Awards held at The Event Center at C.R. Sparks in Bedford.
In addition, three influential New Hampshirites were inducted into the New Hampshire Business Review Business Excellence Hall of Fame, in recognition of their career-long contributions to New Hampshire business.
The Business Excellence Awards are given to owners and operators of businesses with 100 employees or fewer. The winners were picked by a panel of judges who deliberated over more than 70 nominations.
"All the nominees should be proud of their achievements," said Sharron McCarthy, publisher of McLean Communications, parent company of the Business Review. "You were all nominated by someone who truly respects your accomplishments took the time to ensure you would be considered among the strongest business leaders in New Hampshire."
Jeff Feingold, editor of the Business Review, thanked the judges who had the difficult task of selecting the award recipients.
"Once again our judges had many incredible nominees to consider. I think the stories of this year's nominees were some of the most poignant we've seen. Not only were they all successful business owners in their own right, but many conquered personal tragedies as well to emerge even stronger," he said.
He added: "Even if you didn't win an award, running a thriving business already makes you a winner."
Feingold also invited those in the audience to consider nominating a small-business person for next year's awards.
"This evening is made possible by all of New Hampshire's businesspeople," he said.
Back for the fourth year as emcee was Ally McNair, longtime New Hampshire broadcast journalist and the former host of N.H. Public Television's "Outlook".
Recipients of the 2006 Business Excellence Awards were:
Excellence in Business Services — Jeffrey Baker, Image 4, Manchester
Excellence in Construction — Craig Jewett, Jewett Construction Co. Inc., Raymond
Excellence in Finance — Charles C. Kulch, Kulch Financial Services, Nashua
Excellence in Health Care — Karen Drelick, Rejuvenations Professional Massage LLC, Stratham
Excellence in Hospitality — Richard F. French, Bagel Works/The Works Bakery Café, Keene
Excellence in Manufacturing — Kristin & Stephen Powers, Trikeenan Tileworks, Keene
Excellence in Media & Marketing — Katie Delahaye Paine, KDPaine & Partners, Durham
Excellence in Nonprofits — Linda L. Harvey, Laconia Area Community Land Trust Inc., Laconia
Excellence in Professional Services — Gregg M. Mikolaities, Appledore Engineering Inc.
Excellence in Public Service — Ellen Fineberg, Women's Business Center, Portsmouth
Excellence in Real Estate — Joy Tarbell, Prudential Joy Tarbell Realty, North Conway
Excellence in Retail — Michael Satzow, North Country Smoke House, Claremont
Excellence in Technology — Paul McKeon, BID2WIN Software Inc., Portsmouth
Excellence in Transportation — Nancy Phillips, Nancy Phillips Associates Inc., Exeter

In addition to honoring Business Excellence winners, the event also included the induction of three citizens to the NHBR Business Excellence Hall of Fame for their many years of service and dedication to New Hampshire's business community and the state.
The 2006 NHBR Business Excellence Hall of Fame inductees — chosen separately by the editors of New Hampshire Business Review and outside advisers were:
Martin Gross, attorney and senior counsel, Sulloway & Hollis PLLC
Mary E. Collins, director, N.H. Small Business Development Center
Tom Corcoran, founder, of the Waterville Valley resort.
The judges who selected the Business Excellence Award winners were: Jack Dowd, executive director, Derry Economic Development Corp.; Roy Duddy, director, New Hampshire Business Resource Center; Kedar Gupta, CEO of GT Solar Technologies; Janice Kitchen, assistant state director of the Small Business Development Center; Michael McCord, business editor, Portsmouth Herald; Ruth Miller of the Women's Business Center; Deborah Osgood, co-founder of The Knowledge Institute; and Kathleen Reardon, vice president, Citizens Bank.
Sponsors of the event were: Laconia Savings Bank; Public Service of New Hampshire; Northeast Delta Dental; Charter Trust Company; Merrimack Street Volvo; Patriot Healthcare; New Hampshire Public Television; and WGIR-AM.
A portion of the evening's proceeds were donated to Court Appointed Special Advocates, or CASA, an organization that advocates in the best interests of New Hampshire's abused and neglected children who are caught up in the child welfare and juvenile court system.