NHBR conference explores different aspects of diversity
Keynote speaker, panelists stress the need for an inclusive workforce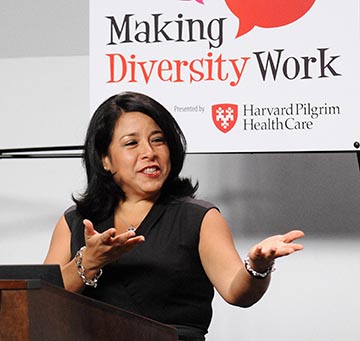 As the saying goes, actions speak louder than words. And New Hampshire businesses must do more to demonstrate inclusiveness toward an increasingly diverse workforce, said panelists at NHBR's "Making Diversity Work" summit, held Tuesday at the New Hampshire Institute of Politics at St. Anselm College.
Reaching out to groups like the National Society of Hispanic MBAs, networking in communities of color and exhibiting knowledge about religious dietary restrictions are just some of the ways companies can reach out and appear inviting to diverse applicants.
Getting to the bottom line: New Hampshire businesses need to appeal to diverse candidates in order to survive. Noting a lack of young workers to replace retiring baby boomers, NHBR's editor Jeff Feingold said in his opening remarks that New Hampshire employers cannot afford to "ignore such a large section of the workforce."
The event featured keynote speaker Karina Arnaez, diversity program manager at Parexel in Waltham, Mass., and two separate panels on recruitment and retention, moderated by NHBR's "A Seat at the Table" columnists Loretta L.C. Brady and Eric Ratinoff.
Recruitment panelists were Jawed Ali Shaikh, co-owner of Alibaba Wholefoods Festival; John Wilson, president and partner, GoffWilson Immigration Law; Eva Castillo, organizer MIRA Coalition (Massachusetts Immigrant and Refugee Advocacy); and Kris McCracken, president of the Manchester Community Health Center.
Retention panelists were Jack Lane, chief human resources officer, Harvard Pilgrim Health Care; Ali Faraz, co-owner, Alibaba Wholefoods Festival; Linda Johnson, director and co-chair of Education Law Group at McLane, Graf, Raulerson & Middleton; and Tom Boucher, owner and CEO of Great New Hampshire Restaurants.
The panelists stressed the significance of the employment scenario.
"Diversity is here," said Ali Shaikh. "So we have, in Manchester schools, we have 85 languages spoken, how much more do you need to understand? Because these kids will be your employees tomorrow."
"And your mayor and your governor and your doctor," interjected Castillo. "I mean if we don't prepare them, we're doomed."
Arnaez told the crowd they must be aware of their own "hidden bias," unknowingly hiring people just like themselves.
'The best people'
Castillo provided real-life examples of high-skilled friends who had been discriminated against in New Hampshire.
One, who has a Ph.D. in education, was unable to receive even the most entry-level position and left the Granite State. Within two weeks, he was hired as a superintendent of a Massachusetts school district.
Another, an engineer, became fed up with New Hampshire after three years of underemployment. Within a couple of months he found a position in Maryland.
Likewise, Faraz said he put companies to the test, resubmitting his resume with a different name. Sure enough, they responded.
"We need to break those systems, and we have to be conscious that they are here and call it for what it is," said Castillo.
But companies must be wary of going to another extreme, said Arnaez, citing the "defective quota hangover" – hiring employees just to fulfill a diversity quota rather than recognizing that excellence and diversity should go hand in hand.
To appeal to diverse applicants, businesses must examine the face of their company, their literature and other elements that illustrate who they are and who they are seeking to hire, she said. It's also important to make new employees feel welcome and adapt to the company culture.
She recommended that companies make employees aware of organizations like the National Society of Hispanic MBAs or National Society of Black Engineers, which create a support base, especially for immigrant workers, easing their transition.
"Help your employee keep their sense of identity and bring their whole selves to work," said Arnaez.
Another wrench in the situation is the legal difficulty of hiring a foreign worker, which many of the panelists discussed.
Wilson mentioned the smaller number of H1B visas currently being awarded, and Arnaez noted that many global firms – at one time a go-to employer for immigrants – are reserving their visas for technical positions.
"In order to be number one in our business, we need to hire the best people, wherever they are," said Wilson. "[But] you have to plan a year ahead and even then it's a 50-50 chance of getting in."
One attendee asked how change can be encouraged. Call up your congressman or congresswoman and tell them you want reform said Castillo.
"A lot of people talk, but from talking to doing is a big stretch, and it's an uncomfortable process to acknowledge what you're not doing," said Castillo. "So talking is not going to get us anywhere, and I'm tired of talking, I've been talking for so many years. Let's do something!"
Presenting sponsor of the "Making Diversity Work" event was Harvard Pilgrim Health Care. Gold sponsors were GoffWilson Immigration Law and North American Equipment Upfitters. General sponsors were McLane, Graf, Raulerson & Middleton, Manchester Community Health Center and the Business and Industry Association of New Hampshire.