NHBR About Town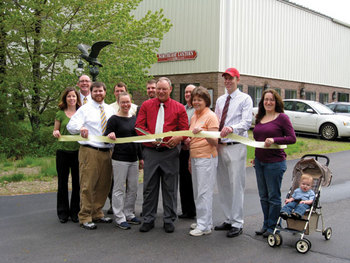 Lantern and lighting manufacturer Northeast Lantern has celebrated 20 years as an Exeter Area Chamber of Commerce member and has been named its 2011 Business of the Year. Pictured at the anniversary ribbon-cutting ceremony are, front row, from left: Gretchen McDonald, chamber marketing director; Northeast Lantern staff Dustin Almon, Jamie Heal, Skip Heal, Cindy Heal and Chris Heal; chamber member Kacy Minnichiello, Send Out Cards, with son Beck. Second row, from left: chamber board member Matt Halfmann, The Provident Bank; Patrick Gillis, Merrill Lynch, chamber member; Brian Keane, New York Life, chamber board member; and Dick Parker, chamber ambassador.
More photos from recent events around the Granite State.
Submit items for About Town to editor@nhbr.com. Please include a color photo and a brief description.